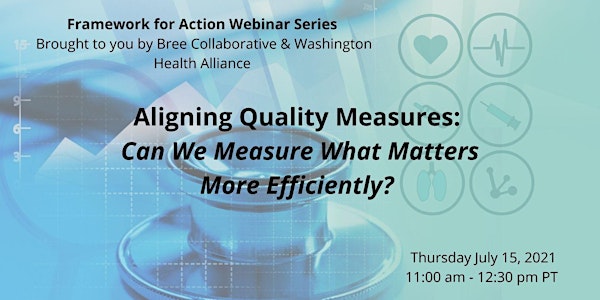 Aligning Quality Measures: Can We Measure What Matters More Efficiently?
Aligning Quality Measures: Can We measure What Matters More Efficiently?
About this event
Join Bree Collaborative and Washington Health Alliance on Thursday July 15, 2021 from 11:00 am- 12:30 pm PT for the third Framework for Action Webinar when we address the challenge of measuring what matters as efficiently as possible to accelerate value-based adoption and success in Washington state.
This webinar is designed to help purchasers, providers, and health plans identify ways they can support measuring what matters more efficiently in Washington State.
Learn how aligned quality measurement contributed to statewide success in improved primary care outcomes in Arkansas.
Explore whether we are "measuring what matters" from the patient perspective.
Understand the vision for a state-based common measure set and how we are doing in Washington state.
Discuss how to address well-intentioned health plan strategies that introduce unintended complexity in care delivery settings.
Measuring What Matters to Patients
Rebecca Etz, PhD, Co-Director, Larry A. Green Center. Rebecca is a cultural anthropologist at Virginia Commonwealth University with expertise in qualitative research methods and design, primary care measures, practice transformation, and engaging stakeholders. She has spent the last fifteen years dedicated to learning the heart and soul of primary care. Her career has been shaped by iterative research cycles that expose and reflect on the tacit norms and principles of primary care in which clinicians, thought leaders, and patients are equally invested. Her work has three main lines of inquiry: 1) bridging the gap between the business of medicine and the lived experience of the human condition, 2) making visible the principles and mechanisms upon which the unique strength of primary care is based, and 3) exposing the unintended, often damaging consequences of policy and transformation efforts applied to primary care but not informed by primary care concepts.
How Aligned Quality Measurement is Supporting Success in Arkansas
Alicia Berkemeyer, Executive Vice President, Chief Health Management Officer, Arkansas Blue Cross Blue Shield. Alicia Berkemeyer is responsible for all programs related to provider networks, value-based programs, primary care and commercial pharmacy for Arkansas Blue Cross and Blue Shield and its affiliates. She has more than 28 years of experience in the healthcare industry with a focus on primary care and pharmacy. She has led and managed the development of patient-centered medical homes, employer clinics and pharmacy programs. Berkemeyer played an instrumental role in Arkansas being chosen as one of only seven regions in the United States to participate in the federal Comprehensive Primary Care initiative and assisted our state in receiving significant funding from the Centers for Medicare Services Innovation Center in the form of a State Innovation Model grant. She currently serves on the College of Pharmacy Dean's Advisory Council, CVS Caremark Advisory Board, Cystic Fibrosis Board and the Divine Mercy Clinic Board.
The Vision and Reality of a State-Based Common Measure Set: a National and Local Perspective
Dorothy Teeter, former Health Care Authority Director. Prior to her tenure at the Health Care Authority, Dorothy served as Senior Advisor for Policy and Programs at the Center for Medicare and Medicaid Innovation. She has served as the Interim Director and Chief of Health Operations for Public Health – Seattle & King County, a Senior Executive at Group Health Cooperative, and as an ex-officio with the Health Benefits Exchange Board Member from 2013-2017. Dorothy holds a Master's degree in Health Services Administration from the School of Public Health at the University of Washington and is a Clinical Assistant Professor in the Department of Health Services at the University of Washington.
"Boots on the Ground" Panel Discussion Moderated by Dorothy Teeter: How Aligned Quality Measurement Supports a More Meaningful Focus on Improving Care Delivery
David (DC) Dugdale, MD, MS, Medical Director Value-Based Care, UW Medicine
Drew Oliveira, MD, Senior Executive Medical Director and Population Health at Cambia Health Solutions, Regence Blue Shield
Tony Butruille, MD, Family Physician, Cascade Medical, Leavenworth, Washington
Questions? Contact Amy Etzel aetzel@qualityhealth.org
An outlook calendar invitation with the below login information will be emailed to you day of the event
Please click the link below to join the webinar:
https://us02web.zoom.us/j/89927630782
Or One tap mobile :
US: +12532158782,,89927630782# or +13462487799,,89927630782#
Or Telephone:
Dial(for higher quality, dial a number based on your current location):
US: +1 253 215 8782 or +1 346 248 7799 or +1 669 900 6833 or +1 646 876 9923 or +1 301 715 8592 or +1 312 626 6799
Webinar ID: 899 2763 0782
International numbers available: https://us02web.zoom.us/u/k3VAWCHEJ