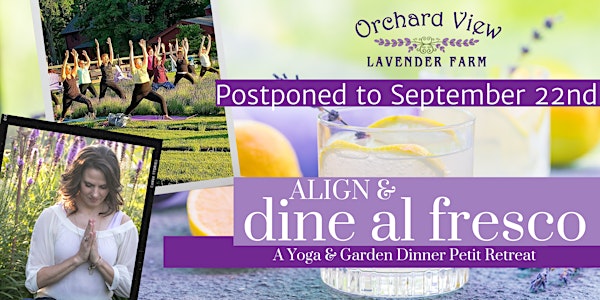 Align & Dine al Fresco
Yoga & Summer Sunset Dinner
When and where
Location
Orchard View Lavender Farm 101 Karrsville Road Port Murray, NJ 07865
About this event
An inner scripted intention written by your heart invites you to Align and Flow into a space of self love and prosperity to EXPLORE your souls' desires.
Nestled into a secluded space where the trees lush drapery closes off the noise of the outside world, begin your evening with heart opening yoga postures that invigorate your senses.
Afterwards, gather to cultivate union during a cocktail dinner social under a new twinkling Pavilion on the Orchard View Lavender Farm grounds all awhile embracing the softening warmth of a summer sunset.
Tickling your tastebuds will be Chefs Catering with the selected Fall menu featuring:
Roasted Vegetable hummus w/ Tri Color Chips
Autumn Harvest Salad
Chefs Choice Charcuterie
Rosemary Grilled Flank Steak on Crostini
Coconut Shrimp w/ Pina Compote
Grilled Garlic Dill Shrimp
Chicken Satay w/ Spicey Peanut Sauce
Turkey Meatballs w/ Cranberry Glaze
Broccoli Cheddar Risotto Croquette w/ Honey Djon Sauce
Toasted Almond Brie Risotto Croquette w/ Raspberry Cream Sauce
OVLF - lavender raspberry ice cream
OBYO - (Optional Bring Your Own) please bring your own opener and glasses. Wine chillers will also not be supplied
*** Health & Safety Measures ***
1. Masks are currently optional.
2. As the event date approaches and if you are feeling ill, you are asked to please make the best decision for the the health and safety of yourself and others.
3. This is also a private residence, thus your mindfulness of such is appreciated. No smoking or vaping on the property.
4. While we love little ones, this is an adult only event. Please no children.
5. Tickets are transferrable only to other events by Lavendula Wellness Retreats or your own customized retreat. Restrictions apply. Please inquire with any questions.
Questions can be sent to lunarlavenderyoga@gmail.com. Please do not call or email the farm directly.
When publicly posting photos, please use #align&dine #orchardviewlavenderfarm #lavendulawellnessretreats #theangrychouricobbq #dmdcphotography