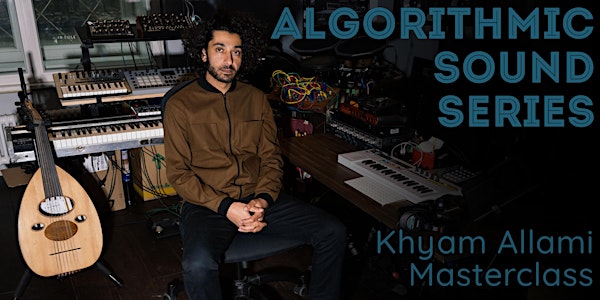 Algorithmic Sound 8: Khyam Allami
Masterclass with Khyam Allami on tuning systems, generative music, and the inherited biases of music technologies.
By Creative GC: Art Science Connect
Date and time
Starts on Saturday, November 6, 2021 · 11am PDT
About this event
** In Progress:: https://us02web.zoom.us/webinar/register/WN_t1lsXPwMR9WW8-5IMcchJg **
In this workshop Khyam Allami will explore the subjects of tuning and the inherited biases of music technology through his collaborative project "Apotome" with creative studio Counterpoint. The workshop will include a presentation on tuning and its repressed possibilities, the problematics of music technologies, and a practical introduction to using Leimma and Apotome. Participants will be invited to create their own personalized tuning system and to create generative music using it.
Khyam Allami (born in Damascus 1981) is an Iraqi-British multi-instrumentalist musician, composer, researcher and founder of Nawa Recordings. Primarily a performer of the Oud, his artistic research focuses on the development of contemporary and experimental repertoire based on the fundamentals of Arabic music, with a focus on tuning and microtonality. He holds a BA and Masters in Ethnomusicology from SOAS, University of London and is currently completing an M4C/AHRC funded PhD in composition at the Royal Birmingham Conservatoire, Birmingham City University.
Khyam Allami - khyamallami.com/Apotome-Khyam-Allami-x-Counterpoint
Algorithmic Sound Series - linktr.ee/algosound​
Organized & Hosted by Jacob Sachs-Mishalanie - jsmishalanie.com/​
Presented by Creative GC - artscienceconnect.gc.cuny.edu/