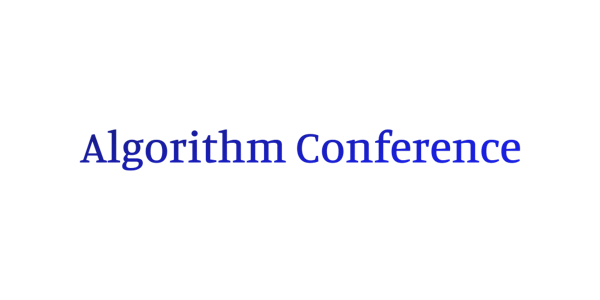 Algorithm Conference
Algorithm Conference will bring you 3 days of high-level workshops and presentations on big data, AI, IoT, and blockchain technologies
When and where
Location
JSOM Auditorium, University of Texas at Dallas 800 W Campbell Road Richardson, TX 75080
Refund Policy
Contact the organizer to request a refund.
Eventbrite's fee is nonrefundable.
About this event
Update: Due to the raging covid-19 pandemic, Algorithm Conference has been postponed until further notice. With two vaccines already approved and a couple more expected to be approved sometime in Jan. 2021, many experts believe that the country should begin getting back to normal by Summer, assuming the vaccination program go as planned.
Tentatively, I think we should be able to host the conference by Fall 2021, all things being equal. The good news is, people want to get together like during the pre-pandemic days, so we're sure that when the conference eventually takes place, it will be a resounding success.
So do go ahead and buy your tickets, because this conference will happen next year.
-----------------------------------------------------------------------------------------------
Algorithm Conference 2021 will bring you 3 days of high-level workshops and presentations from business and technology professionals doing disruptive things with big data, artificial intelligence, robotics, IoT, quantum computing, and blockchain technologies. It is scheduled to take place at the JSOM Auditorium on the campus of the University of Texas at Dallas sometime in the Fall of 2021.
Day 1 of the conference will feature workshops for both technical and non-technical IT professionals and managers, while the plenary conference sessions will round out the last two days.
Here's a summary info about Algorithm Conference 2021:
Day 1 - Fall 2021: Workshops
Day 2 - Fall 2021: Conference presentations
Day 3 - Fall 2021: Conference presentations
Presentations from both traditional companies and startups will be drawn from the following broad categories:
Big Data
Artificial Intelligence
Robotics and automation
IoT
Quantum computing
Blockchain
Featured speakers
The first batch of speakers that have been announced includes:
Professor Robert Marks. Director of the Walter Bradley Center for Natural and Artificial Intelligence; a Distinguished Professor of Electrical and Computer Engineering, Baylor University; and a Fellow of both IEEE and the Optical Society of America. His research has been supported/funded by the Army Research Lab, the Office of Naval Research, the Naval Surface Warfare Center, the Army Research Office, NASA, JPL, NIH, NSF, Raytheon, and Boeing. Author of The Case for Killer Robots: Why America's Military Needs to Continue Development of Lethal AI.
Captain Michael Kanaan. First Chairperson of Artificial Intelligence, and currently the Director of Operations, U.S. Air Force.
Dr. Joel Lehman. Co-inventor of the novelty search evolutionary algorithm and Senior Research Scientist, Uber AI Labs.
Dr. Paul McLachlan. Head of Data Science and Principal Data Scientist, Global Artificial Intelligence Accelerator, Ericsson.
Dr. Stephen Thaler. Author of a generative AI machine called DABUS that made two inventions on its own.
Prof Ryan Abbott. Leading the global effort to cause patent authorities in the UK, US and elsewhere to recognize AI machines as inventors. About to publish The Reasonable Robot: Artificial Intelligence and the Law.
Workshop
The following workshop will be conducted during the conference. Registration for a workshop is not included in the cost of a conference ticket. To attend a workshop, you'll have to purchase its own ticket.
How to curate quality datasets for machine learning. This workshop will be conducted by a couple of machine learning engineers from Twitter, Inc. For details, click here.