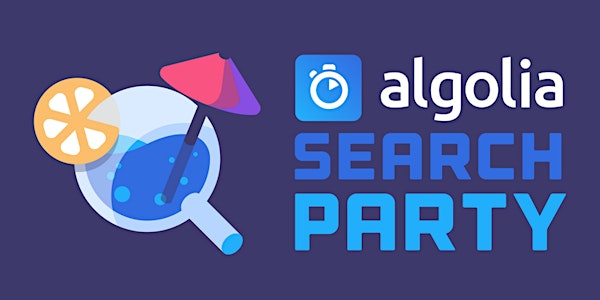 Algolia Search Party — No Servers, No Problem
When and where
Location
The VAULT 415 Jackson Street San Francisco, CA 94111
Description
What can you do without a server in 2017? A lot. Modern developers are choosing APIs over servers to handle data, messaging, search and security. Serverless applications can be hosted statically, making them lightning-fast and easy to scale. When you develop this way, the only SSH key you'll ever need is the one connected to your Github account.
Join us this month and explore the frontier of serverless with guests from Auth0, Netlify, Firebase and other companies that are pushing the conversation forward.
All are welcome to attend - unless, of course, you're a server.


Schedule
5:30pm - Doors open for check-in, food & drinks.
6pm - Talks begin:
Photo Search with Algolia, Firebase, and Google Cloud - Abe Haskins, Firebase

Serverless Extensibility from Within - Glenn Block, Auth0

Content Management Without a Server - Matt Biilmann, Netlify
No Query, No Problem: Load Dynamic Serverless Content Faster with Search - Josh Dzielak, Algolia
7:15pm onward - Hang out and grab a drink from the Algolia Search Bar™


Speakers
Abe Haskins, Developer Programs Engineer at Google (Firebase)
Photo Search with Algolia, Firebase, and Google Cloud
Did you know that Google Photos will let you search for "bears" and it'll find every photo you've ever taken of a bear? This feels magical, but we can actually recreate this functionality in minutes by using Algolia's search, Firebase's speed, and Google Cloud's machine learning API. We'll dive in and build this awesome feature in record time!
Glenn Block, Director of Product, Auth0 Extend
Serverless Extensibility from Within

In the era of Serverless, we're finding new patterns for addressing old problems. In the past extending and customizing products has been painful requiring a high level of technical expertise, complex tool chains, and standing up and deploying servers. Not to mention, deploying and managing services crosses multiple team boundaries and budgets.
With Serverless we can now address that problem in a new way, from the inside. In this talk we will discuss the emergence of new pattern of Serverless extensibility. We can ease much of the pain for the customer enabling them to more quickly address their business needs. We'll talk about the pattern and see how it is being used in the real world.
Matt Biilmann, CEO at Netlify
Content Management Without a Server

Traditionally CMSes have been large, bloated monolithic applications that gobbles up more and more functionality as they evolve.
This talk will go over an open source project, Netlify CMS, which is an attempt at radically rethinking the CMS architecture and create a publishing engine that works with much simpler decoupled parts and brings much better results in terms of performance, security, scalability and development efficiency. All built as a single page app in React, for content mangagement in a serverless world.
Josh Dzielak, Developer Relations Lead at Algolia
No Query, No Problem - Load Dynamic Serverless Content Faster with Search

Even when time-to-first-byte is fast, delays in fetching dynamic content can still make your serverless app or static site feel sluggish. In this talk, we'll look at how Algolia's low-latency infrastructure and ability to rank results in advance can speed this up, without the user ever typing a search query.
Share the Love
We invite you to tweet, facebook, snap and insta with the #AlgoliaSearchParty hashtag. Each tweet gets you one raffle ticket for an Amazon Echo dot. The winner will be announced during the social time.


About Search Party
Search Party brings developers and product teams together who care about connecting users with information in the fastest, most delightful way possible.
Snacks and drinks will be provided including non-alcoholic choices. The Algolia Community Code of Conduct applies to this event. Hope to see you there!