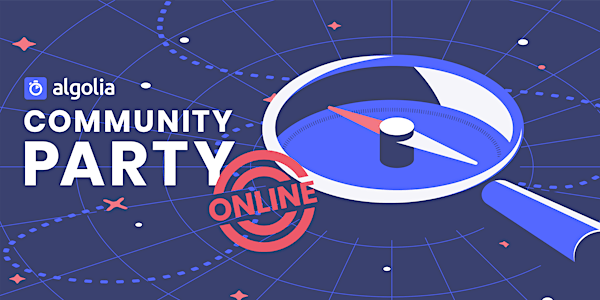 Algolia Community Party - Online edition
We're happy to throw our next Community Party online! 3 of our community members will showcase some projects they did with Algolia.
About this event
The Community Party is an event series to meet and greet the Algolia developer community.
In this edition, we're proud to welcome 3 community members that will each do a technical demo of a project they've built using Algolia. You'll learn the challenges behind each project in three 10-minute talks, and will be able to ask all your questions after each talk.
So grab a cup of tea, of coffee or a glass of lemonade, get comfortable and join this online Algolia Community Party!
Schedule
As a Dungeon and Dragons player, I love the /dndmaps subreddit. But it's tough to find that great map I saw 2 months ago. So I built `reddinx`, a tool to crawl data from any subreddit and push it toAlgolia. I then added an infinite-search on top of it and automated the process so any new map is automatically added to the index. And the best part? It's open source. Come to the talk to learn how it works, and use it for your own favorite subreddit.
From 1935-2012, the Mr. Boston Bartender's Guide was printed more than 11 million times and holds a place of honor on innumerable bars throughout the world. We decided to take it online, and used Algolia to create a blazing fast search experience. We'll go through the behind-the-scenes of the project in this talk.
Openetwork is a social network. Its goal is to promote open-source project and create better interactions between people in the open-source community. This talk will cover how we implemented Algolia in our back-end in Node and our front-end in VueJs. We will try to provide tips for you to avoid falling in our mistake.
About the event
Time of the event is:
- 11am - EST time (Eastern US)
- 4pm - BT time (United Kingdom)
- 5pm - CET time (Eastern Europe)
If you'd like to receive information about Algolia products, events invite and promotions via emails, just click here: https://goto.algolia.com/optin