Alexion Research: Building a Pipeline to Service Patients with Rare Disease
BioXchange and Alexion Pharmaceuticals Present: Sharon Barr; VP, Global Head of Research at Alexion Pharmaceuticals
When and where
Location
Alexion Pharmaceuticals Inc. 121 Seaport Boulevard Boston, MA 02210
About this event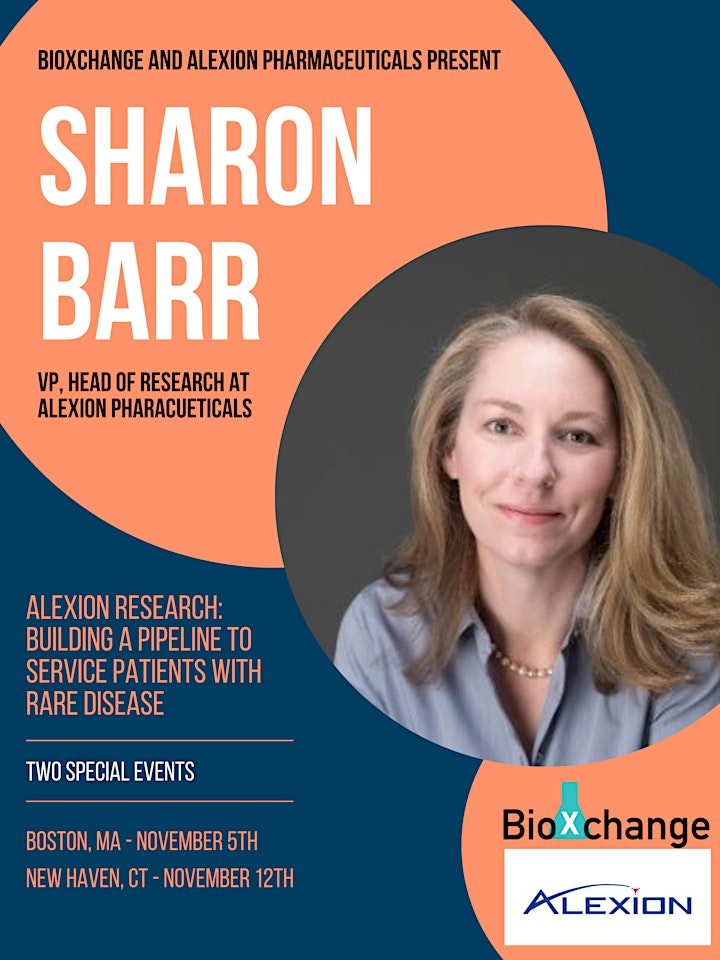 This event is one of two sessions:
Boston, MA - November 5th
New Haven, CT - November 12th
Overview:
Sharon Barr; VP, Global Head of Research at Alexion Pharmaceuticals; will provide an overview of Alexion Pharmaceuticals and the overall company culture. Along with this, she will go into a deep discussion with regards to the research the company is currently working on within the rare disease space.
Event Agenda:
6:00PM to 7:00PM - Sharon will discuss what Alexion Pharmaceuticals is doing in terms of research in the rare disease space. This will be followed by a short Q&A session with audience.
7:00PM to 8:00PM - Networking session with light appetizers provided.
* Registration does not guarantee your admittance into the event due to the high demand expected. We will personally notify those we are able to accommodate for the event. Either way, please follow us for details on future events.
** No walk-ins will be admitted. You must RSVP in order to attend.
More on the event organizers:
About BioXchange
BioXchange is a premier life sciences networking organization founded by some of the most networked people in the Boston life sciences hub. Our goal is to help connect companies and individuals within the epicenter of life sciences industry located in Massachusetts through monthly events. Events are typically held in the two largest concentrated areas for life sciences companies: Cambridge and Waltham. These events are setup to cater to all sectors of the industry from scientists, law firms, service companies, staffing firms, and many others.
Feel free to reach out to us directly if you have any questions or concerns at bioxchange.boston@gmail.com.
About Alexion Pharmaceuticals
Alexion Pharmaceuticals is a global biopharmaceutical company focused on serving patients and families affected by rare diseases through the discovery, development and commercialization of life-changing therapies. As the global leader in complement biology and inhibition for more than 20 years, Alexion has developed and commercializes two approved complement inhibitors to treat patients with paroxysmal nocturnal hemoglobinuria (PNH) as well as the first and only approved complement inhibitor to treat atypical hemolytic uremic syndrome (aHUS), anti-acetylcholine receptor (AchR) antibody-positive generalized myasthenia gravis (gMG) and neuromyelitis optica spectrum disorder (NMOSD). Alexion also has two highly innovative enzyme replacement therapies for patients with life-threatening and ultra-rare metabolic disorders, hypophosphatasia (HPP) and lysosomal acid lipase deficiency (LAL-D). In addition, the company is developing several mid-to-late-stage therapies, including a second complement inhibitor, a copper-binding agent for Wilson disease and an anti-neonatal Fc receptor (FcRn) antibody for rare Immunoglobulin G (IgG)-mediated diseases as well as several early-stage therapies, including one for light chain (AL) amyloidosis and a second anti-FcRn therapy. Alexion focuses its research efforts on novel molecules and targets in the complement cascade and its development efforts on the core therapeutic areas of hematology, nephrology, neurology, and metabolic disorders. Alexion has been named to the Forbes' list of the World's Most Innovative Companies seven years in a row and is headquartered in Boston, Massachusetts' Innovation District. The company also has offices around the globe and serves patients in more than 50 countries. Further information about Alexion can be found at: www.alexion.com.