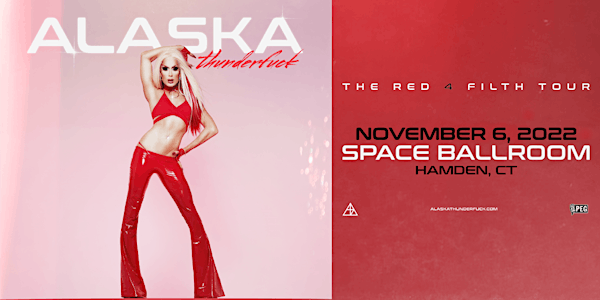 ALASKA presents The Red 4 Filth Tour 2022
Premier Concerts and Manic Presents:
Location
Space Ballroom
295 Treadwell Street
Hamden, CT 06514
About this event
***Out of an abundance of caution, Alaska 5000 has postponed her North American tour to Fall 2022.
Her show at Space Ballroom will now be on November 6, 2022. All tickets for the original date (1/30/22) will be valid for the postponed date.
If you cannot attend the new date, please contact customersupport@manicpresents.com before February 12, 2022 at 12PM EST to receive a refund.
If you have further questions or concerns, you can contact customersupport@manicpresents.com***
General Admission Standing Room Only
COVID-19 Policy
Masks are strongly encouraged.
By purchasing tickets to this event, you agree to abide by the State of CT, City of Hamden, Artist, and Space Ballroom's Health and Safety measures in effect at the time of the event. Check back for updates to your event on our website as guidelines and entry requirements are subject to change.
ALASKA THUNDERFUCK 5000
A bizarre cosmic collision propelled Alaska Thunderfuck 5000 to Earth in March 1966… and on to the fifth season of Logo TV's RuPaul's Drag Race in January 2013. Still radioactive, no one knows who or what she is yet, but no one cares, as long as she never returns to her native planet. Her age and species remain unknown to the public, but a few of her enemies claim to hold copies of her spawning record and universal passport.
After her spaceship crashed in the Matanuska Valley, a remote part of south-central Alaska, the U.S. government recovered an emaciated… make that, an emancipated alien, with a 1972 issue of Vanity Fair and a can of Tab, or that's how the story goes. Why she needed an Elmer's glue stick, no one has determined. She refuses to acknowledge it was in her possession. Few believe the wreckage was really smoldering, since magazines tend to burn, and cynics wonder if she was actually held captive in a research facility, or entertained by the night watchman until he got bored with her in the 1980s. She's supposedly on the run from officials, but everyone knows they take off their uniforms and sneak into the clubs where she performs. Some turned into groupies and hang around long after the shows are over.
A well-traveled, campy extraterrestrial does have her perks and her irritations. Transients and drifters are directed to the nearest black hole via her pre-screw-you GPS navigation, and drug-addled layabouts are allowed to create their own black holes. She promises to upload each and everyone into the system. How dangerous can Thunderfuck be?
As dangerous as a black hole.
Watch this rare, magnificent being as she lights up televisions throughout the world on another of RuPaul's extravaganzas. No, you won't end up a cancer-stricken lab rat. The screen acts as a radiation shield to protect you from this renegade.
Links: Official Website | Facebook | Instagram | Twitter | YouTube