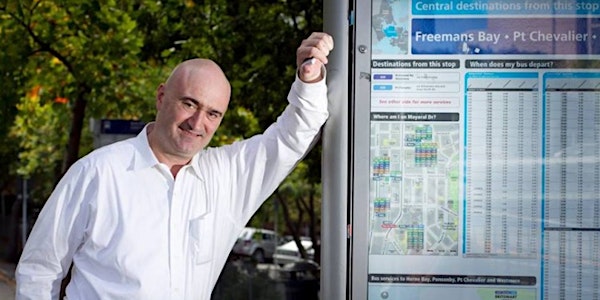 Alan Smith Distinguished Lecture Series: Guest Speaker Jarrett Walker
When and where
Location
Florida Institute Of Technology 150 West University Boulevard Melbourne, FL 32901
Description
Join us for an insightful lecture presented by public transportation guru, Jarrett Walker.
Tuesday, April 3, 2018
6:00 – 7:00 p.m.
Hartley Room
Florida Institute of Technology
150 W. University Blvd.
Melbourne, FL 32955
Abundant Access: Planning Urban Transportation for a Free Society
Cars seem to give us freedom, but only until we get stuck in traffic. What's more, our car-centered transportation system is the opposite of freedom for people who can't or shouldn't drive. It can literally trap them in their homes, or endanger their lives if they try to walk or cycle. What would it mean to plan transportation with freedom as the primary goal? How do new technologies change our options? And how might our world be better as a result?
Since 1991, Walker has been a transit planner, helping design transit networks and policies for a huge range of communities. His mission is to start conversations about how transit works, and how we can use it to create better cities and towns.
To learn more about Walker, visit http://jarrettwalker.com/
Sponsored by: