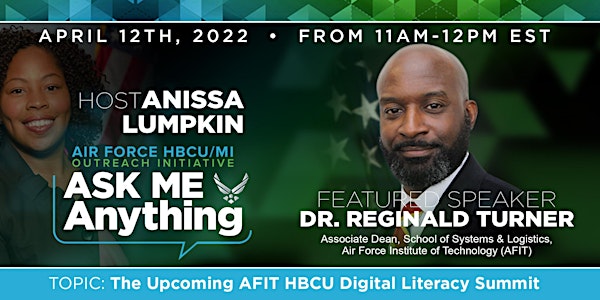 Air Force Ask-Me-Anything for HBCUs, Small Business, and the S&T Ecosystem
Air Force outreach to HBCU/MI & Small Businesses about opportunities for funding and strategic partnerships
About this event
Join Zoom Meeting
https://us02web.zoom.us/j/84567528192?pwd=ZDczK3NDS3pMUzdRV01ZNnN5Wmp5Zz09
About this Event: Next Event is April 12, 2022 at 11:00 am featuring Dr. Reginald Turner, Associate Dean at the Air Force Institute of Technology (AFIT) whom will be discussing the upcoming event Air Force Institute of Technology Historically Black Colleges and Universities DIGITAL LITERACY Summit (AFIT HBCU DLS Summit) happening June 21-22, 2022 virtually and in-person at Central State University.
ABOUT the AFIT HBCU DLS Summit
On behalf of the Department of the Air Force (DAF), the Air Force Research Laboratory (AFRL), the Air Force Institute of Technology (AFIT), and Central State University (CSU), you are invited to attend the hybrid in-person/virtual inaugural Historically Black Colleges and Universities (HBCU) Digital Literacy Summit, scheduled for June 21-22, 2022. As an expert, leader, mentor, and STEM advocate, your participation will help make this event a great success.
The HBCU Digital Literacy Summit will be a dynamic educational event designed for networking and partnership building between DAF, its partners, and the HBCU community. Outreach for engagement includes: HBCU faculty, researchers, and students; minority owned small business; digital transformation professionals; Department of Defense (DOD) and academic enclaves. Be a part of this pipeline of digital literate practitioners ready to solve the Department's enduring challenges.
Topics for presentation include:
 Virtual Reality
 Fascinating Innovations
 Diversity and Equity
 Working with Minority-Owned Small Business
 Air Force Career Paths
 Education of Resources and Opportunities
 Dev*Ops
 Cyber Security
 Artificial Intelligence
 Machine Learning
 Data Analytics
 Data Science
Additionally, mentor opportunities are available in AFIT Digital Literacy to share expertise and discuss research. To express interest and get more information, connect with Ms. Janice Atwater, Lead Event Coordinator, J.Atwater@infinitemanagementsolutions.net
You may extend this invitation to faculty, staff, and students. Registration is now open at: https://inevent.com/en/HBCU/HBCUdls/hotsite.php
I and the Summit team look forward to working with you in support of the Digital Literacy Summit.
Respectfully,
Reginald J. Turner, PhD
Associate Dean of the School of Systems and Logistics
Air Force Institute of Technology
WPAFB, OH 45433
https://www.afit.edu/diglit/
ABOUT the Air Force HBCU/MI Outreach Initiative:
The Air Force Small Business Technology Transfer (AF STTR) program, a $97M small business program, is reaching out to Historically Black Colleges and Universities (HBCUs) with an opportunity for funding research and development through strategic partnerships with small businesses. The Air Force SBIR/STTR is setup to address barriers that exist in the traditional Air Force Acquisition process. The AF SBIR/STTR has expanded the use of Open Topic solicitations, eliminating lengthy and cumbersome proposal processes. This allowed the Air Force to reach thinkers who might not have otherwise considered doing business with the U.S. government.
Join us to discover the USAF's new partnerships, new opportunities, and upcoming special events!
The AF HBCU/MI Outreach Initiative's strategic priorities are to:
o Increase HBCU participation in the AF SBIR/STTR program by submitting proposals and increasing award metrics
o Connect HBCUs with emerging trends in the Air Force
o Establish strategic alliances with the Air Force and HBCUs
The AF SBIR/STTR program is offering new partnerships for networking, matchmaking, proposal writing and more to support the development of technology to the war fighter.
Anissa C. Lumpkin
Future Air Capabilities Branch
Aeromedical S&T Engagement Lead
AFWERX/AFVentures/SB Engagement Liaison
*Founder, Air Force HBCU/MSI Outreach Initiative
HQ Air Force Research Laboratory / Plans and Programs Directorate
AFRL.HBCU.MSI@us.af.mil
FOLLOW THIS CHANNEL FOR MORE EVENTS from the Air Force