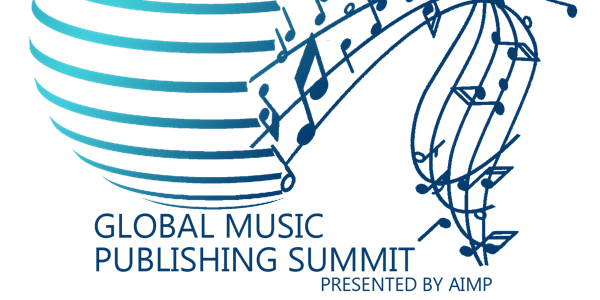 AIMP Global Music Publishing Summit 2023
The annual gathering of music publishers, supervisors, songwriters, MROs, and all those in the art & business of song.
By Association of Independent Music Publishers (AIMP)
Date and time
Tuesday, June 13 · 9am - 6pm EDT
Location
3 West Club 3 West 51st Street New York, NY 10019
About this event
The Association of Independent Music Publishers (AIMP) Global Music Publishing Summit is taking place on June 13 at the 3 West Club in New York City. Get 2022 prices now through April 30! Non-member tickets include one year of AIMP membership. Sponsorships are also available - email NYinfo@aimp.org for details.
Since the first GMPS in 2017, the event has featured songwriters including Benny Blanco, Lauren Christy, Brandy Clark, Jessie Jo Dillon, Anthony Fedorov, Ashley Gorley, Michelle Lewis, David Porter, Hank Shocklee, Diane Warren, and Craig Wiseman, and leading industry figures such as Andrew Bergman (Downtown Music Publishing), Dr. Richard James Burgess (A2IM), Mitch Glazer (RIAA), Bart Herbison (NSAI), David Israelite (NMPA), John Josephson (SESAC), Elizabeth Moody (Pandora), and Portia Sabin (Music Biz) among others. The agenda spans Creators, Business of Publishing, and the International Marketplace to deliver a well-rounded and informative experience to attendees across all facets of the industry.
2023 AIMP Global Music Publishing Summit Panels and Currently Confirmed Speakers - more to come!
Creative Keynote - 50th Anniversary of Hip-Hop
Introduction: Rocky Bucano, Executive Director, Universal Hip Hop Museum
Doug E. Fresh, rapper and producer
David Porter, CEO & Co-Founder, Made in Memphis Entertainment
Moderator: Rosie Lopez, President, Opus Music Group
LGBTQIA+ | Queer Trends in Sync & Beyond
Molly Salas, Music Supervisor, Halo Music & Sound
Brooke Primont, EVP Sync, Concord Music Publishing
Moderator: Jessica Vaughn, President, Head Bitch Music / Head of Sync, Venice Music
View from the Top: Indie Perspective
Marc Caruso, AIMP LA Chapter President / Founder and CEO, Angry Mob Music Group
Frank Handy, Head of Operations & Administration, Position Music
Katie Fagan, Nashville Head of A&R, Prescription Music
Michael Prommer, President & CEO, Defend Music, Inc.
Independent Publishers: A Global Success
Teri Nelson Carpenter, Founder & CEO, Reel Muzik Werks
Annette Barrrett, Managing Director & Global Strategic Liaison, Reservoir / IMPF President
Pierre Mossiat, CEO, Strictly Confidential / IMPF Founding President
Sarah Williams, CEO, IMPEL
Francesca Trainini, Senior Partner, Oyez / IMPALA / Managing Director, peermusic Italy
Unite & Conquer
Richard Burgess, President & CEO, A2IM
Abby North, President, North Music Group
Ken Casini, VP of Business & Legal Affairs, RME
Washington DC Update
Amelia Binder, SVP, NMPA
Morna Willens, Chief Policy Officer, RIAA
Moderator: Michael Lau, AIMP NY Chapter President and National Chair / CEO, Laud Music/Imachew Music
The Rapid Evolution of AI and the Music Industry
Adrian Perry, Partner, Covington & Burling LLP
Deborah Mannis-Gardner, Founder & President, DMG Clearances, Inc.
Shannon Sorensen, SVP of Legal & Business Affairs, NMPA
Moderator: Vickie Nauman, Founder and CEO, Crossborderworks
Sponsors for this year's Summit include ICE, IMPF, Music Publishers Canada, SoundExchange, Rightsholder.io, Spotify, and YouTube, along with annual sponsors ASCAP, BMI and SESAC.
About the organizer
The Association of Independent Music Publishers (AIMP) was formed in 1977 and has local chapters in Atlanta, Los Angeles, Nashville, and New York. The organization's primary focus is to educate and inform music publishers about the most current industry trends and practices by providing a forum for the discussion of the issues and problems confronting the music publishing industry. The opportunity to exchange ideas and opinions with others on issues of mutual concern is fostered by the atmosphere at the AIMP's monthly meetings, forums, and workshops, the videos of which can be seen (along with more general info on the organization) at aimp.org.