Description
Welcome to the female entrepreneur's event of 2019 to help you Aim High
Build relationships with like-minded women from all across Texas
It's time to define your purpose, ignite your passion, and grow your profits!

Aim High is for you IF…

You want professional development, practical advice, and powerful relationships with women who Aim High…

PLUS, you crave inspiring, helpful speakers, amazing swag bags and raffle prizes, and plenty to time to get to know the other women in the room…

AND, you're ready to define your purpose, ignite your passion, and grow your profits!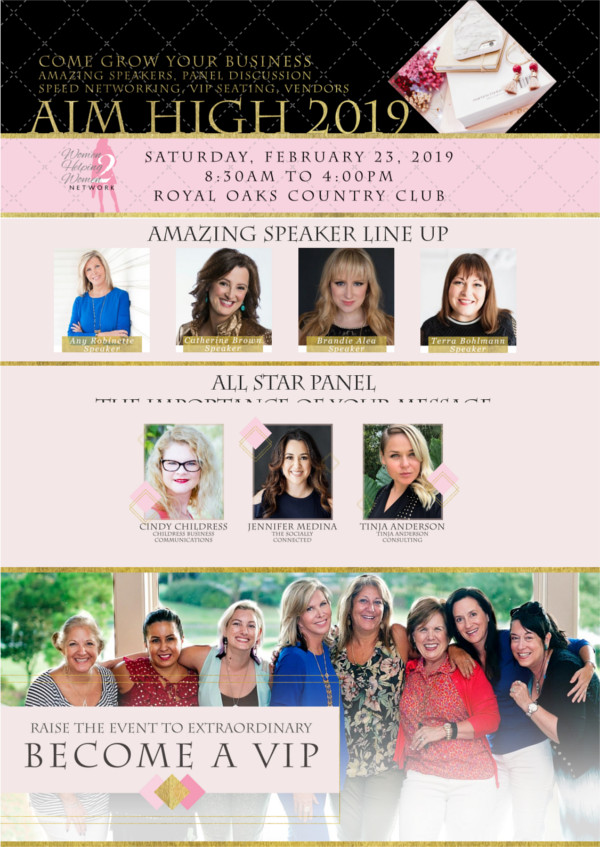 Meet Our Presenters and All-Star Panelists for Aim High 2019
Keynote Speaker
Brandie Seifert, Makeup Artist, Founder of Hollywood Hippie Cosmetics, and Philanthropist "I have succeeded in business by learning when a setback happens, you must face it head on, crush it, and move on." --Brandie
Presenters
Catherine Brown, Sales Trainer and President of ExtraBold Sales "Whether you have stage fright, hate to cold call, or just don't want to reach out to that potential customer one more time, it's crucial to conquering the fears that limit our business growth." --Catherine
Terra Bohlmann, Business Coach and Creator of The Business Mapping MethodTM "For an IDEA to become a BUSINESS, you have to have a plan. For your business to become highly PROFITABLE, you must take consistent action." --Terra
Amy Robinette, Founder of Women Helping Women 2 Network and The Gold Buying Girl "I truly believe that The Fortune Is In The Follow-Up! If you are not following up then you are giving up!" --Amy
All-Star Panelists
Tinja Anderson, Communications Consultant and Founder of Tinja Anderson Coaching "Your message has to be formulated and delivered naturally. Otherwise, the message is lost because it comes across as rehearsed and robotic."—Tinja
Jennifer Perez Medina, Founder and Creative Director of The Socially Connected "Everyone on social media today is trying to stand out from the crowd, but if everybody is trying to be louder, bigger and different, then who is being THE DIFFERENCE?"—Jennifer
Cindy Childress, Ph. D., The Expert's Ghostwriter and Founder of Childress Communication "Always start with your audience; when you know who they are, what they need, and why they want to hear from you, you'll create a strong message." –Cindy
Join us for Women Helping Women 2 Network's annual powerhouse event to bring business women from all over Texas together for a day of:
Keynote Inspiration to help you connect your passion to your purpose

Speed Networking to create relationships with female business owners and professionals

Hands-on Expert Presentations to increase your sales and plan for profit

Live Elevator Pitch Workshop to be memorable and bold when asked, "What do you do?"

Perfect Your Message Panel to craft messages that reach your best customers online and in person

5-Star Shopping with preferred vendors

Dancing and Fun to have a safe space and stop taking yourself to seriously
Don't miss this event and have to wait a whole year for your chance to Aim High and see what WHW2N is all about.
Get your tickets now!