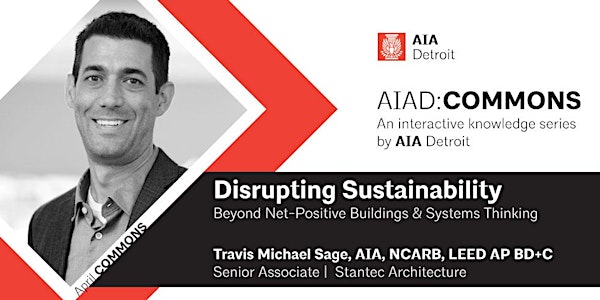 AIAD:COMMONS "Disrupting Sustainability" with Travis Sage
Location
International Brotherhood of Electrical Workers (IBEW) Local 58
1358 Abbott St
Detroit, MI 48226
Description
The April installment of our new AIAD:COMMONS series will feature Travis Sage, AIA, NCARB, LEED AP, Senior Associate at Stantec Architecture, presenting "Disrupting Sustainability: Beyond Net-Positive Buildings & Systems Thinking", hosted by the AIA Detroit Committee on the Environment, with support from the USGBC Detroit Region and the International Brotherhood of Electrical Workers' Local 58, whose Net-Zero headquarters in Corktown will play host to our lecture. Join us after the lecture for a happy hour at Batch Brewing, just across the street.
Lecture Info
The rapid rise and evolution of sustainable design has disrupted expectations for systems efficiency, resource stewardship, materials health and life cycles, and human wellness within the building industry.
However, as with other maturing industries, it is with accomplishment that most often comes the most disruptive evolutions in thought. Emergent ideas in programming, planning, utilization and adaptive building function are set to disrupt the industry in untold ways. Join us as we challenge our preconceived notions of space and place, utilization, efficiency and use to propose a new architecture and a new role for the architect in the years to come.
- Free Event
- Earn 2 AIA HSW CEUs