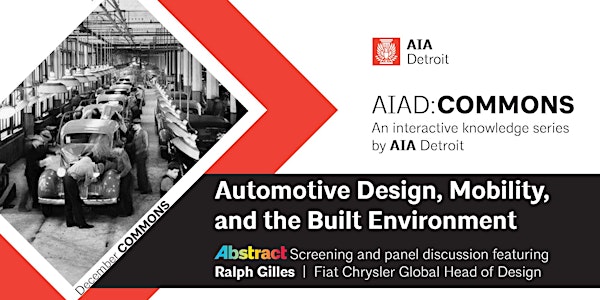 AIAD:COMMONS | Automotive Design, Mobility, and the Built Environment
Date and time
Monday, December 10, 2018 · 6 - 9pm EST
Location
General Motors Auditorium - 11th Floor College for Creative Studies A. Alfred Taubman Center for Design Education Benson & Edith Ford Conference Center 460 West Baltimore Street Detroit, MI 48202
Refund Policy
Contact the organizer to request a refund.
Description
The December installment of our AIAD:COMMONS monthly program will feature the third in our screening-and-discussion series on the Netflix-produced docu-series "ABSTRACT: The Art of Design".
The screening will feature the fifth episode of the "ABSTRACT" series, focused on Automotive Design, and viewed through the lens of a case study on Fiat Chrysler Global Head of Design and CCS graduate, Ralph Gilles. Following the screening, a panel of experts representing a range of design disciplines, including Mr. Gilles himself, will explore the deeply interrelated frontiers we're currently approaching in the areas of mobility and automation, placemaking, the future of work, and more. The technologies and innovations taking root in the mobility sector now will inevitably make their way into the world of architecture and the built environment before long---these advances are reshaping our very lifestyles, so both 'places-that-move' and 'places-that-stand-still' will have to adapt. The ultimate hope for this interdisciplinary cross-fertilization would be to help individual design practitioners, regardless of their discipline of choice, to inform a more intelligent future for our urban environments.
Join us in the conversation as we weave through concepts of design at many scales and scopes, from product and industrial design, through automotive design, interior design, landscape design, architecture, and urban planning, and seek out the parallels and interdependancies from which we can inform a more intelligent future for our urban environments.
- Free Event
- 2 AIA learning units
- Refreshments served