AI Talks: Next Generation AI – Memory, Causation and Adaptability + Network...
Sales Have Ended
Ticket sales have ended
Visit our website for awesome startup videos, upcoming events, opportunities and much more: https://BostonNewTechnology.com
Sales Have Ended
Ticket sales have ended
Visit our website for awesome startup videos, upcoming events, opportunities and much more: https://BostonNewTechnology.com
Description
21+. Join BNT and FCAT AI Club members to:
Hear experts from Fidelity & Massachusetts General Hospital discuss "Next Generation AI

."

Ask our experts your questions on AI.




Network

with AI enthusiasts and developers over appetizers, drinks & more at our reception.
Sharad Shandilya and Dr. Rahul Mahajan will present an overview of the recent evolution of Artificial Neural Networks with a focus on memory mechanisms – what memory means and the role these mechanisms play.
Then, they will review the requirements for model interpretability and determination of causality.
To end, they will briefly review relevant analogies to neuroscience which may lend themselves to extrapolation, and entertain a few ideas on how AI could become even more adaptable in the future.

The $10 tickets will only be available until 48 hours prior to this event. Register early to save 50%.
To save on tickets and enjoy exclusive benefits, purchase a BNT VIP Membership.
About the Speakers: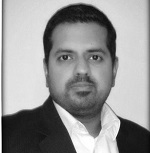 Sharad Shandilya is VP / Head of A.I. CoE Practice for Fidelity Institutional at Fidelity Investments.
Sharad Shandilya is an A.I. scientist, strategist, and execution lead across Financial Services and Healthcare verticals. For past 14 years, Sharad has developed data-driven products and platforms for startups and Fortune 100 companies. In Fidelity Investment's cross-business A.I. group, Sharad is currently responsible for establishing A.I. practice and solutions for Fidelity's Institutional Business. As someone instituting new operating models in the age of big data, he has been a keynote panelist and speaker at various industry and academic conferences. Sharad's books, peer-reviewed publications and I.P. span digital, IoT, and AI. He has a masters and doctorate in computer science; and post-doctorate AI technology development at University of Michigan Ann Arbor.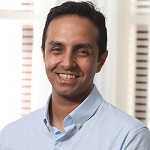 Rahul Mahajan is Neuroscience Innovation Fellow at Massachusetts General Hospital and Third Rock Ventures
Rahul Mahajan MD PhD, is a clinical Neurologist at MGH and Neuroscience fellow at Third Rock Ventures, a venture capital firm focused on biotechnology company building. He pursues research at MGH concerning electrical signals in the human brain using intracranial recordings and computational methods. He additionally provides expertise in translational strategy and clinical development for neuroscience based ventures at Third Rock. Prior to his career in Boston, Rahul completed undergraduate and graduate work in Biomedical Engineering and Ion Channel biophysics in Virginia. Starting in July, Rahul will be working in the MGH and BWH Neuroscience Intensive Care Units to take care of patients with the gravest Neurologic illnesses.
Brought to you by:

At Fidelity Investments, our commitment to innovation led to the creation of the Fidelity Center for Applied Technology (FCAT) in 1999 and Fidelity Labs in 2005. We research, experiment, and collaborate on ideas to bring emerging technologies to the customer experience. When it comes to technology, we're hands-on. Whether it's virtual reality, artificial intelligence, or digital currency and blockchain, we're testing it and looking for ways to use it to better people's financial lives. Learn about careers at FCAT and Fidelity Labs and careers at Fidelity Investments in data science and more.
Follow and tweet: @Fidelity @FidelityLabs
Agenda:
4:30 - Check-in and Early Networking
5:00 - Welcome & Announcements
5:05 - AI Talk: "Next Generation AI – Memory, Causation and Adaptability" with Sharad Shandilya and Dr. Rahul Mahajan
6:15 to 7:15 - Networking reception, with appetizers, drinks & more
Directions & Parking:
Fidelity Investments is adjacent to the MBTA Red line South Station at 245 Summer St, Boston (near intersection with Atlantic Ave - map here).
Parking:

There are parking meters along Atlantic Ave and other area streets, but we recommend parking at the Garage at Post Office Square - only $9 after 4 pm.
Upon Arrival:
Show your ID at BNT's check-in desk in the lobby to pick up your badge and proceed to the meeting room on the ground level (right side).
Attendance Terms:
BNT is dedicated to providing a harassment-free and inclusive event experience for all members/participants. To attend, event registrants agree to these Attendance Terms, which are summarized on the registration page for this event and in the confirmation email sent to registrants.