Location
St. Francis Yacht Club
700 Marina Blvd. / 99 Yacht Road
Starting Line Room
San Francisco, CA 94123
Description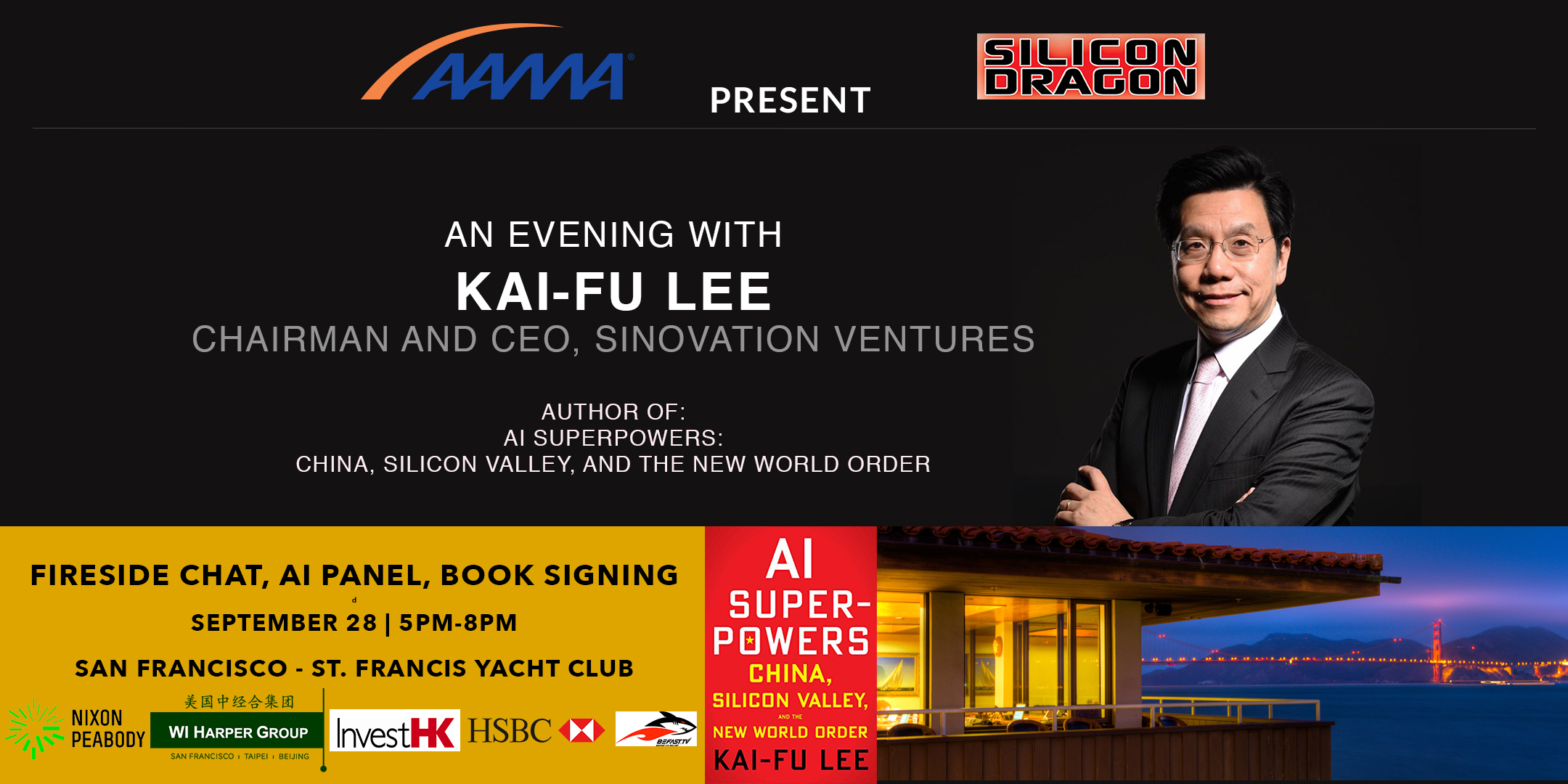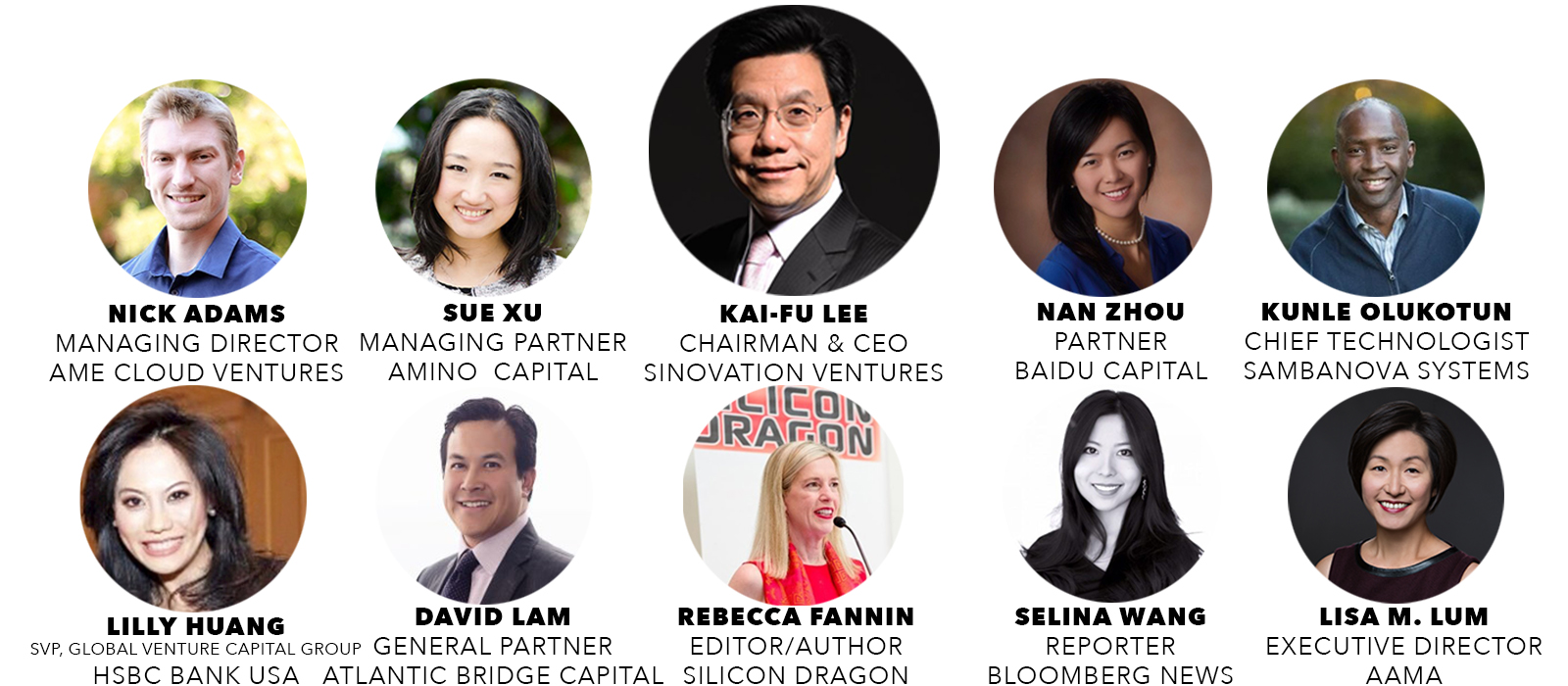 Join us for a special evening of great networking, meaningful conversation and excellent food as we celebrate the launch of Dr. Kai-Fu Lee's new book AI Superpowers: China, Silicon Valley, and the New World Order.
Here are two well-known facts:
Artificial Intelligence is reshaping the world as we know it.
The United States has long been, and remains, the global leader in AI.
That first fact is correct. But in his provocative new book, Dr. Kai-Fu Lee—one of the world's most respected experts on AI—reveals that China has suddenly caught up to the US at an astonishingly rapid pace. As the US-Sino competition begins to heat up, Lee envisions China and the US forming a powerful duopoly in AI, but one that is based on each nation's unique and traditional cultural inclinations.

Building upon his longstanding US-Sino technology career (working at Apple, Microsoft and Google) and his much-heralded New York Times Op-Ed from June 2017, Dr. Lee predicts that Chinese and American AI will have a stunning impact on not just traditional blue-collar industries but will also have a devastating effect on white-collar professions. Is the concept of universal basic income the solution? In Dr. Lee's opinion, probably not.

In AI Superpowers, he outlines how millions of suddenly displaced workers must find new ways to make their lives meaningful, and how government policies will have to deal with the unprecedented inequality between the "haves" and the "have-nots." Even worse, Lee says the transformation to AI is already happening all around us, whether we are aware of it or not.

Dr. Lee—a native of China but educated in America —argues powerfully that these unprecedented developments will happen much sooner than we think. He cautions us about the truly dramatic upheaval that AI will unleash and how we need to start thinking now on how to address these profound changes that are coming to our world.
PROGRAM
AI Superpowers: China, Silicon Valley and the New World Order
Registration & Networking 5pm
Welcome Remarks 5:25pm
FIRESIDE CHAT 5:35pm
China is catching up to the United States' long established leadership in artificial intelligence at an astonishingly rapid pace. The future of AI development is leading to new cycles of innovation.
Kai-Fu Lee, Chairman and CEO, Sinovation Ventures / Author, AI Superpowers
with Rebecca Fannin, Founder/Editor/Author, Silicon Dragon
BOOK SIGNING 6:10pm
PANEL: AI Innovators & Investors 6:30pm
AI Investors and Innovators Discuss The Race Between China and Silicon Valley in AI: A Wake-up Call
Nick Adams, Managing Director, AME Cloud Ventures
Sue Xu, Managing Partner, Amino Capital
Nan Zhou, Partner, Baidu Capital
Kunle Olukotun, Chief Technologist & Co-founder, SambaNova Systems / Professor, Stanford University
Moderator: Selina Wang, Reporter, Bloomberg News

WELCOMES & INTROS
David Lam, General Partner, Atlantic Bridge Capital, Board Member, AAMA
Lilly Huang, Senior Vice President, HSBC Global Venture Capital Group
David Kaufman, Director, Global Strategies, Nixon Peabody
Norman Liang, VP, WI Harper Group
RECEPTION 7-8pm
Drinks and Canapes
---
Progammed and Presented by: Silicon Dragon and AAMA
Sponsors: Nixon Peabody, HSBC, WI Harper, InvestHK
---
Supporting Partner: Bay Area Council
Media Partner: BeFast.TV
---
Join the Silicon Dragon Circle for more special invitations and networking with VIP VCs!
Next Silicon Dragon Event:
Silicon Dragon Awards - Nov. 15, Hong Kong
Presentation of Annual Awards for VC, founder and deal.
Plus VC Panel Discusses the Latest Startup Funding Trends