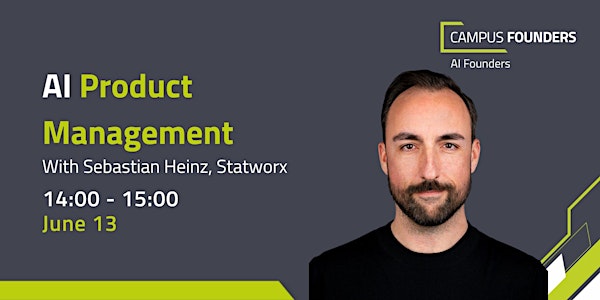 AI Product Management with Sebastian Heinz from Statworx
.
Date and time
Tuesday, June 13 · 2 - 3pm CEST
Location
Campus Founders, Bildungscampus 1, Forum Heilbronn Bildungscampus 1 Gebäude Forum, 1. OG 74076 Heilbronn Germany
About the organizer
Wir sind das Innovations- & Entrepreneurship-Zentrum mitten auf dem Bildungscampus. Mit dem Fokus auf innovativen Startups, neuen Methoden, Technologien und Disruption leben wir, was wir fördern. Wir bringen Bildung, Gründungskultur und Unternehmen zusammen und sorgen für Inspiration, Information und Unterstützung. Ausgestattet mit einzigartigen technischen, personellen und infrastrukturellen Ressourcen widmen wir uns mit Leidenschaft, Hingabe und Know-how unserem Ziel: als führendes Startup- und Innovations-Zentrum den besten Teams und Ideen ein Zuhause zu geben und zum Erfolg zu verhelfen.  Komm zu einem unser zahlreichen Events und werde Teil der wachsenden community! ___________________________________________________________________________________  We are the start-up centre in the middle of the Bildungscampus. With a focus on innovative start-ups, new methods, technologies and disruption, we live what we encourage. We bring education, start-up culture and business together and provide inspiration, information and support. Equipped with unique technical, human and infrastructural resources, we commit ourselves with passion, dedication and know-how to our goal: as a leading start-up and innovation center, to give the best teams and ideas a home and help them to succeed. Come to one of our numerous events and become part of the growing community! 
https://campusfounders.de/de/impressum/