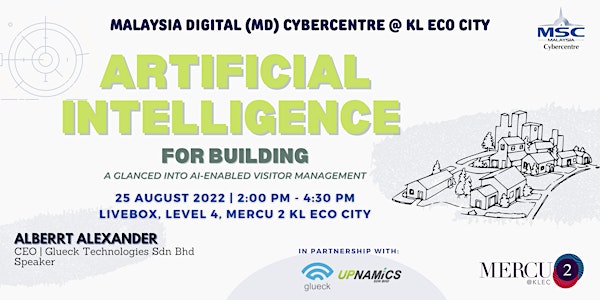 AI for Building - A Glance Into AI-enabled Visitor Management System
An informative sharing session by our industry expert, Mr. Alberrt from Glueck Tech on how AI transform the future of Building Management
When and where
Location
Livebox, Level 4, Mercu 2, KL Eco City No.3 Jalan Bangsar Kuala Lumpur, Kuala Lumpur 59200 Malaysia
About this event
One of the key areas of Building Management is Visitor Management System (VMS) which literally connected to the access and security of the building. Visitor management involve process that helps an organization keep track of the people that visit their location. VMS are tools that help organizations create or carry out their visitor management policies. As companies realize the value of visitor management, many are upgrading from the paper and pen sign in sheet to a digital VMS that can help them do much more.
With the introduction of Artificial Intelligence (AI) and Internet of Things (IoT) for the VMS it enables building management to automate visitor registration process, allowing them to minimize the human error in the process. AI based VMS combines Face Recognition and Face Match technology that are able to detect faces and group them according to management's need.
Join our upcoming event which will be held on 25th August 2022 at 2.00 PM.
Key takeaways:
How does AI & machine learning works on the Building Management System?
Retrofitting of traditional Visitor Management System with AI & IoT?
Use case of AI for Visitor Management System?
Pros & Cons of the AI for Visitor Management System.
Find out the answers to these questions and more from our experienced professional and speaker, Mr. Alberrt Alexander from Glueck Technologies.
ALBERRT ALEXANDER | CO-FOUNDER, CEO GLUECK TECHNOLOGIES SDN BHD
Alberrt is experienced in managing the Banking Business as well as developing banking solutions. He has obtained Qualifications in Software Development Life-cycle, project planning, Quality Assurance, Systems Analysis, Release Management, Development Practices, Problem Resolution and User Interface Design. Was primarily involved in developing retail banking solutions, front end delivery systems, CRMs , BI and moving the Bank into an integrated banking system and project managed five bank's system integration resulting from mergers.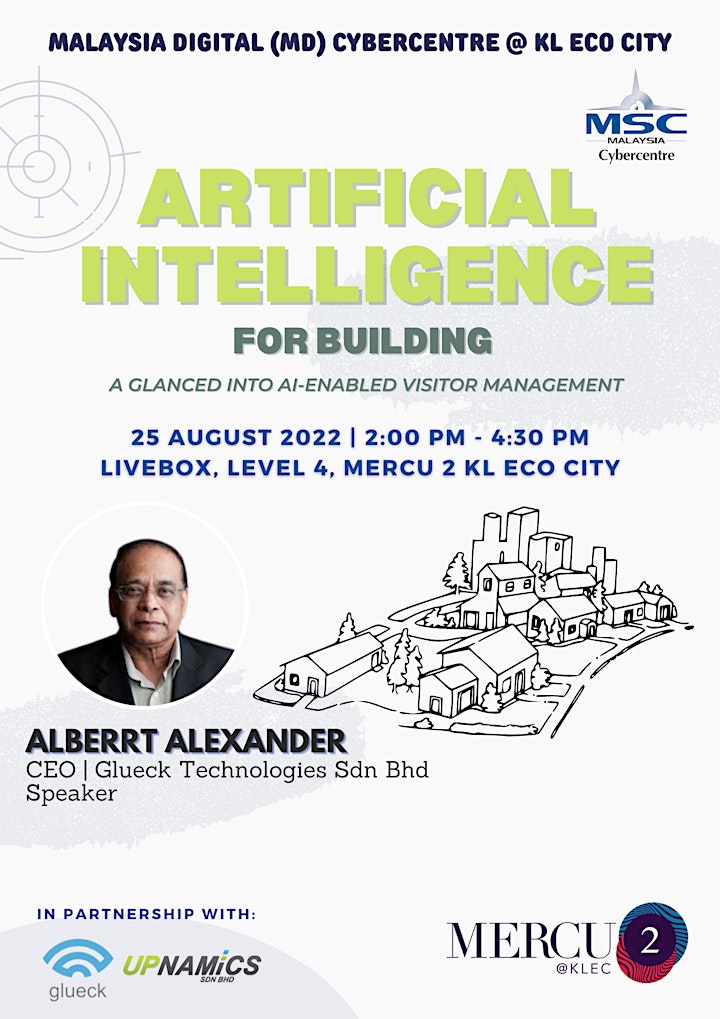 TENTATIVE FOR EVENT
Our event will be conducted on 25th August 2022 at 2.00PM & located at Livebox @ Level 4, Mercu 2, KL Eco City. For those who have registered will received reminders & further info on the events a few days before the event start. Please ensure to register with an active email address.
2:00 PM : Arrival of Participant & Registration
2:30 PM : Welcoming Address by Upnamics
2:35 PM : Presentation on Artificial Intelligence by Speaker
4:00 PM : Q&A Session
4:30 PM : Session End
For further details, please contact @ 013-3457217