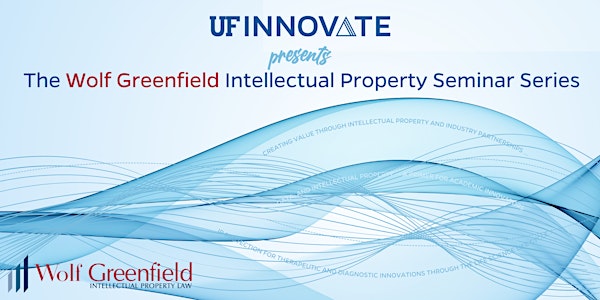 AI, Data and Intellectual Property – A Primer for Academic Innovators
ATTEND IN-PERSON (LUNCH INCLUDED) OR VIRTUALLY: Learn about the basic IP tools, challenges, and practical tips for protecting AI/ML tech
When and where
Location
Communicore Building 1249 Center Drive C1-011 Lecture Hall (Near the Health Science Center Library) Gainesville, FL 32603
About this event
ATTEND IN-PERSON OR VIRTUALLY
UF Innovate Presents: The Wolf Greenfield Intellectual Property Seminar Series
The Boston-based Intellectual property law firm Wolf Greenfield & Sacks, which has supported UF Innovate to protect and commercialize intellectual property developed at UF for over 15 years will present the Intellectual Property Seminar series.
Topic: AI, Data and Intellectual Property – A Primer for Academic Innovators
University research is producing many inventions relating to machine learning (ML) and other artificial intelligence (AI) technologies. These inventions involve using AI/ML for a variety of applications including in high tech and in the life sciences. This talk will address intellectual property tools that can be used to protect AI/ML inventions as well as the volumes of data that enable them. This talk will touch on patents, trade secrets, contracts, and other tools for protecting AI/ML technology, challenges to doing so, and practical tips for how to overcome these challenges.
Speakers for the event:
Dan Rudoy is a Shareholder in the Electrical and Computer Technologies Practice at Wolf Greenfield. Dan holds a BA in Mathematics, a BS in Computer Science and Engineering, and a MS in Computer and Information Science from the University of Pennsylvania. He received his PhD in Electrical Engineering from Harvard University and completed his JD at Suffolk University Law School.
Kevin MacDonald is an Associate in the Biotechnology Practice at Wolf Greenfield. Kevin holds a BA in Biology from Boston College and a MS in Molecular Biology from the Liverpool School of Tropical Medicine. He received his PhD in Parasitology from McGill University. He completed his JD at Suffolk University Law School.
Learn more about Creating Value Through Intellectual Property and Industry Partnerships, on October 25th. Also check out IP Protection for Therapeutic and Diagnostic Innovations through the Life Science Life Cycle, on October 27th.