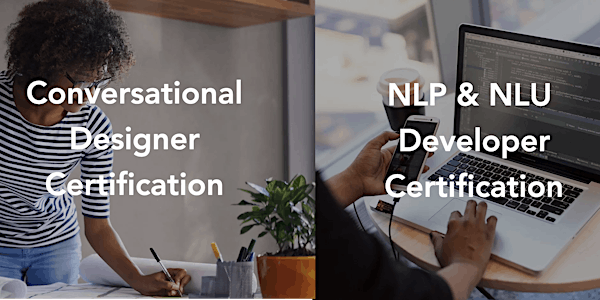 AI Certified Workshops: ChatGPT & Conversational UX & Dialogflow
Get Certified in ChatGPT & Conversational UX & Dialogflow in 3 Days. Full Day workshop taught by top industry experts in Conversational AI.
Date and time
June 13 · 9am - June 15 · 4pm PDT
About this event
2 days 7 hours

Mobile eTicket
Get Certified in ChatGPT & Conversational UX & Dialogflow in 3 Days. Full Day workshop taught by top industry experts in Conversational AI.
Welcome to the Chatathon
Welcome to Chatathon, an exciting event featuring three Certified Workshops, an Open Forum, and a Hackathon. Each day is packed with engaging activities, including an Overview Talk, Expert-led Sessions, Open Forum discussions, and Hands-on Workshops. Join us to learn how to build Super Powerful AI Bots!
During our three Certified Workshops, you will have the opportunity to create an impressive Chatbot that harnesses the capabilities of cutting-edge language models like Bard and ChatGPT, combined with the power of Natural Language Understanding (NLU) through Dialogflow.
Building it Live
In these workshops, we will guide you in building a Super Powerful Chatbot that effectively utilizes both Dialogflow and ChatGPT. The exciting part is that you get to decide the specific use case for your Chatbot! The workshop's goal is to design and develop a Chatbot using an LLM and Dialogflow.
Why Dialogflow?
While ChatGPT excels in many areas, Dialogflow plays a crucial role in handling specific tasks, such as following up with customers. By integrating Dialogflow, your Chatbot gains the ability to take meaningful actions, making interactions seamless and efficient.
The Project:
Throughout our comprehensive full-day workshops, you will build a Chatbot using Large Language Models (LLMs) such as ChatGPT and Bard. This immersive experience will introduce you to a whole new world of conversational design and development.
By the end of the workshop, you will have a Chatbot capable of generating more leads for your company and even answering frequently asked questions. Moreover, you will earn a Level 1 Certificate to showcase your achievement.
Certifications Offered:
Conversational Design Certification: In this workshop, you will learn the art of designing a Chatbot within an innovative paradigm that incorporates Large Language Models.
ChatGPT/BARD Certification: Discover how to effectively utilize prompts, create applications using ChatGPT/Bard, and seamlessly connect them to user interfaces.
Dialogflow Certification: While ChatGPT is incredibly powerful, Dialogflow fills in the gaps by managing tasks and executing specific actions. Learn how to leverage Dialogflow effectively.
Upon completing these workshops, you will possess the skills to develop high-quality Chatbots or virtual assistants using Natural Language Understanding (NLP). As a bonus, you will receive a Certification upon finishing the workshop, highlighting your expertise in the field.
Join us at Chatathon and unlock the potential of AI-powered conversational agents!
Agenda
The Agenda is in Pacific Time Zone
BONUS: HACKATHON PRIZES
After the Workshop, each bot that was submitted will be up for Prizes. Best project will win the Hackathon, be featured in the Chatbot Conference in the Fall of 2023 in San Francisco
Networking & Digital Happy Hour
We have digitized the networking experience! You will be able to virtually network with Speakers, Attendees, Vendors and exchange contact information with the click of a button.
Discover how Enterprises are using chatbots, AI and Voice to decrease costs and increase revenues. We will explore latest trends, use cases, and get a behind the scene look at what is working best and how you can apply it in at your company.
We features speakers from many of the leaders in the space such as Google, Facebook, Amazon, Rasa, IBM, Salesforce, Intuit, Walmart, and many more.
Our Events Feature Top Industry Experts
See what Attendees say about the Chatbot Conference & Workshops
About the organizer
Chatbot's Life is one of the leading media and chabot consulting firms. We have become one of the top places to learn about Chatbots and AI online with nearly 150K views per month. We have consulted many of the most popular bot companies like Swelly, NearGroup, and OutBrain and worked with enterprise level clients, in the HR space, fintech and IOT. We love helping companies make great chatbots and we share our insights along the way.