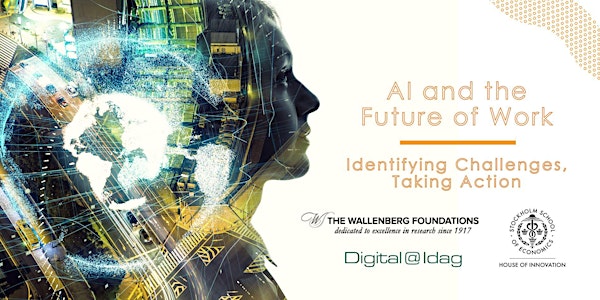 AI and the Future of Work: Identifying Challenges, Taking Action
Location
Stockholm School of Economics
Sveavägen 65
Atrium and auditorium
113 83 Stockholm
Sweden
Sales Have Ended
Registrations are closed
Thank you for registering to our event. Warm welcome on November 22! // House of Innovation
Welcome to an engaging afternoon about the challenges, opportunities, and necessary action in face of rapid technological change.
About this event
Registration opens at 14:00. The program starts at 14:30, finishes at 16:45 and is followed by a mingle with refreshments and lighter food until 17:30.
Historically, technological revolutions have repeatedly transformed society, often in unexpected ways. Society as we know it today, with radically improved health, wealth and life expectancy in most parts of the world is increasingly shaped by the development and use of digital technologies. However, prior technological revolutions have led not only to the reshaping of work, of societal structures and of norms, but also to social unrest. Digital technologies in general, and artificial intelligence in particular, can currently be understood as a double-edged sword. They promise a future of ubiquitously available, efficient and attentive societal and commercial services, but they are also identified as a potential major force in societal transformation, and social upheaval, in our near future.
While we cannot know exactly how digital technologies will reshape our lives and society, we can be certain that this shift will be faster than ever before, that it will happen on a global scale, and that it will fundamentally affect how we work in the future.
What are the broader implications of this rapid technological revolution on work, for the individual, for organizations, and for society? Welcome to an engaging afternoon of conversations about challenges, opportunities, and necessary action, as we jointly make sense of, address, and live through this rapid technological shift.
PROGRAM
14:00 Registration opens and fika is served.
Program starts 14:30 in the Aula
Welcoming words by Lars Strannegård, President SSE
HR directors' view on the impact of digital technologies on employment, by Susanne Ackum, Chair Future Work Forum
Keynote presentation by Carl Benedikt Frey, Director, Future of Work Programme, University of Oxford
Carl is Oxford Martin Citi Fellow at Oxford University where he directs the programme on the Future of Work at the Oxford Martin School. He is author of The Technology Trap: Capital, Labor and Power in the Age of Automation
Keynote presentation by Amy Loutfi, Professor of Information Technology, Örebro University
Amy is professor and Pro-vice-chancellor of Artificial Intelligence at Örebro University. She is also the Head the Machine Perception and Interaction Lab.
15:35 Short break
Panel discussion
Caroline Berg, Chair Axel Johnson AB
Jacob Wallenberg, Chair Investor AB
Caroline Söder, CEO Employment Transition Fund (Trygghetsfonden TSL)
Åsa Zetterberg, President Swedish IT and Telecom Industries (IT&Telecombolagen)
Moderator: Magnus Mähring, Chair SSE House of Innovation
16:45 - 17:30 Mingle in the Atrium
If you have any questions about this event, you are welcome to contact Jakob Rudberg, Outreach Manager at SSE House of Innovation (jakob.rudberg@hhs.se).
Warm Welcome!
-------------------------
This event is part of yearly theme day Digital@idag, an initiative by Future Work Forum to increase the knowledge and understanding in the wider society about digitization, the opportunities it brings and the challenges it poses. Click here for more information about Digital@idag.
This event is made possible through the outreach program of the Jacob & Marcus Wallenberg Centre for Innovative and Sustainable Business Development and the Scania Center of Innovation and Operational Excellence, at the SSE House of Innovation.
Please note that this event is free of charge, but a so called "no show" fee of 200 SEK will be invoiced to your organization if you are registered to the event and do not show up.