Description

www.agtech2018.squarespace.com
---
Welcome to the 2018 AgTech Conference of the South
This is Georgia's first conference highlighting investment, entrepreneurship and innovation which is shaping the future of Agriculture.
"The conference will showcase key thought leaders and investors, as well as current and emerging agtech business owners who are creating more value, variety and predictability in the world's food and fiber supply. The event's emphasis on investment and entrepreneurship will help accelerate the growth of this critical industry across our state and help forge new relationships among stakeholders who span the farm-to-fork value chain." ~David Belle Isle, Mayor of Alpharetta.

AgTech Conference of the South will be held in Alpharetta, Georgia — the region's epicenter of technology-fueled entrepreneurship and investment, at the new Alpharetta Conference Center. Boasting over 900 tech companies, Alpharetta has evolved far beyond its agricultural roots to foster technology innovation across industries that are defining the modern experience: agriculture, mobility, financial technology, supply chain, and healthcare.
Alpharetta is the Technology City of the South — Home to over 640 technology companies, Alpharetta is known as the Technology City of the South. Founded in 1865, Alpharetta was an agricultural community with 3000 residents until the early 1990's. When GA Highway 400 expanded into the northern suburbs as metro Atlanta grew, Alpharetta began to develop and quickly became the hub for technology companies to expand and locate. While founded as a city that grew cotton, now Alpharetta is the leader in growing technology businesses and innovation for the Metro Atlanta region.
Click here to view the Conference Schedule.
---
Featured Speakers:

Craig Ganssle, intelliSCOUT
Craig Ganssle is the Founder and CEO of Basecamp Networks, an innovative technology firm specializing in wireless network solutions, future business consulting practices, and cloud-based application management. With over 20 years in the technology industry, Craig has extensive experience developing and deploying wireless networks and designing predictive learning solutions for complex problem solving.

Craig started Basecamp Networks in 2007 providing global wireless network infrastructures as well as creative solutions for difficult and time-consuming IT issues. As a partner with Google since 2008, Craig was one of the original Glass Explorers, Google's original beta test group. In early 2013, Craig advanced to an elite small team for this innovative technology. Since then, under his leadership and Basecamp's agricultural focus, Craig's vision for Glass led his team to develop intelliSCOUT®, the world's first wearable application offering farmers a truly hands-free solution, enabling agricultural problem-solving by collecting actionable insights from the field in a fraction of the time. intelliSCOUT technology has been demonstrated, in conjunction with the Basecamp Networks' offering, to dignitaries throughout the world, including France, where Craig was personally requested to present this technology to President Francois Hollande. In October 2016 Craig and Basecamp won the Atlanta Telecom Partnership (ATP) Technology Service Provider of The Year Award (in addition to his achievements in agricultural technological advancements). [Read More]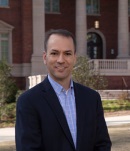 Mayor David Belle Isle
Over the course of David's public service, he has championed three efforts to reinvent Alpharetta's downtown. The first two efforts failed; the second more spectacularly than the first. But, with a determined Council, the third and final effort is now funded at over $30,000,000.00 and well under way. Food trucks, new construction, and music-centered events have begun to transform Downtown Alpharetta. Where there were once empty storefronts, there are now nearly a dozen restaurants with new shops opening every month.
In David's first year as mayor, David led the charge with a forward-thinking Council to land Georgia's newest technical college in the city of Alpharetta, making the case for a $4,000,000.00 incentive to enable the new campus.
David also recognized that Alpharetta was not merely a corporate headquarters city. The City boasts over 600 technology companies; more than twice the number of the City of Atlanta. So, David formed the State's first technology commission. Comprised of Alpharetta's leading technology executives, the ATC is leading the City towards innovation, cutting edge infrastructure, national branding, and the creation of a technology culture. And,….it's working. In 18 months, Alpharetta has added over 4,300 high-paying technology jobs and is becoming known as the Technology City of the South. [Read More]
---
Pricing:

Individual Registration - $495.00
---
Refund Policy Clarification:
Due to pre-registration costs and guarantees, refunds or credits are not extended for this event. However, paid registrations are transferable. On the day of the event, the substitute attendee must present a copy of the paid registration receipt or email verification to be admitted to the event.