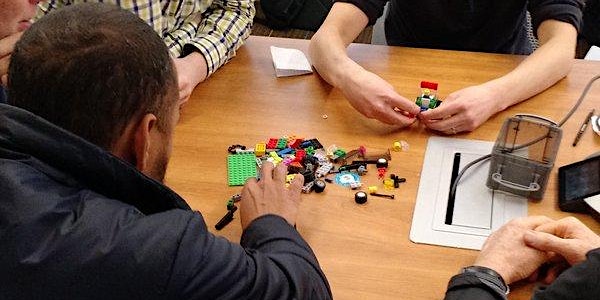 Agile Games Day (A Pay-What-You-Can Event)
When and where
Location
Rackspace 620 Folsom Street San Francisco, CA 94107
Description
When the going gets tough, Play!
Do you have an issue with low morale and high stress or perhaps your Agile practices have gone stale? Maybe your team's communication isn't what it should be or they seem to have lost their creative edge? What can you do to turn things around? How about injecting some fun into your workspace!
Studies have shown that teams that participate in activities that involve the whole brain learn more, retain more of what they learned, and lower their stress levels, all while having fun. Come and learn some interesting ways to engage your teams and keep them engaged.
Whether your team regularly plays together or this will be a first, you're bound to find something new you can bring back. And since all of this is play with a purpose, you'll be helping them grow and become better Agilist, too! Heck, why not just bring the whole team with you??


Agenda
9:00am

Opening
Why are we all here and what is it about playing games that makes them so valuable? Let's discuss why we play and how we can use games in our work environment. And since this is a Games Day, we'll include a couple of opening games to get us warmed up
9:30am

Marketplace
This exercise is designed to help teams discover the hidden skills and talents in the people they work with daily. As we walk through the mechanics of running a Marketplace we also create an opportunity to learn about the different games each of us might already be playing in our own workplaces. So bring along an exercise or two you might want to share!
10:30am

Break
10:45am

Lego® Serious Play®
Using Lego® in a work environment is a recent trend that has been gaining interest in the Agile community. But what exactly is Lego® Serious Play® and what's involved in doing it right? As a certified LSP facilitator, Paul takes the group through a series of exercises that help demonstrate the different ways Lego® can be used and discuss some of the pitfalls of doing it wrong.
12:00pm

Lunch
A break for lunch is provided however, in order to keep the cost of Games Day as low as possible, food will not be provided. Participants are encourage to either bring lunch or visit one of the numerous local eateries and bring lunch back to the training room.
12:30pm

Games Coffee
Remember all those great games you heard about during the Marketplace that others are using in their work? Now is the time to share! We'll take a look at the exercises and games participants bring in using a Lean/Agile Coffee format. Oh, and we'll learn how to do a Lean/Agile Coffee, too!
2:00pm

Empathy Toy
Communication is crucial in a team environment, using this game from TwentyOne toys we explore the value to be found in creating and using a common language and positive communication.
2:45pm

Break
3:00pm

Power of 13
What can a team achieve that an individual cannot? A lot! This exercise is used to discover the power of collaboration and team work in a fun and engaging way.
3:45pm Simulation Game
Matthew Carlson will be running a game simulation that deals with inter team dependencies and working in small chunks (card sorting)
4:45pm

Closing
We'll wrap up with a discussion of other resources for even more fun and games in the workplace and a bit of fun




About the Organizer
Paul Wynia has over 18 years of software industry experience and has been involved with Agile for over 8 years. He has led onsite Agile transformations for teams in the US, Canada, Asia, India, and Europe. As a certified Agile Coach and Lego® Serious Play® Facilitator, Paul works closely with companies to ensure teams don't just adopt Agile practices, but incorporate the Agile Mindset into everything they do in both fun and interesting ways. www.workagile.net. Twitter: @workagile