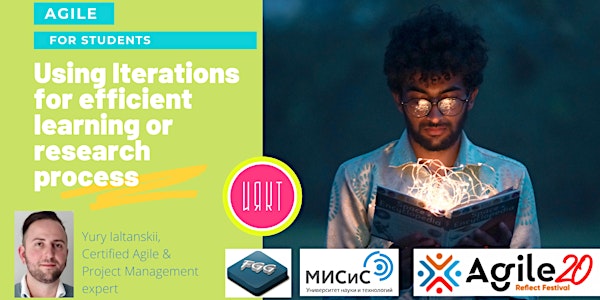 Agile for students: Using Iterations for efficient learning or rese
Agile for students: Using Iterations for efficient learning process or research
About this event
In this session you will be introduced to Agile mindset that can help companies and individuals make their internal processes more efficient and fast. Studying and learning are the areas where Iterations, as part of Agile methodologies, can help students on their path to education with less stress, more benefits and better outcomes. In this session you will learn about the iteration flow and how you can use them to make things happen. This webinar will be a contribution to students, as well as teachers that are interested in helping their class to achieve better results.
The webinar will be held by Yury Ialtanskii, co-founder of Flex Growth Group, a proactive leader with over 8 years of experience in the technology sector. Yury is experienced in the areas of Agile, Data Analytics, FinTech, Project and Program Management. He is PSM I/II certified, having extensive experience with Scrum, Kanban, Lean and Scaled Agile (SAFE, Nexus, LESS) frameworks acting as a change agent leading the digital transformation process in large corporate organizations.
Session facilitator is Julija Sipicina-Buhgolca, marketing strategist with experience in international companies such as SAMSUNG, L'OREAL, MARS INC. Socio-cultural anthropologist, pHD neuroscience researcher, lecturer at such universities as Lomonosov Moscow State University, NUST MISIS, Riga Stradins University, etc.
The webinar is part of global Agile 20 Reflect Festival that runs more than 500 events in February across the globe by leading Agile experts on various topics and in different languages!
More information:
https://agile20reflect.org/festival/photo/2021-02-01/
https://www.linkedin.com/company/the-agile20reflect-festival/
https://www.facebook.com/groups/684551988821851/
Twitter: @Agile20Reflect
Slack community: https://app.slack.com/client/T018D8VAQ8H/C01B32YAHS6