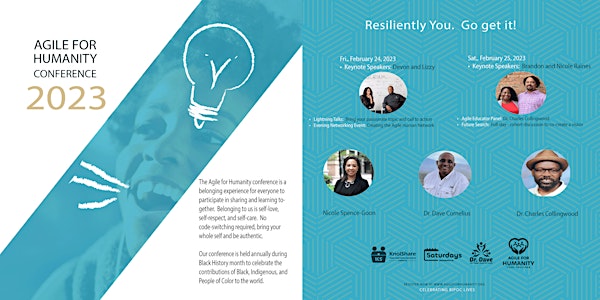 Agile for Humanity 2023 Virtual Conference
Resiliently You - Go get it! Experience belonging and learning at our 2023 agile community conference. Belonging belongs to everyone.
Refund Policy
Contact the organizer to request a refund.
Eventbrite's fee is nonrefundable.
About this event
1 day 8 hours

Mobile eTicket
The Agile for Humanity conference is a belonging experience for everyone to participate in sharing and learning together. Belonging to us is self-love, self-respect, and self-care. No code-switching required, bring your whole self and be authentic.
Friday, February 24, 2023:
Keynote: Devon and Lizzy Morris
Lightning Talks (TED Talk-ish 10-minutes presentations)
Building Agile Human Networks
Saturday, February 25, 2023:
Keynote: Brandon and Nicole Raines
Agile Educators Panel: Dr. Charles Collingwood
Future Search Deep-dive Conversations: Michael Tucker
We want all who attend to feel they are cared for and experience belonging. There will be a special emphasis on the BIPOC community to have an equal voice and presence in our conference.
Come Together!
Code of Conduct
KnolShare wants to ensure a respectful, safe and inclusive environment for everyone, whenever they are engaged in Agile for Humanity activities, events, and operations.
We do not tolerate harassing or disrespectful behavior, interactions, messages, or images, by any member, in any form. This includes business and social activities, regardless of location.
We encourage everyone to help in creating a welcoming and safe environment. Please report any concerns, harassing behavior, suspicious or disruptive activity using these contact methods: contact event organizers, volunteers, or committee/board members or email customercare@knolshare.org.
KnolShare reserves the right to refuse admittance to or remove any person from an activity at any time at its sole discretion and discontinue their affiliation with the organization or individual. This includes members, event attendees, speakers, local and regional community leaders, sponsors, Leadership Council members, and volunteers.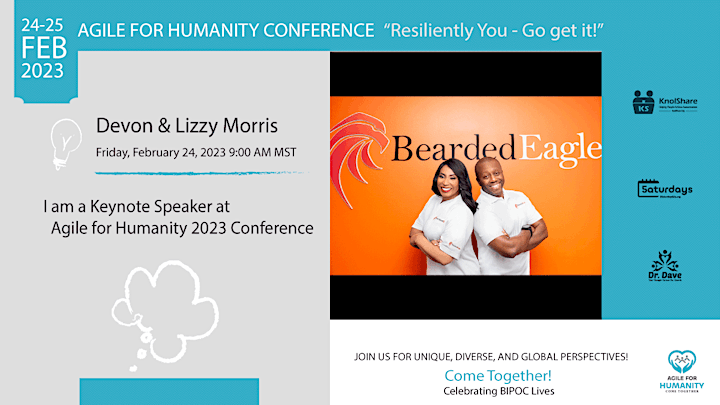 Topic: The legacy is bigger than the pain
Keynote Speakers: Devon and Lizzy Morris
Abstract: So we adapt and find the next best move that make our highest intent a reality
About Devon Morris:
Devon Morris is a man with a vision and the drive to match. A businessman, entrepreneur and innovator, he founded the highly successful training and consulting firm, BeardedEagle, which works with organizations such as the US Air Force, Coca-Cola and countless other companies wishing to implement Scrum or organizational transformations.
Devon charted out his path in the Agile and Scrum industry as a knowledgeable and respected Certified Scrum Trainer, who is sought after all over the world for his skills and training methods. An innovator who thinks outside of the box in an effort to offer his clients an arsenal of tools to improve productivity and efficiency, he is known for his ability to break down information and communicate that information to those in his workshops in a way that has teams and organizations sprinting and delivering working product increments in less than a week.
Devon "Eagle Eye", comes to the table with strategic insights seeded from an extensive background in helping companies make the challenging transition to Agile Development. He began his career as a developer in the trenches of code, and his project career took him through roles as Project Planner, Project Manager and finally to Scrum Master.
Time spent with him is always engaging and fun. His strategic vision and ability to guide leaders to executable solutions has generated over 300 million dollars of Agile projects in some of the largest financial institutions in the US.
In addition to his many accomplishments as a trainer, Devon founded, BeardedEagle Management Consulting Firm, which is the only firm owned by black professionals certified by the prestigious Scrum Alliance. BeardedEagle has changed the face of Scrum. Devon along with his business partner Lizzy Morris, are now introducing ways people can streamline daily tasks in their business, home, health and personal lives by becoming Agile and implementing Scrum.
Devon Morris is a leader and innovator, whose strategic way of thinking will continue to drive the growth of BeardedEagle and leave an imprint in the Scrum industry and the lives of those he has trained.
About Lizzy Morris:
Lizzy Morris is an internationally known Scrum & Agile Trainer, Life Coach, and Keynote Speaker who has impacted companies, associations, and entrepreneurs all over the world. Lizzy specializes in helping Fortune 500, and top 50 companies such as Bank of America, Allegis Group, Johnson & Johnson and Coca Cola secure measurable results for delivering end to end value.
The co-founder of BeardedEagle Training and Consulting, she and business partner, Devon Morris are groundbreaking experts in Agile and Scrum. The two innovators think outside of the box in an effort to offer their clients a different experience than any other consulting firm can deliver. As the only firm owned by black professionals certified by the prestigious Scrum Alliance, they have changed the face of Scrum and are now expanding its use by creating effective ways to streamline the way people approach tasks in their business, home, health and personal lives by introducing new programs such as ScrumFit and Scrum4Living.
Lizzy's classes are packed with improvisations and experiences that allow her students to transcend their cognitive bias and reframe their context. Lizzy sees herself as a lifelong student of learning how to inspect and adapt to deliver value with more and more speed and precision.
In addition, Lizzy is a seasoned executive consultant with over 18 years of in-depth experience in delivering software development, project management and strategic consulting. She is a master at fostering collaboration. Her hands-on approach to partnering provides the support needed to take any organization through the difficult transitional phases of implementing an agile change so they can deliver faster quality working software solutions that provide value.
Amongst her accolades, Lizzy has become the first woman of color in the world to qualify as a CST (Certified Scrum Trainer) and a Certified Scrum @ Scale Trainer within the globally recognized Scrum Alliance certification body. Her journey has evolved in the corporate arena; Lizzy has served as Organizational Change coach in organizations across the world. Her career has taken her across Europe, Asia, and Africa. Lizzy served as the VP Of Agile Transformation for one of the largest global recruitment holding companies in the world while they began their critical journey of transformation.
Lizzy Morris is the British "Agile Lady" who burns with a deep passion for evolutionary change and drives the successful transformation of client's organizations around the world.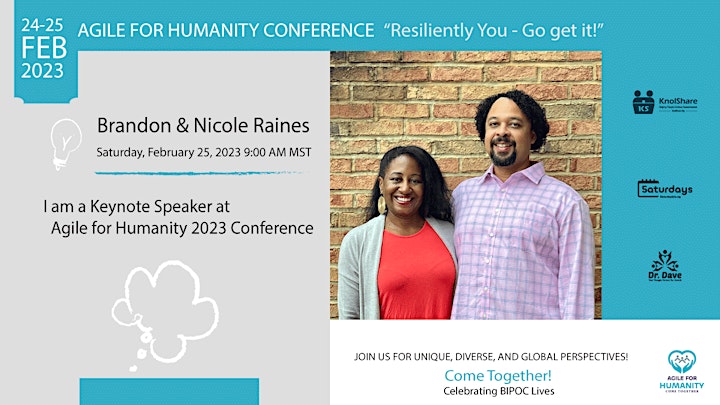 Topic: On the Go: Addressing Burnout and Growing Resilience
Keynote Speakers: Brandon and Nicole Raines
Abstract
In order to be an effective coach, it is important to maintain and sharpen your core tool, you. This means attending to every aspect of you including mental health. Practicing good mental hygiene through self-awareness and intentional care is one way to maintain an agile mind. There are no set rules for practicing self-care, but it is important to establish some markers for how you continue to nurture your relationship with self. Unfortunately, many of us don't recognize this need. We simply jump from event to event or engagement to engagement without ensuring we are whole, present, and charged. This despite one of the essential values of Agility being, 'maintaining a sustainable pace'. It doesn't just apply to the teams we are coaching, but for the coach as well.
We invite you to learn resilience bustling techniques from a practicing Agile coach and a practicing therapist. Join us as we explore practical responses to addressing burnout and care practices applied to the Agile principles and typical stressors that show up while we partner with organizations to grow. Our hope is the workshop will provide an experiential space for participants to gain tools to kick start or add to their mental and emotional wellness regimen.
About Brandon Raines
Brandon is an Organization Design and Enterprise Coach who has worked with public and private entities, both large and small. He has helped organizations and individuals emerge from near failure to thriving models of success. Brandon is a noted author, speaker and presenter on topics of leadership, organization design and teamwork.
Brandon is a Certified Enterprise Coach with the Scrum Alliance. He is also trained and certified in Organization Relationship Systems Coaching (ORSC) by the Center for Right Relationship (CRR) Global as well as the Disney Institute in Customer Relationship. Brandon has a deep background in Information Technology organizations as a Software Developer. Brandon has also served as Chief Operating Officer for a mid-size company where he instituted many organizational and leadership practices. You can learn more about Brandon at www.shokuninllc.com and follow his leadership and organization design postings on LinkedIn.
About Nicole M. Raines, JD, MA, LMFT
Licensed Marriage and Family Therapist, Mental Health, Relationships and Wellness
Nicole is a disrupter of mental health myths, champion of relationships and wellness and igniter of coping skills. Her professional title is Licensed Marriage and Family Therapist. She is licensed in California and Virginia. Nicole's career has developed within various settings including private practice, college campuses and a non- profit specializing in trauma based community mental health.In addition to providing direct services, Nicole facilitates workshops on various topics including mental health, stress management and cultivating healthy relationships. She also consults with organizations including AmLaw 50 Law Firms on mental health and wellness.In addition, to her licensure as a therapist, she is a licensed attorney in the State of California. Nicole currently owns a private practice, Sol Compass Therapy and Consulting, specializing in adult mental health, relationships in all phases and stages and wellness. Nicole is also co-host with Dr. Dena Scott of the podcast "Be Love Be Well Be Whole."