Agile Facilitation/Training with Liberating Structures - virtual
Event Information
Refund Policy
Contact the organizer to request a refund.
Eventbrite's fee is nonrefundable.
Learn to design and facilitate your remote workshops with Liberating Structures full engagement, high impact and psychological safety.
About this Event
Course Description
**Australia/ New Zealand/Hong Kong-special
(Evening hours for Canada/US)
This workshop will help you re-think your strategy for effective content delivery and workshop facilitation online. No more Zoom-fatigue in your meetings!
What you will learn in this class will set your workshops apart and help you engage your teams or your clients at the entirely new level.
Prepare to roll up your sleeves and learn by doing! Designed with your brain in mind, this class will immerse you in a powerful synergy of the latest techniques in brain-friendly training design and the most current adaptations of Liberating Structures.
Experience two different facilitation styles, collaborate and build connection with other participants, gain practical insights into designing your own workshops in Liberating Structures Design Jam.
What's in this workshop?
14 hours of learning (4 days of synchronous hands-on work - 3 hours each day with plenty of breaks + 30 min of individual pre-work/homework between the sessions).
7 practical tips for virtual engagement, collected and refined in over 14 years of remote facilitation experience.
8 TBR practices from Sharon Bowman's book "Training from the BACK of the Room" (used with permission of the author).
15 Liberating Structures + 2 Punctuations from the collection of 33+ Liberating Structures Library created by Keith McCandless and Henry Lipmanowicz.
Up to 12 workshop design opportunities on topics of your choice in a LS Design Jam Open Space. You will collaborate with others, design it in class, get feedback from your trainer and bring back a re-imagined design for your next meeting, training or a strategy workshop!
We will collaborate in Zoom breakouts and will use Mural, Mentimeter as well as physical pen and paper.
Class is limited to 12 participants. Save your spot now!

Who is this training for?
New Certified Scrum Masters. If you've taken CSM class in 2020, this workshop is a must! It will help you improve engagement and facilitate Scrum Events like a pro.
Product Owners and Product Managers.This workshop will bring a new perspective and systems thinking into your Product Backlog and Portfolio Management.
New and experienced Agile Coaches. You will find new ways to assess team effectiveness, facilitate large events with multiple teams and connect with the stakeholder in a fresh new way.
UX Designers and Design Thinking practitioners. This will give you new tools to add to your Design Sprints and help you better know your users.
Leaders, who want to enable innovation and create robust strategies.
Facilitators, looking to bring energy and impact to large online meetings they facilitate.
Familiarity with the Scrum frameworks is helpful, but not mandatory.
What will you be able to do after this class?
Completely change the dynamic of your workshops with Liberating Structures adapted to the virtual space.
Re-design your meetings/ trainings for remote delivery by selecting from a variety of design models (Liberating Structures Strings/Boards or "The 4Cs Map" from Sharon Bowman's book "Training from the BACK of the Room" (used with permission of the author)).
Facilitate impactful large-scale collaboration online with confidence.
Maximize engagement, long term content retention for your learners and NPR scores for yourself.
Course Schedule:
Please allow at least 30 min for a pre-work and a homework between the sessions.
----------------------------
All sessions will run at 7 PM - 10 PM EST (11AM - 2 PM AEDT - the next day)
Feb 8 (Feb 9 in Australia)- Session one:
1) Virtual collaboration basics
2) Most versatile Virtual Liberating Structures (LS) for collaboration, engagement and debriefing (1-2-4-All, MadTea, W3, Impromptu Networking)
Feb 9 (Feb 10 in Australia) - Session two
Virtual LS for Strategy Sessions, Portfolio Management, Big Room Planning (Wicked Questions, Critical Uncertainties, Shift-and-Share, Ecocycle Planning, Spiral Journal)
Feb 10 (Feb 11 in Australia)- Session three:
Virtual LS for Retrospectives and post-mortems (Drawing Together, TRIZ, Troika/Wise Crowds, 15 % Solution)
Feb 11 (Feb 12 in Australia) - Final session - Design Jam
1) Mini-Design Jam Open Space! Bring a topic for your workshop/session and design it in the class with Liberating Structures Design Board, collaborate with other participants and get feedback from the instructor. Solve your real-world problem right here in this class. (Using LS Matchmaker, LS Design Boards and Mural)
2) Liberating Structures for large group collaboration(Open Space, Conversation Cafe)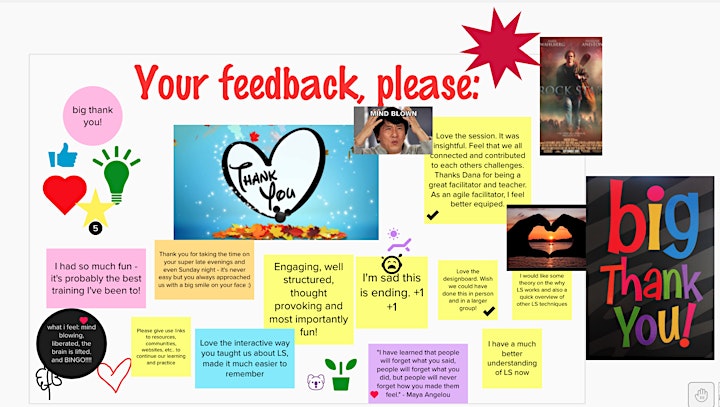 Testimonials
"Dana is a wonderful trainer and facilitator who crams a lot of value into her workshops leaving you with lots more to research and try out!"
"I am excited to try it out, so best success indicator of the training. THANK YOU"
"Really excellent workshop, lots of tools that I look forward to applying"
"Dana changed my behavior. I will be using video on all calls from now on"
"If you're a coach or Scrum Master finding that your online sessions aren't working so well or are stuck in a rut running the same old formats again and again, Dana's "Agile Facilitation/Training – Virtual Edition" course is likely to be the boost to your facilitation toolkit that you need. Dana has figured out lots of clever tricks to use tools such as Zoom, Mural and Mentimeter to create highly engaging collaborative workshops and training. Even better, you'll gain techniques for many of the rich Liberating Structures in the virtual world. You even get to design workshops that string several structures together to achieve surprising results. I took many small and large techniques away from this course that I'll be applying straight away."
Your Instructor
Dana has extensive experience working with distributed teams, facilitating virtual meetups and trainings for large groups.
She is a Training from the Back of the Room Certified Trainer, a leader of NYC Liberating Structures community, international speaker, Co-Active coach, author and serious games designer.
Her "Introduction to DevOps with Lego and Chocolate", "Fear in the Workplace", "Safety in the Workplace" and "Self-selection simulation" games are all based on stories from the trenches.
She draws her inspiration from 20+ years of hands-on experience working with distributed teams across the globe, from her Business Agility/DevOps culture coaching and from facilitating change in Fortune 500 companies.
She leads many initiatives in the global Agile community: serving as a program chair of Agile2021, mentoring agilists as part of Women in Agile initiative and running several local meetups in NYC.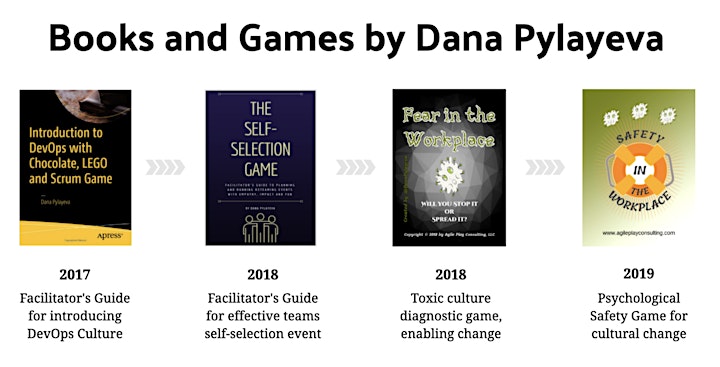 Blog
Date and Time
Location
Refund Policy
Contact the organizer to request a refund.
Eventbrite's fee is nonrefundable.