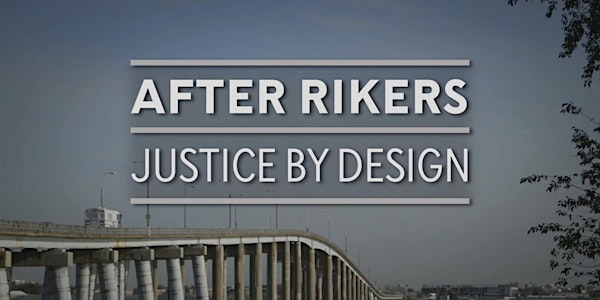 "After Rikers: Justice by Design" screening, panel discussion and Q&A
When and where
Location
Fourth Universalist Society 160 Central Park West New York, NY 10023
Description
Criminal Justice reform is taking hold in NYC and replacing Rikers can be one of the primary drivers of change. But will the newly fashioned jails make a difference? How?
"After Rikers: Justice By Design" is a short film by Public Square Media that explores the vision for community-based jails, and how they can be truly different than Rikers. The goal is to step back from the site-specific concerns and consider broader questions about these new facilities. What problems are they intended to solve? Can new facilities help to change the culture of violence that has plagued Rikers Island? How will design features support a larger vision of criminal justice reform? What will a system of borough-based jails mean for corrections officers, family members of incarcerated people, service providers and the legal community? Can new facilities help to reduce the cycle of incarceration? Will the investment in new buildings enhance justice and increased public safety?
The panel will consist of three individuals with deep knowledge of Criminal Justice and Rikers:
Kandra Clark Associate VP, Exodus Transitional Community
Kandra Clark is a formerly incarcerated woman who was released from Beacon Correction Facility in 2011. She subsequently earned a BA degree and began a career in fundraising to support programs that help other previously incarcerated people. She is a member of the Board of Directors of the Women's Community Justice Association and active in the leadership of several criminal justice reform organizations focused on closing Rikers
Zachary Katznelson, Policy Director
Zachary Katznelson is Policy Director of the Independent Commission on New York City Criminal Justice and Incarceration Reform, commonly known as the Lippman Commission. He previously worked as an attorney at the Legal Aid Society's Prisoners' Rights Project, the Equal Justice Initiative, the British charity Reprieve, and the Prison Law Office.
Johnny Perez, Director of U.S. Prisons Program, NRCAT
Johnny Perez, who is featured in the award-winning PBS documentary RIKERS: An American Jail, has a deep understanding of the criminal justice system grounded in the perspective of 13 years of incarceration. Mr. Perez is now the Director of the U.S. Prison Program for the National Religious Campaign Against Torture (NRCAT) where he leads the fight against solitary confinement and other forms of torture.