Can we reimagine human and more-than-human arts of living and flourishing from the ruins of the modern idea of progress?
About this event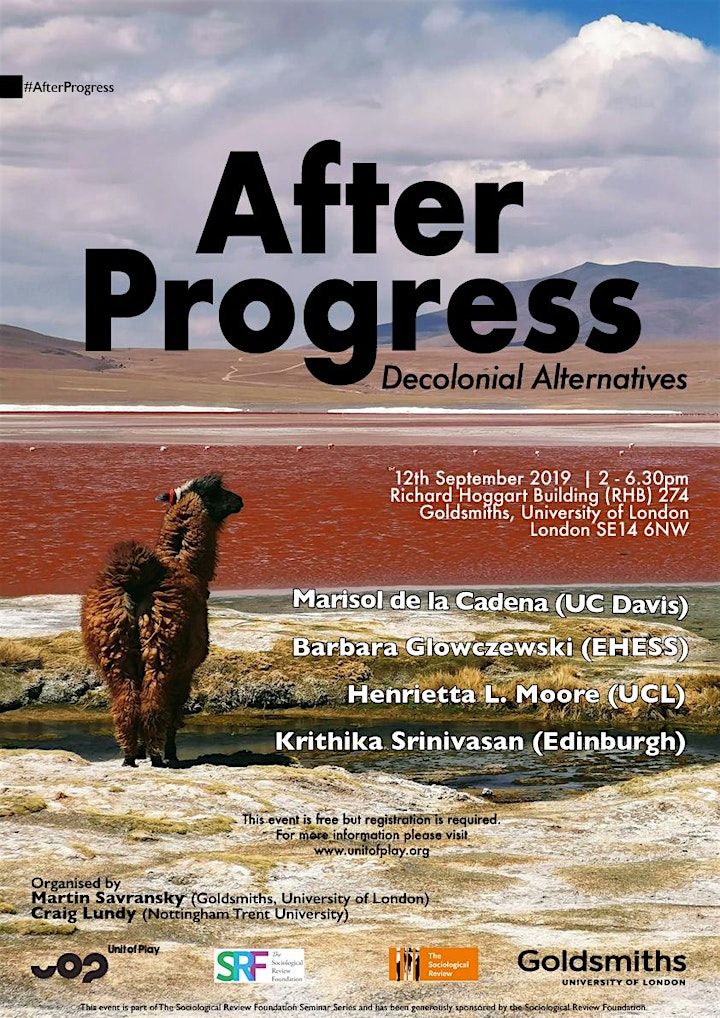 After Progress: Decolonial Alternatives
Can we reimagine human and more-than-human arts of living and flourishing from the ruins of the modern idea of progress? Continuing our collective experimentation with this question, in the second session of the After Progress symposium series we're keen to discuss experiments, practices, experiences, concepts, challenges and cosmo-visions of collective arts of living and flourishing with others in and out of Europe. Indeed, just as decolonisation movements were instrumental in the critique of the deleterious global consequences of the modern imagery of progress, it is also on the margins and in the interstices of the modern world-system that, today, divergent alternatives to progress are being collectively invented and experimented with. Some (like "Buen vivir", "Swaraj", "Degrowth", or "Permaculture") are now fairly well-known and much discussed, but there is still a profusion of other, plural and concrete experiences and experiments which may be yet to be named but whose practices upend the colonial, developmental, and extractivist consequences of the modern dream of progress, making it present that other ways of living and flourishing with others –humans and more– are not only possible but underway. Exploring practices and possibilities for living and flourishing otherwise, this session will engage in the ongoing and unfinished experiment of decolonizing progress and composing other worlds in its wake.
Speakers include:
Marisol de la Cadena (UC Davis)
Barbara Glowczewski (CNRS)
Henrietta L. Moore (UCL)
Krithika Srinivasan (University of Edinburgh)
The event is free, but registration is required due to limited capacity. A small number of BURSARIES for unfunded PhD students/ECRs are available (places will be reserved for these, even if the registration list fills up). Deadline for applications is AUGUST 19TH 2019. For further details on the eligibility criteria and the application process please go here.
This symposium is the second of the After Progress symposium series. The After Progress symposium series co-organised by Dr Martin Savransky (Goldsmiths, University of London) and Dr Craig Lundy (Nottingham Trent University). It is part of the Sociological Review Seminar Series and it is generously funded by The Sociological Review Foundation.
The room that the event will take place in is FULLY ACCESSIBLE, please ask for directions at the main entrance to Richard Hoggart Building.
Travel directions:
Goldsmiths is in New Cross, South East London, five miles from central London. It is under five minutes' walk from New Cross and New Cross Gate train stations. These stations are both served by National Rail trains and the London Overground Network.
- Travel information: https://www.gold.ac.uk/find-us/
- Goldsmiths Campus Map: https://www.gold.ac.uk/campus-map/
PLEASE TWEET ABOUT THIS EVENT BY USING #AfterProgress

Organizer of After Progress | Decolonial Alternatives