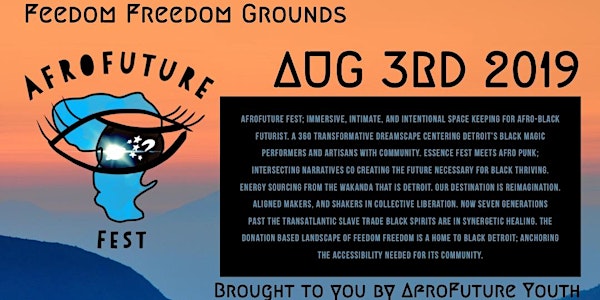 AfroFuture FEST
When and where
Location
866 Manistique St 866 Manistique Street Detroit, MI 48215
Refund Policy
Contact the organizer to request a refund.
Eventbrite's fee is nonrefundable.
Description
2PM-7PM
AFROFUTURE YOUTH FEST; ACTIVATING THE LAND WITH EYES OPEN TO METAPHYSICAL TRAVEL. A HOME FOR ARTS, HEALING AND ADORNMENT ACTIVATIONS. FEATURING A DAY PARADE, DRUM CIRCLE AND BONFIRE TO AWAKEN SPACE WITH SPIRITS. IN CO-CREATION WITH COMMUNITY LEADERS YOUTH WILL START THE DAY BY RESTORING RESILIENCE, AND REIMAGINING STABILITY.
8PM-2AM
AFROFUTURE FEST; IMMERSIVE, INTIMATE, AND INTENTIONAL SPACE KEEPING FOR AFRO-BLACK FUTURIST. A 360 TRANSFORMATIVE DREAMSCAPE CENTERING DETROIT'S BLACK MAGIC PERFORMERS AND ARTISANS WITH COMMUNITY. ESSENCE FEST MEETS AFRO PUNK; INTERSECTING NARRATIVES CO CREATING THE FUTURE NECESSARY FOR BLACK THRIVING. ENERGY SOURCING FROM THE WAKANDA THAT IS DETROIT. OUR DESTINATION IS REIMAGINATION. ALIGNED MAKERS, AND SHAKERS IN COLLECTIVE LIBERATION. NOW SEVEN GENERATIONS PAST THE TRANSATLANTIC SLAVE TRADE BLACK SPIRITS ARE IN SYNERGETIC HEALING. THE DONATION BASED LANDSCAPE OF FEEDOM FREEDOM IS A HOME TO BLACK DETROIT; ANCHORING THE ACCESSIBILITY NEEDED FOR ITS COMMUNITY.
FESTIVILLE LINE UP WILL BE RELEASED JULY 3RD AT 7PM! LOOK OUT FOR SNEAK PEAKS ON JULY 1ST AT 7PM VIA INSTAGRAM, TWIITTER, AND OTHER AFROFUTURE YOUTH PLATFORMS!
EARLY BIRD TICKET SALES END JULY 17TH!
THERE ARE NO REFUNDS ON ALL TICKETS SALES!
WHY DO WE HAVE POC(PEOPLE OF COLOR) AND NONPOC(WHITE PEOPLE) TICKETS? I'M GLAD YOU ASKED!
EQUALITY MEANS TREATING EVERYONE THE SAME
EQUITY IS INSURING EVERYONE HAS WHAT THEY NEED TO BE SUCCESSFUL
OUR TICKET STRUCTURE WAS BUILT TO INSURE THAT THE MOST MARGINALIZED COMMUNITIES (PEOPLE OF COLOR) ARE PROVIDED WITH AN EQUITABLE CHANCE AT ENJOYING EVENTS IN THEIR OWN COMMUNITY (BLACK DETROIT).
AFFORDING JOY AND PLEASURE IS UNFORTUNATELY STILL A PRIVILEGE IN OUR SOCIETY FOR POC AND WE BELIEVE EVERYONE SHOULD HAVE ACCESS TO RECEIVING SUCH.
WE'VE SEEN TOO MANY TIMES ORGASMIC EVENTS HAPPENING IN DETROIT AND OTHER POC POPULATED CITIES AND WHAT CONSISTENTLY HAPPENS IS PEOPLE OUTSIDE OF THE COMMUNITY BENEFITING MOST FROM AFFORDABLE TICKET PRICES BECAUSE OF THEIR PROXIMITY TO WEALTH.
THIS CYCLE DISPROPORTIONATELY DISPLACES BLACK AND BROWN PEOPLE FROM ENJOYING ENTERTAINMENT IN THEIR OWN COMMUNITIES.
AS AN AFROFUTURIST YOUTH LEAD INITIATIVE THE VOICES OF OUR YOUTH INFORM OUR RESISTANCE.
HERE'S WHAT THEY HAVE TO SAY
" IF YOU DON'T SEE MY BLACKNESS, YOU DON'T SEE ME. PERIODT!"