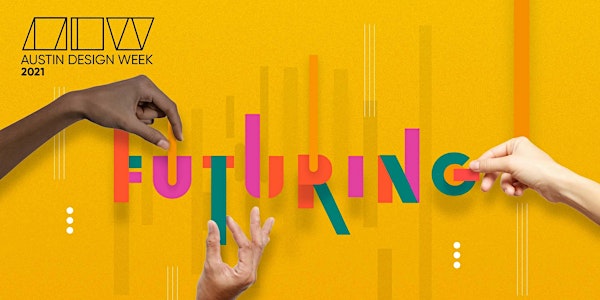 #ADW21: What Advertising and Design Can Learn From Each Other
Join us for the sixth annual Austin Design Week!
When and where
Location
The ADW Hub 301 W. 2nd Street Suite 100 Austin, TX 78701
About this event
What Advertising and Design Can Learn From Each Other
The advertising creative industry has a collaborative structure and mindset that has followed the same patterns for decades. The design field has its own user-centric methods and approaches that differ in many ways. So what happens when you build a team of designers with a blend of both backgrounds? We did just that, and learned that with a little empathy and innovation, there's a great opportunity to leverage the practices of both approaches to drive better outcomes.
This workshop is open to everyone.
Jeff Neely | Partner & Global Design Lead, IBM
Jeff was the first-ever Executive Partner in IBM Services from the design practice. He built the Global Business Services Strategic Design Team from the ground up, and now leads a global group of 50+ designers to apply Design Thinking to solve some of IBM's — and its clients' — most complex problems, including: - designing a new program to develop client offerings across business units and industries - re-designing the ventures program to connect our partners with relevant start-ups - massive global enablement efforts for the IBM Garage method - content development for the IBV, IBM's thought leadership practice - ad hoc design thinking support for client engagements across the globe Jeff joined IBM in early 2015 after two decades in the advertising world, with extensive experience in the high tech B2B sector as a writer, art director and creative director.
Mike Bevil | Associate Partner & Global Design Lead, IBM
Having founded a couple of advertising agencies and run a couple of others, as well as senior client-side leadership and strategic consultant roles, Mike has learned a thing or two over the years. As a marketer, Mike has received hundreds of industry awards including Adweek's High Tech Marketer of the Year and Adweek Creative All-Star. He has served in the role of Art Director, Creative Director, Account Planner, Strategic Planner, Creative Strategist, Managing Director, VP of Marketing, CMO, President/CEO, Design Leader and Teacher. Mike brings to the table a rare balance of strong business acumen and creativity that he uses to solve difficult problems for his clients. At IBM, he serves the role of a global design strategist where he leverages Enterprise Design Thinking to help clients surface insights to drive their business forward.
Brianna Duvall | Content and Strategy Designer, IBM
As one of the first content-specific designers hired to the IBM Global Business Services Design team, Brianna has forged a path for user-centric copy to take a seat at the design table. Since joining IBM in 2019, she has pioneered new types of content development for IBM's thought leadership practice, helped develop and deploy a method of teaching the universal IBM Automation language, and is currently working on an organization-wide initiative that will enable users to band together and enact change as a united front. An alumna of the Texas Creative Program, Brianna started her career as a copywriter in the advertising industry before transitioning into the world of IBM Design Thinking. Here, she combines her knowledge of the two worlds and uses it to discover and create impactful outcomes for her users.
Chris Harris | Global Design Strategist, IBM
Chris drives the adoption and application of Enterprise Design Thinking and human-centered problem-solving for IBM clients and partners around the world. He's helped Fortune 50 companies reimagine workflows to better support business strategies. He's redesigned processes for implementing proprietary HR technology with multiple IT enterprises. He's embedded himself within client teams on long-term engagements to accelerate their design transformation efforts. He's even designed and led large-scale education and training curricula for c-level executives to teach them the value of adopting design-focused mindsets within their organizations. Chris has been at IBM since 2017 and has a background in marketing and advertising as a writer and creative director.
Khoa Le | Global Design Strategist, IBM
Khoa is an Enterprise Design Thinking Leader based in Austin, home to IBM's flagship design studio, where he leads a traveling team of design strategists charged with bringing a user-focused lens to solving complex business problems for the world's top enterprise companies. As an award-winning former advertising creative director who has led creative teams at agencies large and small, Khoa has been practicing the powerful framework of design thinking his entire career and leverages his background in storytelling to support IBM on large multi-million dollar pursuits where the value of design has translated to an exponential growth in win rates and client success.
Michael Chang | UX Designer, IBM
For the past couple of years, Michael has been creating delightful user-centered experiences for the IBM Automation and IBM Strategic Partners practices. He is equally adept wireframing an education website, developing content strategy for partner playbooks, and crafting in-person and virtual training workshops for global audiences. Michael joined IBM with more than 15 years of experience as a creative director, designer and UX professional, serving large national clients such as The American Cancer Society, Make-A-Wish, Dell and Microsoft. He has helped build creative groups from the ground up at several Austin advertising agencies. Michael is also proud to have led diverse international teams at agencies and software/services companies.
Parking & Transportation:
Located on the backside of City Hall, there is paid parking in the City Hall garage, paid street parking nearby, and of course, public transportation. Be sure to check out our sustainable transportation recommendations. This venue is ADA accessible.
ADW21 Event Information:
The health and safety of our attendees, participants, and greater community is extremely important to us. Please be sure to check out our Health & Safety at ADW21 page for the latest safety updates and policies surrounding in-person events.
You'll be emailed any additional instructions for how to join the event at least 24-hours prior to the event start time. The information will be sent via Eventbrite so please check your spam if you don't see it in your inbox.
Austin Design Week is committed to a harassment-free event experience for everyone. Our Code of Conduct can be found here. We are also committed to creating an inclusive, accessible space. All virtual events will have automated captioning. If you need additional accommodations, please email us at info@austindesignweek.org as soon as possible to let us know.
For the full Austin Design Week schedule, check out austindesignweek.org.