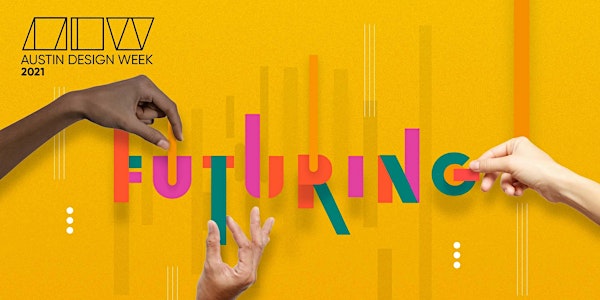 #ADW21: Systems Leverage Mapping Workshop
Join us for the sixth annual Austin Design Week!
About this event
Systems Leverage Mapping Workshop: A Systemic Design Approach to Envisioning Better Futures of Health
Organized by: Dell Medical School
Systems language has come to the forefront of many disciplines to describe some of the most pressing and complex issues of our time, highlighting the difficulty, dynamism and pervasiveness of these problems. Systems design elevates both system and human needs by forming an intersection between systems thinking and human-centered design. When exploring systems design, we leverage design thinking to center us on lived experience, to make sense of the problems before us by deeply understanding human perspectives and needs. We also leverage systems thinking to make sense of complexity, understanding the problems before us by framing them in the context of our interconnected, dynamic world.
In this 90-minute workshop we will dive into the concept of systems leverage. We all recognize that not every concept has the same potential for systemic change. Systems leverage mapping gives us a framework for differentiating our concepts by their potential to provoke change in systems and design for impact. The framework is built upon the theory and principles foundational to systems design.
Attendees will explore system leverage mapping through activities and application in our Transitions of Care work, where we utilized this mapping framework to strategically focus our design concepts aimed at improving communication between health care providers in Travis County and enabling more effective transitions—going home from the hospital and continuing care—for local area residents. We used this tool to collectively see both the current system and also what could be, bringing interdisciplinary stakeholders together in orienting around potential interventions to maximize impact.
Workshop Learning Objectives
By the end of this workshop, attendees (practicing designers + health system provocateurs) will be able to:
1. Recognize, adopt, and develop a systems mindset (thinking in systems)
2. Apply a specific systemic design framework—Systems Leverage Map—to frame a problem, understand the boundaries + elements of a system, and orient teams around future opportunities for system change
3. identify high leverage opportunities for design to impact and intervene in health and across other complex, adaptive, interdisciplinary domains
This event is open to anyone, including individuals who are health and wellness curious.
Adam Zeiner | Systems Designer, Design Institute for Health
Adam focuses on socially created "soft" systems, networks, integrating futures literacy into design practice, information architecture + visualization, and engaging w/ intimate and less formal communities of practice.
Prior to joining the Design Institute, Adam held an extended product design internship at Khoros (formerly Spredfast and Mass Relevance) on the visualization cohort of the consumer experience team. He long-term contracted as an associate designer at Razorfish, worked in a multifaceted UX design role at projekt202, and worked in an interaction-focused experience design role at Drawn (formerly MU/DAI). Adam received a BS in Advertising from the University of Texas at Austin where he was accepted into the Texas Creative & TexasMedia Sequences and an Interdisciplinary Certificate in Digital Arts & Media through the Bridging Disciplines Program. Avocationally, Adam is a board member of The Design Futures Initiative, and was previously the Lead Organizer of Speculative Futures Austin, and one of the founding members of vurv tech-arts collective. He also enjoys getting outdoors, collecting tattoos, and traveling as much as possible.
Andrew Do | Design Researcher, Design Institute for Health
Andrew uses immersive approaches to frame and understand challenges within complex health and healthcare systems. His research guides the team through integrating human needs, tensions and dynamics to provoke systemic change in health. Prior to joining the Design Institute for Health, Andrew was most recently a Service Designer with the City of Austin at the Office of Design & Delivery, a governmental department focused on solving civic problems that confronted the City of Austin and up-skilling the public service sector to embrace the power of design. While at the City of Austin, he worked on co-designing social services with residents experiencing homelessness, on enhancing the City's public technology procurement process, and most recently on co-designing with City staff on how to better deploy funding to the local arts sector. Andrew's background also includes policy research at a Canadian-based think tank focused on advancing Canada's technology innovation ecosystem. Andrew holds an MPP in Public Policy from the University of Toronto with a BA in Peace and Conflict Studies.
Arotin Hartounian | Systems Designer, Design Institute for Health
Arotin focuses on complex systems and organizational challenges through human-centered design, design research, systems mapping, visual storytelling and co-design facilitation. Prior to joining the Design Institute, Arotin served under Mayor Eric Garcetti through a fellowship with the Los Angeles Innovation Team where he used systems and civic design methodology to help bring systemic change to the workforce development ecosystem in Los Angeles. Abroad he worked as a systems designer for Dagens Næringsliv, Norway's largest business newspaper, helping develop a three-year engagement strategy for the organization as well as a research assistant for the Human-Systems Engineering Innovation Framework (H-SEIF) Project, a systems research project funded by The Research Council of Norway focused on increasing collaborative innovations between technology companies throughout the country. Arotin has also worked as a freelance illustrator and designer for the last 10 years, including projects like developing mobile homeless shelters for the Los Angeles-based non-profit EDAR. Arotin received a BS in Product Design from ArtCenter College of Design with a supplementary exchange semester at the Oslo School of Architecture and Design studying Systems Oriented Design. He is also a member of the Systemic Design Association.
Nirali Oza | Design Fellow, Design Institute for Health
Nirali graduated with the inaugural class of the Design in Health Master's program and continues this career path as one of the first awardees of the MA in Design Alumni Fellowship.
Prior to joining the Design Institute for Health, Nirali worked as a health care design intern at Omnicom Health design studio, where she developed and executed digital strategies and compelling visuals to promote health literacy. She also worked at UMass Medical school as a digital health specialist intern. She developed the information architecture for a digital research recruitment platform and worked with clinical researchers and business stakeholders to translate complex clinical trial information into easy-to-understand content for the patients. She also worked with the technical team to develop a Voice UI to create the app's corpus. In the Spring of 2020, she worked at the Health and Human Services Commission as a program specialist, where she collaborated with internal and external stakeholders to design Provider Training Applicant (PAT) certification educational materials and interactive learning modules for the Medicaid Providers. She was one of the distinguished scholars and student ambassadors in the MA in Design with a focus on Design in Health program at UT Austin. She has a professional medical degree from India (equivalent to MD in the US) and a postgraduate certification in Media and Medicine from Harvard School of Medicine. Her long-term goal is to develop a new empathy-driven healthcare design and delivery framework utilizing transition design and systems thinking.
Jessica Murray | Design Fellow, Design Institute for Health
Jessica graduated with the inaugural class of the Design in Health Master's program and continues this career path as one of the first recipients of the MA in Design Alumni Fellowship. Within the MA program Jessica had the opportunity to design community-focused treatment options for addiction and recovery, used future studies to examine how to change stigma around alternative healthcare practices, and explored the systemic causes of the primary physician shortage. She is most proud of her work with Alzheimer's Texas creating a Pod Style Respite Program. The work her team designed will go on to be grant-funded and implemented as an alternative approach to traditional respite care long after the program's completion. Prior to joining the Design Institute, Jessica was a cosmetologist, educator and business owner with 13 years of interpersonal experience working with clients to co-create a style that aligns with the image of themselves they desire to project. She has a BA in art and psychology from Texas State, and she was attracted to the program after her life was impacted by the health system as a patient. Having been through the health system during a crisis, she never stopped asking herself how she might leverage her experience to create a brighter future for those who are told by the system of health care, intentionally or unintentionally, that they are not deserving.
ADW21 Event Information:
The health and safety of our attendees, participants, and greater community is extremely important to us. Please be sure to check out our Health & Safety at ADW21 page for the latest safety updates and policies surrounding in-person events.
You'll be emailed any additional instructions for how to join the event at least 24-hours prior to the event start time. The information will be sent via Eventbrite so please check your spam if you don't see it in your inbox.
Austin Design Week is committed to a harassment-free event experience for everyone. Our Code of Conduct can be found here. We are also committed to creating an inclusive, accessible space. All virtual events will have automated captioning. If you need additional accommodations, please email us at info@austindesignweek.org as soon as possible to let us know.
For the full Austin Design Week schedule, check out austindesignweek.org.