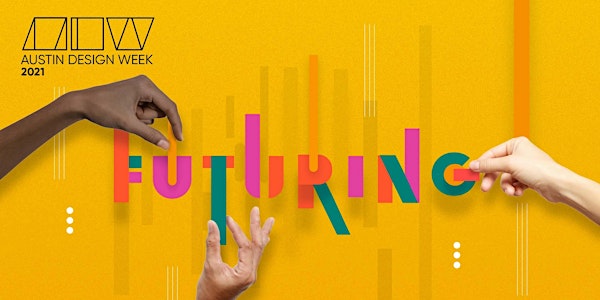 #ADW21: Durable Design - Leveraging Foresight for Multiple Scenarios
Join us for the sixth annual Austin Design Week!
About this event
Durable Design: Leveraging Foresight for Multiple Scenarios
Design Thinking and Futures methods have increasingly aligned. How can you leverage proven foresight practices to inspire present-day design for future people, communities, and ecologies?
Design strategist Robb Ziegler (Curiate) and futurist Christopher Kent (Foresight Alliance) will present their prescient Brands 2030 project, which melded foresight with design to open new innovation spaces. They'll then lead a hands-on workshop for you to explore emergent trends and design questions; use foresight and design thinking methods; and generate approaches to critical questions we're facing.
Participants can choose from social (eg. diversity, inclusion), commercial (products, experiences), or systems design (eg. transportation, security) topics.
This event is open to anyone, including designers, design managers, strategists, and leaders from any type of organization who want to maximize durability, resiliency, and sustainability of their offerings, and students and junior designers seeking to expand their horizons.
Robb Ziegler | Founding Partner, Curiate
Robb Ziegler loves creating new value Between Products and People.® Whether via strategy, marketing insights, or industrial design, Robb has helped global companies envision the future of brand innovation and design for the past 25 years.
As the founder of an award-winning consultancy, Robb has helped clients generate billions of dollars of new revenue through applied design thinking. He is a named inventor on over twenty patents for product, software and process innovations. Robb has also served as a guest lecturer and faculty at leading universities around the world, including Carnegie Mellon, Parsons The New School, and Tsinghua University. He explores the intersection of design, value, and human values and how these relate to creative leadership. Robb holds a Strategic Design MBA, a Bachelor of Science in Industrial Design and a Professional Certificate in Strategic Foresight.
Christopher Kent | Futurist / Partner, Foresight Alliance
Christopher Kent is a futurist, writer, researcher, and consultant with 20+ years' experience in global consumer insights. He has advised clients on emerging generational trends and their impact; future consumer technology usage trends; new media challenges in the 21st century; and emerging needs of tourists and travelers.
As a futurist with Social Technologies (now Innovaro), Christopher wrote more than 80 briefs on global consumer and technology trends. Previous gigs include Strategic Forecasting (Stratfor), where Christopher directed a team of public policy and geopolitical analysts in analyzing and explicating consumer, government, and social organizations' behavior. He further advised the company's Fortune 100 clients on how best to take advantage of these shifting social dynamics. Christopher has a degree in history and English from Marquette University and an MA in medieval and Renaissance history from the University of Toronto.
ADW21 Event Information:
The health and safety of our attendees, participants, and greater community is extremely important to us. Please be sure to check out our Health & Safety at ADW21 page for the latest safety updates and policies surrounding in-person events.
You'll be emailed any additional instructions for how to join the event at least 24-hours prior to the event start time. The information will be sent via Eventbrite so please check your spam if you don't see it in your inbox.
Austin Design Week is committed to a harassment-free event experience for everyone. Our Code of Conduct can be found here. We are also committed to creating an inclusive, accessible space. All virtual events will have automated captioning. If you need additional accommodations, please email us at info@austindesignweek.org as soon as possible to let us know.
For the full Austin Design Week schedule, check out austindesignweek.org.