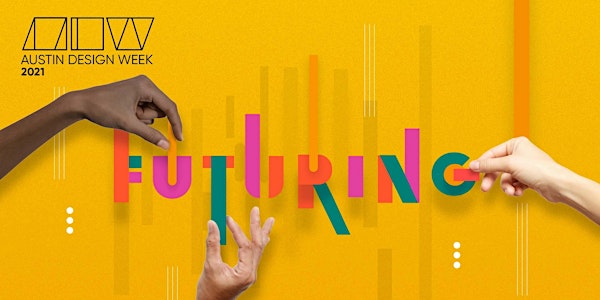 #ADW21: Co-Creating the Next Generation of Accessible Design
Join us for the sixth annual Austin Design Week!
About this event
Hear the Future: Co-Creating the Next Generation of Accessible Design
Designing for an inclusive future means making sure that future is accessible, where everyone can hear and be heard. Deafness and hearing loss are invisible disabilities that are often under-recognized. However, by 2050, it is estimated that 1 in 10 people globally will have disabling hearing loss and in those older than 65, 1 in 4 people are affected. How can our technology be designed to include and empower everyone?
During the pandemic, we experienced a rapid moment of empathy and openness around accessibility. Being seen and heard in virtual settings was difficult, especially for those who already struggled with invisible disabilities. However, we learned from the ingenuity of communities and individuals to hack technology and remote workplaces to facilitate accessibility. As we look towards the future, how might we learn from and partner with these communities to shape and drive the future of inclusion?
Come hear from those with lived expertise and community advocates on how we can collectively design accessible technologies, experiences, workplaces, physical and digital spaces. This panel will explore innovation beyond the basics of AX design to the advocacy, participatory research, storytelling, partnership, and empathy required to design with humility and accessibility every day.
This panel will include:
A show & tell of various hearing loss innovations and workarounds
Multiple perspectives on hearing loss and accessible design from those with hearing disabilities, advocates, and experts
Approaches for holistically advocating for accessibility in tech and design
This event is open to anyone, including design and technology leaders and practitioners passionate about an inclusive world. This panel will appeal to designers, product managers, software engineers, social innovators, advocates, and design educators/students.
Ariba Jahan | VP, Design & Innovation Strategy, The Ad Council
Ariba is a biomechanical engineer turned innovation and design strategist focused on creating social impact and a future that is more accessible, intersectional and equitable. She is currently the Vice President of Design & Innovation Strategy at the Ad Council, where she established the organization's design innovation practice. As an immigrant Bengali woman who discovered her hearing loss at age eight, Ariba advocates for diverse, historically marginalized voices that are often overlooked to ensure their lived experiences inform and drive the work. As a member of the Ad Council's DEI Council, she also leads efforts to advance diversity, equity and inclusion at the organization. Outside of this, she is an international speaker and facilitator, leads the NYC Chapter of Women in Innovation and volunteers to mentor girls in STEM.
Melanie Kahl | Creative director and social innovation strategist, currently Independent, formerly Facebook & Dalberg Design
Melanie Kahl is a facilitator, design leader, and strategist who believes in the power of community-driven design to shape meaningful and equitable organizations, experiences, and services. For the last thirteen years, she's led social innovation projects across five continents on issues of community resilience, health, gender, and education. Most recently, she launched Facebook's first Community-in-Residence program to promote mutual learning between tech and community leaders, and invested $5M in community-driven projects. She's championed and built interdisciplinary design studios at Dalberg Design and Cannon Design. Melanie holds a degree in social policy, organizational learning, and leadership from Northwestern University and has studied at Copenhagen Institute of Interaction Design. She regularly teaches social innovation at universities and serves as an ambassador to Women in Innovation, International Rescue Committee (IRC)'s Airbel Impact Lab, and the Awesome Foundation.
Paula Pfeifer | Cofounder and Activist, Crônicas da Surdez/Chronicles of Deafness
Paula Pfeifer is a disability activist and movement builder who runs one of the largest Latin American hearing loss communities on Facebook and Instagram. Paula started progressively going deaf from her teens through her twenties. Profoundly deaf and a fashion blogger, she "came out" of the closet of hearing loss and received two successful cochlear implants. Sharing her story through Chronicles of Deafness, she's inspired thousands of others to share their own. Paula naturally draws out the diverse stories of hearing loss and its far reaching impacts on people's lives– from the funny to the frustrating, profound to mundane. She's written two books, created visibility campaigns that have been seen by millions, and has cultivated a vibrant and celebratory community that increases accessibility, pride, and connection. She was recently named a member of the WHO's World Hearing Forum and was a Facebook Community Leader in Residence from 2018-2020. She's spoken at TEDx and for companies such as Google, Avon, Facebook, WPP Stream, Bradesco, and the US Consulate and been featured in Vogue.
Paula may be joined by her partner and co-founder, Dr. Luciano Moreira on the same screen. So, just in case including his bio: Dr. Luciano Moreira has been practicing Otorhinolaryngology for over twenty years, running his own practice in Rio De Janeiro, Brazil. He received a scholarship in Ear and Deaf Surgery from the Georges Portmmann Foundation (Bordeaux, France) after his medical residency. A passionate music lover, he is committed to help people hear the world and has expanded his cochlear implant practice. He was consulting medical advisor and strategist on the Surdos Que Ouvem campaign seen by millions across Brazil and Portugal.
ADW21 Event Information:
The health and safety of our attendees, participants, and greater community is extremely important to us. Please be sure to check out our Health & Safety at ADW21 page for the latest safety updates and policies surrounding in-person events.
You'll be emailed any additional instructions for how to join the event at least 24-hours prior to the event start time. The information will be sent via Eventbrite so please check your spam if you don't see it in your inbox.
Austin Design Week is committed to a harassment-free event experience for everyone. Our Code of Conduct can be found here. We are also committed to creating an inclusive, accessible space. All virtual events will have automated captioning. If you need additional accommodations, please email us at info@austindesignweek.org as soon as possible to let us know.
For the full Austin Design Week schedule, check out austindesignweek.org.