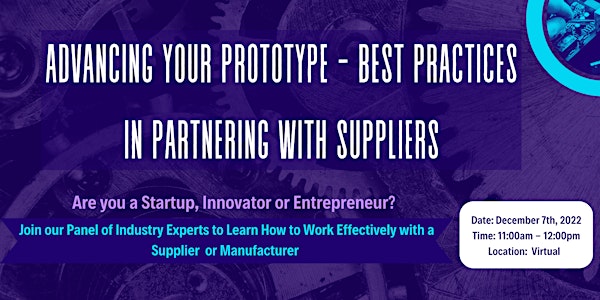 Advancing your Prototype - Best Practices in Partnering with Suppliers
How to effectively engage with suppliers and manufacturers through the process from first prototype into production at scale
About this event
Hardtech startups face the challenging task of transitioning a prototype through revisions, manufacturing, and production at scale.
This session, for founders and innovators, covers how to effectively engage with suppliers and manufacturers to take your vision to the next stage and improve the chances for making that transition a successful one.
A panel of industry experts will share their experience on key aspects including:
·       At what stage in your design cycle should you engage with a potential partner?
·       What elements of your product can external partners help with?
·       What information should you have available when speaking with potential partners?
·       What key questions should you address on that call?
·       How should you handle confidential information?
·       What to expect from a prospective supplier.
·       How commercial agreements are commonly structured.
Panel: 
Brian DeNardo - Market Manager, Bossard Americas
David Carson – VP Sales and Marketing - Burt Process Equipment
Mike Lee – Director of Engineering, ICSN
Paul Pirozzi – President, Plastics Manufacturing Resources inc.