Advanced Vibration and Acoustic Measurement Techniques A Continual Profess...
Description

About the event
This two-day Continual Professional Development (CPD) event will provide an insight into four established measurement techniques with world leaders in their respective field. Interactive workshops focussing on Audible Acoustics (AA) by AcSoft, Acoustic Emission (AE) by Mistras Ltd, Vibrometry by Polytech Ltd and Ultrasonic Inspection by Olympus will form the basis of this two-day event. As a delegate, you will have the opportunity to learn and get hands on with world leading equipment in the field of non-destructive testing. In addition, there will be opportunities to network with other delegates, interact with academics at Cardiff and explore methods for collaborative research. On completion of the two day workshop you will be able to understand how these advanced measurement methods can benefit your organisation.
Agenda
Day 1 - 30/1/2018
9.15 - 9.45 Registration
9.45 - 10.00 Welcome and house keeping
10.00 - 12.30 Workshop 1 (Please see below for details)*
12.30 - 14.00 Lunch, Networking and Exhibition
14.00 - 16.30 Workshop 2 (Please see below for details)*
16.30 - 17.00 Q and A 1 (with Panel of Academics and Technology providers).
19:00 Networking and Meal

Day 2 - 31/1/2018
9.00 - 9.30 How to work with Cardiff University
9.30 - 12.00 Workshop 3 (Please see below for details)*
12.00 - 13.00 Lunch, Networking and Exhibition
13.00 - 15.30 Workshop 4 (Please see below for details)*
15:30 - 16.00 Q and A 2 and close
*Attendees will join one of 4 colour-coded groups. Each group will rotate on the following four different technologies depending on workshop as indicated below.

The workshops
Audible Acoustics (AA) - The future of Audible Acoustics is colourful
This workshop will present an introduction to sound localization via beamforming and holography technologies – microphone array design – introduction to the original Acoustic Camera (focus on: system installed at Cardiff) – Advanced Processing Algorithms, to fit with any time frames you want to assign.
Ultrasonic Inspection - A day in the life of an Advanced NDT inspector
Understanding the challenges faced in key industries in terms of maintenance and safety requirements, as well as efficiency improvements in design and production activities. Using NDT techniques to identify areas of concern and addressing these in the most cost effective way to minimise risk and cost. This workshop included presentations and hands on sessions to cover Advanced NDT applications in the following sectors Oil and Gas (Corrosion Mapping), Power Generation (Weld Inspection), Aerospace (Composite Inspection) and Renewable (Wind Turbine Blade Inspection).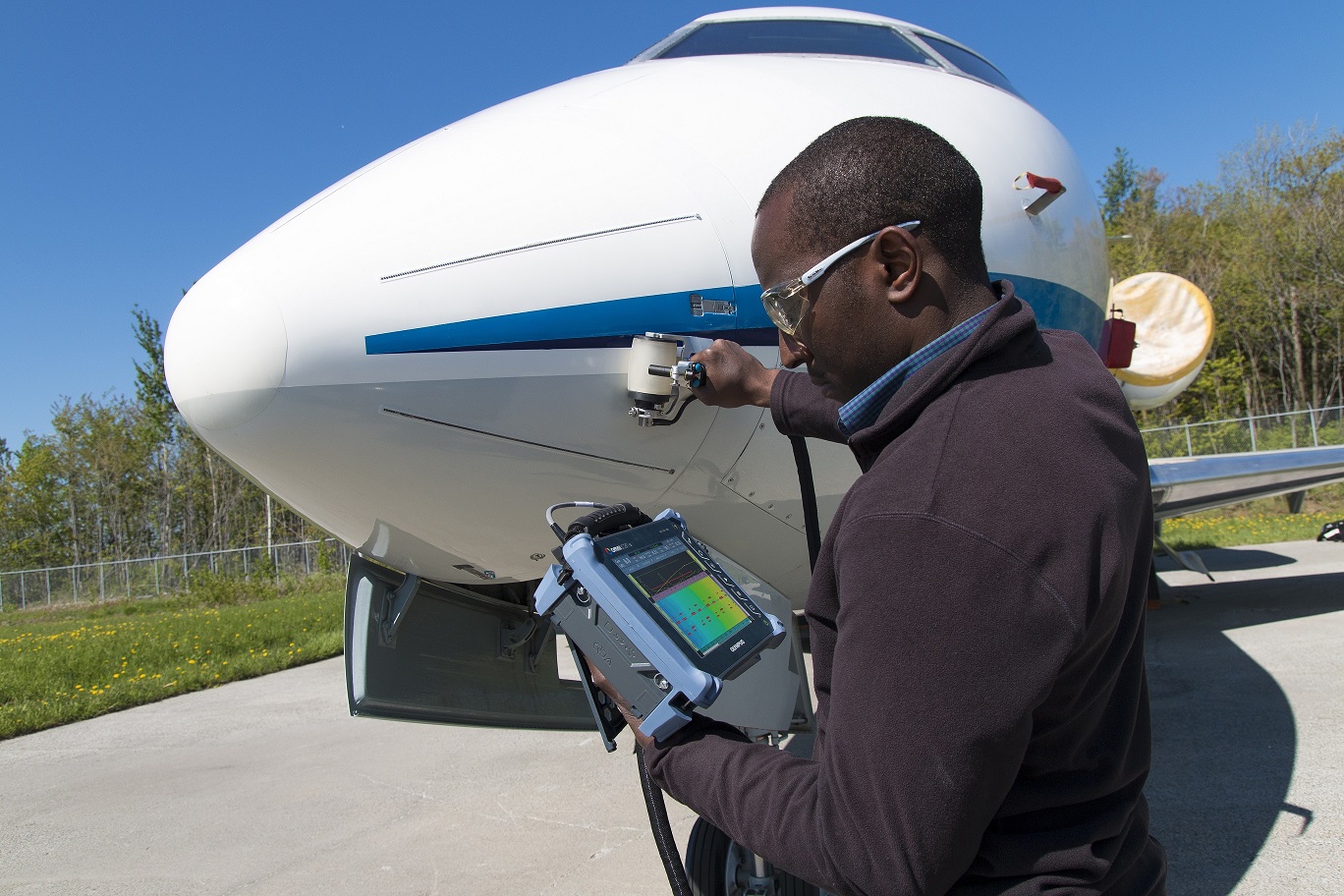 Laser Vibrometry - Non-contact vibration measurements: best practice
At this workshop, Polytec will be presenting PSV-500 scanning vibrometer, a state-of-the-art system for noise and vibration measurement in research and development. They determine operational deflection shapes and Eigenmodes for NVH, acoustics, structural dynamics, ultrasonics and FEM validation.
Acoustic Emission - An Introduction
Acoustic Emission is a passive monitoring technique used to detect emissions from materials or processes. It has been used successfully in industry for the real time monitoring of fatigue cracks, corrosion processes, bearing failures to name but a few. At this workshop we will address the following topics; AE definitions and terminology, AE and other NDT techniques, Sources of AE, Signal measurement basics, Sensors and instrumentation, AE applications in industry and Technology Demonstration.
Who will benefit from this CPD?
Existing Non Destructive Testing users looking to enhance current capabilities with increased probability of detection, repeatability, and accuracy.

Automotive and aerospace companies and their supply chain

Oil and Gas companies

Renewables and power generation companies

Advanced manufacturing companies

Researchers working in the field of structural and mechanical performance.
The Organisers
The Mechanical and Structural Performance Group
Damage in structures such as buildings, bridges, or aircraft components can have a devastating effect. Manufacturing efficient structures, as well as detecting and preventing damage, is an important challenge for engineers. The Mechanical and Structural Performance Group works across a range of disciplines including aerospace, automotive, civil, manufacturing, and medical engineering. Research in the group focuses on the design, validation, analysis and inspection of a wide range of advanced materials and structures. The group aims to offer operators of high-value structures and systems the potential to increase usage, reduce maintenance costs and improve safety.
AcSoft Ltd
AcSoft Ltd is provider of Sound & Vibration measurement solutions. With extensive experience of advanced applications, we have put together a complementary range of products and software from top quality transducers through to the final analysis & reporting software. The Gfai tech Acoustic Camera has been part of the AcSoft product range for many years. The Acoustic Camera from gfai was the first commercially viable system that uses beam-forming techniques to visually localise acoustic emissions. Brought to the market in 2001 as a pioneer technique, the Acoustic Camera has become a metaphor over the years for beam-forming systems in general. The tool is now used in a variety of industries and has a growing customer base worldwide. The acquisition system is high-speed, so images can be taken live or longer 'exposures' can reveal more detail and allow post-processing.
Olympus
Olympus provides an industry-leading portfolio of innovative test, measurement, and imaging instruments. Used in industrial and research applications ranging from aerospace, power generation, petrochemical, civil infrastructure and automotive to consumer products. Non-destructive testing, positive material identification,
remote visual inspection, and materials microscopy solutions contribute to the quality and safety of products and services, and add to the safety of infrastructure and facilities.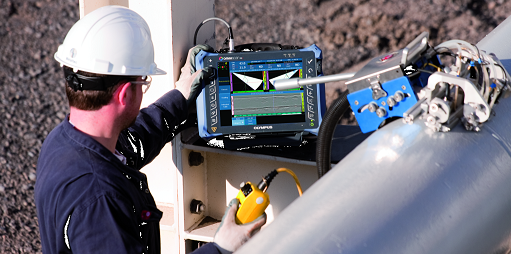 Polytec Ltd
Polytec is the market leader for laser doppler vibrometers, non-contact vibration measurement equipment, velocimeter laser speed and length measurement sensors. Our innovative solutions allow our customers to maintain their own technical leadership across many fields in non-destructive testing (NDT).
Mistras Group Ltd
Mistras Group Ltd is one of the world's largest suppliers of integrity and inspection services. Tailoring their package to suit the needs of the Oil & Gas, Wind Energy and Infrastructure industries, the company provide innovative asset integrity solutions for all projects using enhanced services that include asset monitoring, engineering services, advanced and conventional NDT. Mistras combine industry-leading products and technologies with their 24/7 online critical asset monitoring, mechanical integrity (MI) and non-destructive testing (NDT) services. With this, along with Mistras proprietary world-class data warehousing & analysis software, Mistras can effectively provide comprehensive and competitive products, systems and services solutions from a single source provider