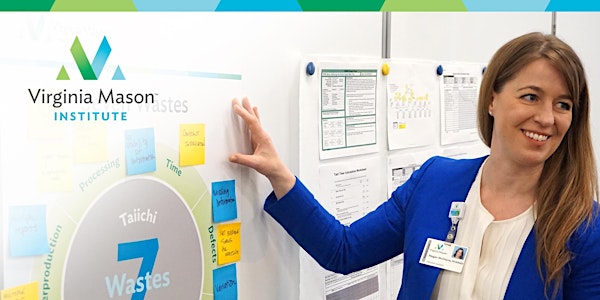 Advanced Process Improvement Training (Virtual) Jan 31- Jun 2022
Learn and immediately apply the principles, tools, and methods of a process improvement system.
Refund Policy
Refunds up to 30 days before event
About this event
Learn from the experts in healthcare
This 11-session interactive certificate program uses experiential, hands-on learning techniques to guide participants in practicing process improvement knowledge and skills. Throughout the learning experience, participants receive value-added coaching and performance feedback provided by expert healthcare instructors versed in clinical and administrative process improvement excellence.
Time Commitment
This intensive program requires a significant time commitment including learning sessions, fieldwork application and coaching. This experience includes 11 learning sessions that range from 2 to 3.5 hours combined with weekly virtual huddle and reflection sessions (plus prerequisite assignments). Significant time will also be required for completing fieldwork assignments where you will apply your learnings each week through a process improvement project.
After applied learning, you will teach-back the concepts to the cohort and practice your coaching and feedback skills. The final session will occur 30 days later to reflect and practice an additional technique to engage teams in reflecting on how their process flows
Estimated total time is up to 50% of each workweek throughout the course, including assignments at your organization. View full schedule.
Note on Sponsor Approval: This experience will require the support of a sponsor who will approve your process improvement project where all of your application exercises will be directed. View sample sponsor approval document.
If you have any concerns regarding your ability to meet these requirements, please contact us to see how we can accommodate your needs.
This program will give you an understanding of
How the principles, tools, and methods of the Virginia Mason Production System® (VMPS®) support improving patient care, including:
The importance of distinguishing between value-added and non-value-added activities.
Root causes of errors and techniques to pursue zero defects.
Utilization of rapid testing cycles to improve processes.
Visual tools like value stream maps that communicate the patient experience.
The benefits and application of the principles of continuous flow.
And, after this program, you will be able to utilize the advanced skills necessary to teach, coach and mentor the principles, methods and tools of the Virginia Mason Production System®.
This program will enable you to
Apply your learnings and realize the value of methods like VMPS® through a process improvement project where all of your application exercises will be directed.
Lead practical improvement work with your team.
Course Outline
Note: Session 11 will occur in June 2022. View full schedule.
Who Should Attend
Process improvement (lean) leaders, coaches, specialists and enthusiasts. This class is designed for those who wish to lead, teach and apply process improvement techniques to business processes with an emphasis on the health care setting. It is a fast-paced, advanced class for those responsible for improvement work, or interested in developing a systems approach to performance and process improvement. A time commitment to completing the coursework is required. Previous experience is not required, but will be useful.
Prerequisites
*Please contact us for details about pricing for training delivered at your organization.