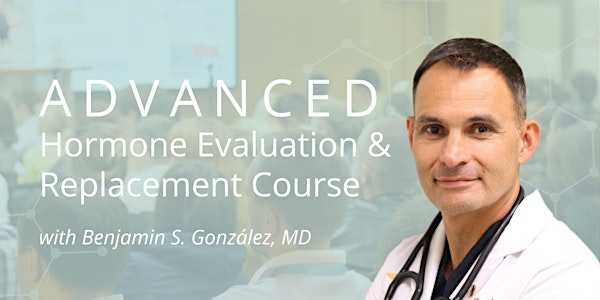 Advanced Hormone Evaluation and Replacement Course Agenda
When and where
Location
Atlantis Medical Wellness Center 12200 Tech Road Silver Spring, MD 20904
Refund Policy
Refunds up to 7 days before event
Description
This course is for physicians practicing Hormone Replacement Therapy (HRT) who want to learn how to go beyond the basics of HRT.
WATCH THIS VIDEO TO LEARN MORE ABOUT THIS COURSE: https://youtu.be/h8HipfGFx5E
Dr. González reviews the principles of hormones and the role they play in aging and functional health from a biology systems approach. The emphasis is PRACTICAL application of real world, evidence and experienced based information that you can apply immediately and directly into your practice. This course delves into the complicated patient and discusses why you see some of your HRT patients not responding to standard HRT protocols. Each physician will have their own hormone evaluation as part of this training. This course elevates your practical application of HRT to your patients.
TOPICS:
Testosterone/Estrogen Replacement Myths

Advanced look at HPA Axis disruption

Specific Laboratory Review

HRT in the Complex Patient

Thyroid, Cortisol, and Insulin Connection

Systems Biology Approach to HRT

Advancing Metabolism with Food/Nutrients

Creams, IM, sq, and Pellets
LEARNING OBJECTIVES
Discuss Myths and Truths in HRT literature

Discuss HRT in the complicated patient with co-morbid issues

Detail the Adrenal-Thyroid-Pancreas Connection

Detail the HPA Axis disruption on gonadal function

Discuss DM, insulin resistance, Met syndrome, and adrenal health

Review Controversy in Estrogen and Testosterone Therapy

Creams, IM, sq, and pellets…What Works Best?

Detail why many HRT patients do not respond to established HRT protocols

Discuss environmental, nutritional, and epigenetic effects on hormone disruption

Review and discuss specific hormone lab interpretation parameters

Discuss nutrition and supplementation direct influence on endocrine system
APPLY ALL THE ABOVE TO THE PROVIDER
Review evidence based literature as it applies to all the above topics.
THIS IS NOT A SPONSORED SEMINAR.
**You will get individualized teaching and attention, practical application of the subject, and an individual functional and lab analysis at this seminar.**
ITINERARY

Friday, November 10, 1:00 pm - 5:30 pm EST
6:00 - 8:30 pm Happy Hour and Dinner, Location TBD
Saturday, November 11, 8:00 am - 5:00 pm
5:00 - 6:15 pm 75 minutes for post seminar evaluation/questions
TRAVEL INFORMATION
Upon registering you will receive general travel, airport and hotel information. If have any questions, please email: askme@bengonzalezmd.com
To your health!
Ben González, MD
A4M, MMI, AMMG Speaker and Instructor
Medical Director, Atlantis Medical Wellness Center
Please contact us with any questions: (301) 960-9828 or askme@bengonzalezmd.com