Refund policy
Contact the organizer to request a refund.
Eventbrite's fee is nonrefundable.
Sales Have Ended
Ticket sales have ended
This event is sold out, however, stay tuned for new dates announcements for this event.
Mediacurrent Presents Live Virtual Training: Advanced Component-Based Theming for Drupal 8 with Pattern Lab and Twig
About this event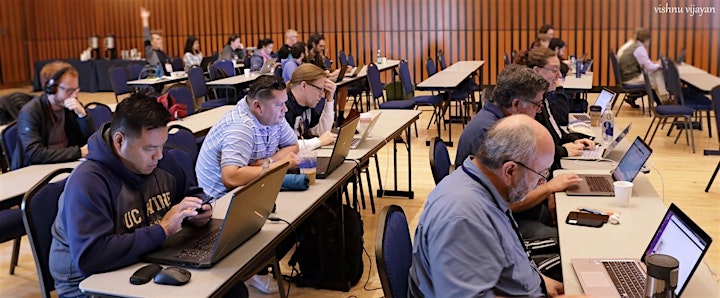 Advanced | Component-Based Theming for Drupal 8 with Pattern Lab and Twig
June 1-2, 2020, 9am-5pm EDT
In this two-day hands-on training workshop you will learn the process of identifying, building, and integrating components with Drupal 8 using Pattern Lab and Twig. Drupal 8 best practices will be at the core of the training to ensure components are built in a way that leverage caching, performance and re-usability in a Drupal site.
This training covers the following topics:
Principles of Atomic Design for building flexible and scalable components
Building a custom Drupal 8 theme using Mediacurrent's Theme Generator
Using Pattern Lab and Twig to build flexible and re-usable components
Twig's include, extends, embed, and Twig Blocks to nest and reuse components
Paragraphs to build Drupal's architecture for components.
Debugging a Drupal theme using Kint
Working with and creating Twig template suggestions
Working with content arrays to get field's values
Integrating components with Drupal 8
Using Drupal Views and View Modes with components
Drupal and Twig best practices
Planning, building and using Image Styles and Responsive Image Styles
Building content types and paragraph types
Who is this training for?
This training is primarily for front and back end developers who wish to learn about component theming or who have already had some experience with components in a Drupal website. However, in the past many non-developer individuals such as site builders, project managers, or IT managers have found the content in this training extremely useful to understand the process of component-based theming which allows them to better communicate with their technical folks.
Training Requirements:
Since this is a hands-on training, the following is recommended:
Access to Zoom Webinars
A computer running Drupal 8, NodeJS and NPM (Assistance is available if needed prior to training. See below)
Text editor of your choice(VSCode, PHP Storm, Coda, etc.)
Soft Requirements
Completion of Beginner course or equivalent experience
Good understanding of Drupal's terminology such as node, twig, templates, views and others is helpful
Basic understanding of Twig's syntax
Good understanding of HTML and CSS
Site building skills to build content types, paragraph types, views, and more
Basic command line skills
But wait, there is more... 😎
This workshop is a two-day event, however we will take breaks throughout the day. Breaks include morning coffee break, lunch break, and afternoon breaks.
Prior to training:
Students will receive detailed instructions on how to setup their training environment. In addition, students will be able to join an online help call if they need assistance. This ensures our time during training is not spent dealing with technical issues.
During training:
Our team of developers will be available throughout the training to answer questions online and assist with training-related issues.
After the training:
Students will be able to reach out to trainers via email or other methods, to ask questions on any topics covered during training.
Students will receive copies of the training recording.
Students will receive a free copy of Mediacurrent's latest eBook on Component-based Design
Students will receive a Certificate of Completion.