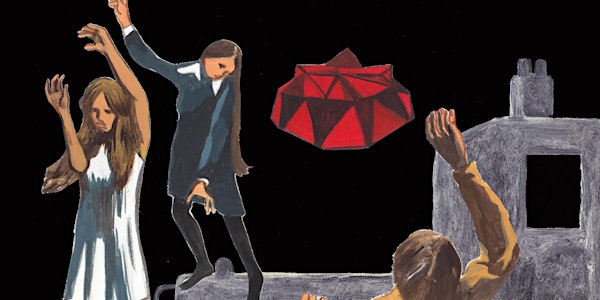 Advance Base & Young Moon
18+ | 7:30pm doors, 8pm show
Date and time
Sunday, July 9 · 8 - 11pm CDT
Location
Color Club 4146 North Elston Avenue Chicago, IL 60618
Refund Policy
Contact the organizer to request a refund.
Eventbrite's fee is nonrefundable.
About this event
Advance Base is the melancholic soft rock recording project of Chicago, IL singer/songwriter Owen Ashworth (formerly of Casiotone for the Painfully Alone). Using a two-handed arsenal of electric piano, Omnichord, samplers, effect pedals & drum machines, Ashworth builds minimalist, heavy-hearted, & nostalgia-obsessed ballads around his conversational baritone. The warm, electronic sound of Advance Base has been described as "lo-fi," "depressed" & "weirdly uplifting."
Animal Companionship, the third & most recent "studio" album by Advance Base, was released September 21, 2018 by Run For Cover Records / Orindal Records. GoldFlakePaint & Various Small Flames both listed Animal Companionship among their favorite albums of 2018. Since then, Advance Base has released Wall of Tears & Other-Songs I Didn't Write, a home-recorded collection of (mostly) country/Americana covers arranged for electronic instruments & Live at Home, a collection of mid-quarantine livestream concert performances & the closest representation of an Advance Base live set commercially available. A new single titled "Little Sable Point Lighthouse" was released on March 31, 2022.
On Triggered By Sunsets, the exquisite third LP from Bay Area expat Young Moon, small affirmations hit like weather events. Songs burn like generational amulets. Mercy opens the window to let a little air in.
At the end of 2019, following the suicide of a treasured friend, Young Moon's Trevor Montgomery packed up his life in San Francisco and shifted halfway around the globe to Nelson, New Zealand. He arrived in his new home – a seaside town, known for its galleries and good weather – just as the global pandemic took hold. Without a close community to moor himself to, Montgomery dove into work; he began renting an empty masonic temple, built a recording studio inside, and tore into a fresh batch of songs.
Perhaps accordingly, Triggered By Sunsets plays like the optimistic closing of a rough chapter. Opener, "Dance Yer Sadness", sets dayglow synths and buoyant instrumentation against Montgomery's tender and wary baritone. "Paint your world late at night, any colour you want is right" he offers over gold-hued drum machine whoomph. It's a song about dark spells in the hinterland and the art of falling back in love with life, and, while much of the material here deals with interpersonal relationships (saved/severed, take your pick) Triggered By Sunsets feels primarily like an ode to the wonders of the natural world. Across these eleven tracks Montgomery's love of bargain bin new-age music, of breath work and big sky thinking, collide with his dogeared pop sensibilities. "Deep Ecology" shares a sonic footprint with The Cure's 1989 mood-suite Disintegration, but where that album found seduction in the dank underworld, "Deep Ecology" shines a light out of the abyss. The album's two instrumental cuts, "The Practice Of Repeating" and "Supposed Dreamer", gleam like pale-blue glaciers on a cold, clear night; their cosmic themes displaying perfectly the illuminating production throughout. But Montgomery's true power has always been in his radical vulnerability, and once again he's turned his own heart inside-out, luminescent as it is. – Matt Hellriegel
How can a sound this bright and green be so ancient at the same time? Sun coming up over New Zealand, the foam and churn of the Indian Ocean become waves that hit the far California coast. Beginning of the world in volcanic brine, organic patterning out, to old San Francisco marine layer rolling fog over a millenia of half-hidden sunsets. The slowest parts of the fastest nights come back to you like a dream. "When love is all you got / you're living on the precipice." You'll live in these songs, hear them encounter their own force and establish a world: one that is somewhere very close to our own, but which is more tender, haunted, and sacred. This moon phase visible at all points of the globe, in pale morning light and deep nighttime darkness. A terrestrial resonance with empyrean romance, picked up on sublunary tape. – Jason Morris