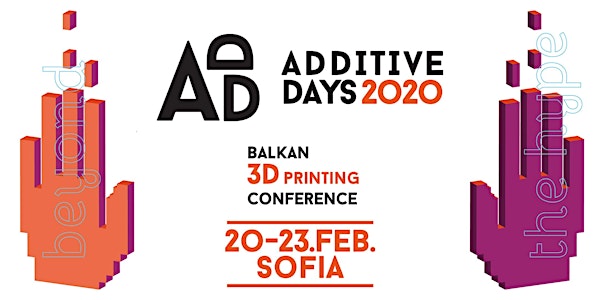 ADDITIVE DAYS 2020
Additive Days е четиридневно събитие, посветено на 3D принтирането и неговите приложения в различни сфери.
When and where
Location
Sofia Tech Park 111Ж Boulevard "Tsarigradsko shose" #ет.2 1784 Sofia Bulgaria
About this event
КОНФЕРЕНЦИЯТА, 21 и 22 февруари – научете най-новото в индустрията и чуйте примери за използването на различните технологии.
ИЗЛОЖБАТА, 21 и 22 февруари – вижте интересни и вдъхновяващи примери от света на 3D принтирането.
РАБОТИЛНИЦИТЕ, 21, 22 и 23 февруари – специално разработени и водени от експерти в областта от България и региона; избор от няколко курса за различни възрасти и теми.
ДЕМО ПРОСТРАНСТВАТА, 21 и 22 февруари – поканили сме най-добрите производители на пазара в момента. Перфектното място да зададете въпросите си и да научите повече за различните технологии и материали.
И още: кариерен кът, детски работилници, зона за почивка.
Очаквайте скоро пълната програма на Additive Days 2020!
ВАЖНО! АКО СТЕ НАПРАВИЛИ РЕГИСТРАЦИЯ ЗА СТАРИТЕ ДАТИ НА ADDITIVE DAYS, ТО ТЯ Е ВАЛИДНА И ЗА ДАТИТЕ ПРЕЗ ФЕВРУАРИ.
THE CONFERENCE, 21st and 22nd February – hear about the latest trends and technologies alongside practical case studies.
THE EXHIBITION, 21st and 22nd February – see interesting and inspiring examples from the world of 3D printing.
WORKSHOPS, 21st, 22nd and 23rd February – choose from several half-day workshops created especially for the event by experts from the Balkan region and beyond.
DEMO SPACES, 21st and 22nd February – See how the latest 3D printing innovations are changing the way we work. The demo spaces cover everything from design and prototyping to manufacturing.
And more: a career corner, kids workshops, lounge area.
The full program of Additive Days is coming soon!
IMPORTANT: IF YOU HAVE ALREADY REGISTERED FOR THE OLD DATES OF ADDITIVE DAYS, YOUR REGISTRATION IS VALID FOR THE DATES IN FEBRUARY AS WELL.