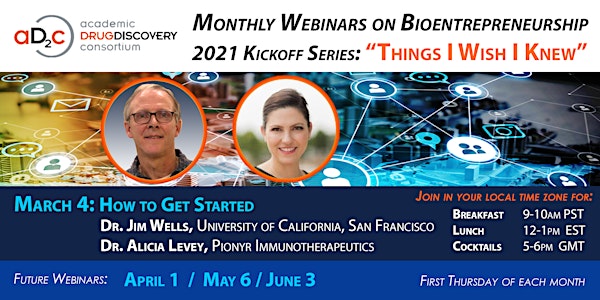 ADDC Webinar Series on Bioentrepreneurship: "How to Get Started"
Join us for breakfast, lunch, or cocktails in your local time zone for our monthly webinar series on bioentrepreneurship.
About this event
In this "Things I Wish I Knew" series, we will learn from prominent scientists, entrepreneurs, and investors about their successes, struggles, and the things they wished they knew before starting their journey.
"HOW TO GET STARTED"
Our kickoff webinar, How to Get Started, will be a conversation with Professor Jim Wells and Dr. Alicia Levey focused around why to start a company, how to get it going, and how to ensure a successful launch.
Jim Wells has experience with large biotechs (Genentech), academics (UCSF), and as a founder (Warp Drive, Calithera, Soteria, Sunesis). Alicia Levey's career spans consulting (Boston Consulting Group), business development (Inception, Tempest, Pionyr), and venture capital (Versant).
This seminar series is hosted by the Academic Drug Discovery Consortium (ADDC). The ADDC is a professional society dedicated to building the community of academic drug discovery labs and the companies, universities, and government agencies that support and partner with these centers.
This webinar is sponsored by