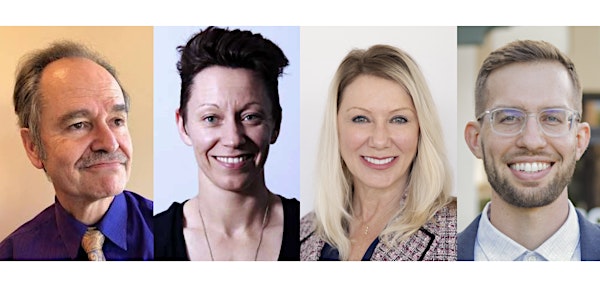 Activating and Aligning with the UTA, the Power of Will and Surrender
Join Jon Frederickson, Ange Cooper, Tami Chelew, and Matt Jarvinen as they illuminate essential ISTDP concepts: UTA, will, and surrender.
By ISTDP San Diego - Tami Chelew & Matt Jarvinen
Date and time
April 21 · 7am - April 22 · 3pm PDT
Refund Policy
Refunds up to 30 days before event
Eventbrite's fee is nonrefundable.
About this event
1 day 8 hours

Mobile eTicket
This 2-day training will focus on the fundamental concepts of will, surrender, and the role of the UTA in the therapy process. These concepts will be discussed from both a psychological and a transpersonal/spiritual perspective highlighting the primordial force of will that is within us all. A force that drives us towards our truth, a truth that lies beyond egoic defenses and the shadow of punitive superego punishment, a truth that seeks unity beyond duality. Therapies that can transcend the well-known battle of wills will be rewarded by the UTA as the heart-opening bearer of truth, healing, and wholeness.
ISTDP lingo often mistakenly refers to the UTA as being IN the patient. More precisely, the patient has an unconscious wish to get well, and we form an alliance with it (the UTA). So the UTA is between us, and we build it by communicating to the patient's unconscious wish to recover (Nunberg) or epistemophilic instinct (Bion).
Seen in this way, the therapeutic technique can center on which processes help us identify, activate, listen to, and follow the emergence of the UTA.
For example, in this training, participants will learn to:
1. Identify the earliest signs of the UTA (e.g., UTA words) which guide our early interventions, help us handle the front of the system, and establish a conscious alliance.
2. Activate the UTA by facilitating curiosity, safety, and a rise in complex transference feelings in the therapeutic relationship.
3. Listen to the emergence of the UTA through whispers, memories, linkages, negation, and image transfers.
4. Follow the UTA to understand links, and make transference interpretations, as there is cohesion in the unconscious for deep healing.
The four presenters in this 2 Day Training will present on:
Jon Frederickson will present the following two cases:
1. The Man Who Didn't Know what He Wanted
This is a man whose central issue revolved around hiding his will and trying to figure out how to follow the will of others. His case will illustrate the importance of focusing on the centrality of will when a patient neither declares a problem nor his will to work on one. And it will highlight the role of will in a highly resistant patient with ego-syntonic masochism.
2. The Woman Whose Mother Wished She Were Dead
This case will address the projection of will in a fragile patient, signs of projected will, and how to listen for the UTA to change your pressures to will.
Ange Cooper will present on a case of mild fragility:
1. Will: We will see how this patient struggles against their own will and inner knowledge by projecting it onto the therapist and denying it in themselves. The patient attempts to recreate past relationships in which their will is invaded in order to avoid their desire for freedom from past emotional bondage.
2. Surrender: The therapist will demonstrate how to surrender to the patient's resistance rather than fighting it through the use of head/heart on collisions. This mobilizes the patient's own will to turn against their resistances and in turn allows them to surrender to both their feelings and UTA
3. UTA: The therapist invites complex feelings whilst embodying a philosophy of inner healing through which Davanaloo's power ISTDP method can be manifested. This philosophy balances the forces of love, response-ability and forgiveness in the pursuit of truth. As the UTA is activated, transformation and healing can be experienced in both patient and therapist, who walk the journey together.
Tami Chelew will then present a case on Capacity Building in Fragility with Repression and Treatment-Resistant Depression:
1. The Dog and the UTA – The Beauty of Crisis: A crisis of loss and looming death brings an opening into the Unconscious with feelings at the forefront to bring first breakthroughs with an activation of the UTA between us. This experience of feelings brings rise to high anxiety on, near, or over her threshold throughout the session.
2. Capacity-building efforts with graded pressures and timing of bracing and recapping interventions, along with pressing into guilty feelings, will be highlighted throughout to bear and tolerate more complex feelings. The CTA and UTA reward collaboration with the therapist, whispers and negation, and uncovering defiance in not wanting to acknowledge self or her own feelings for fear of judgment; which exposes a core conflict in all of her relationships keeping her punished by feeling small and fearful, depressed with high anxiety of smooth muscle and CPD. You will witness the change processes unfold with the beauty of crisis to trigger much unconscious material of UTA, will and surrender.
Matt Jarvinen will show a resistant case which highlights the healing of the UTA when it takes a dominant position over the resistance. We will witness a rise of complex feelings, which provides a link, which then gives way to an open unconscious. Pressures to dreaming while awake then reveal shifts in the patient's experience of his father, changes in traumatic memories, and provide evidence for changes in his attachment to God (along with evidence of the compensation hypothesis).
This presentation will also give examples and offer suggestions which assist the therapist in finding a stance which allows them to tune into their own UTA as it guides their intuitive engagement with the process (e.g., "listening to the music of the moment"), including: 1. Empathizing with the experience of the patient (putting yourself in their experience, which is a form of pressure); 2. Feeling what the patient is feeling (mirror process which guides assessment and intervention); 3. Seeing what the patient is seeing (in portrayal to guide imagery); 4. And following your own UTA process (as it reveals links, brings insight, helps consolidate)
13 Continuing Credits will be available for this event and can be purchased for an additional $40: (Link to follow). Participants must have paid tuition fee, logged in and out each day, attended the entire webinar, and completed an evaluation to receive a certificate. Failure to log in or out will result in forfeiture of credit for the entire course. No exceptions will be made. Partial credit is not available. Certificates are available following course completion at www.ceuregistration.com. There is no conflict of interest or commercial support for this program.
This training is exclusively for licensed mental health and registered health professionals, including Psychiatrists, Psychologists, Social Workers, MFTs, Counselors, as well as Physicians, Nurses, Physical Therapists, etc. If you are not a mental health or health professional, you may not attend due to the protection of patient confidentiality. Students and trainees pursuing licensure or registration as a mental health or health professional under supervision are welcome. The course content level is Intermediate level.
Schedule (in PST, add 3 hours for EST): More specific details to come, but it will include half-day presentations by Jon, Ange, Tami, and Matt.
If you have any questions or concerns, please contact us at info@istdpsandiego.com.
About our presenters:
Jon Frederickson: Jon is on the faculty of the Washington School of Psychiatry where he founded the Intensive Short Term Dynamic Psychotherapy Training Program. His books, Psychodynamic Psychiatry, Co-Creating Change, The Lies We Tell Ourselves, and Co-Creating Safety, have been translated into Farsi, Norwegian, Danish, and Polish and are forthcoming in German, Spanish, and Chinese. He conducts trainings in Norway, Sweden, the Netherlands, Switzerland, Denmark, Poland, Italy, Lebanon, India, Australia, and the United States. He has a website www.istdpinstitute.com where you can download videos, webinars, and articles, and access ISTDP training online. You can also visit the ISTDP Institute Facebook page at http://www.facebook.com/DynamicPsychotherapy.
Ange Cooper: Dr. Ange Cooper is the inaugural Assistant Dean of Wellness for the Faculty of Medicine and an Assistant Professor at Dalhousie University, Halifax, Canada. She is also a Registered Psychologist specializing in Intensive Short -Term Dynamic Psychotherapy (ISTDP). She completed 4 years of post-doctoral ISTDP training with Dr Patricia Coughlin, 6 years of advanced supervision with Dr Allan Abbass specializing in functional somatic disorders (FSD) and 4 years of additional training of trainers with Jon Frederickson. Dr Cooper offers supervision, teaching and training in ISTDP. She has an ongoing passion for disseminating the ideas and learning from ISTDP in ways that all health professionals can benefit from. Especially, the building of emotional capacities in health professionals; without which there is greater risk of stress, burnout, misalliances, and clinical errors. For general enquiries, supervision, teaching or training requests, visit her at https://drcooper1.com or contact her at: info@drcooper1.com.
Tami Chelew: I am a licensed marriage and family therapist in private practice in San Diego, CA. I am the President of the International Experiential Dynamic Therapy Association. I am currently in ISTDP Certified IEDTA Teacher Training. I am a certified Emotionally Focused Couples (EFT), Supervisor and Therapist, Dually Certified in Accelerated Experiential Dynamic Psychotherapy (AEDP) for Individuals and Couples. My background in EFT for Couples, AEDP, and ISTDP have all served me well in shaping and expanding my clinical skills and developing my efficiency and art as a psychotherapist. I am passionate about teaching and training therapists in helping them become more effective at what they do. I lead a monthly ISTDP Informed Couples Training. My colleague Matt Jarvinen and I co-created ISTDP San Diego Community offering training to therapists globally. My husband and I have been married for 33 years. We have two grown, strong daughters and two precious grandsons.
Matt Jarvinen: Dr. Matthew Jarvinen is a licensed clinical psychologist specializing in Intensive Short-Term Dynamic Psychotherapy (ISTDP). He has completed IEDTA-certified core training with Jon Frederickson and has received additional supervision from Allan Abbass, Robert Neborsky, Patricia Coughlin, Josette ten Have-de Labije, and Steve Shapiro. He also founded the ISTDP San Diego Community with Tami Chelew, which hosts regular trainings in ISTDP, and he currently serves on the Board of the IEDTA as the Chair of Community and Membership Committee. His clinical specialties include trauma, addiction, and spirituality, including integrating ISTDP with research on Attachment to God. He currently works in private practice in Encinitas, CA and supervises therapists through his group practice, which specializes in providing emotional health resources to the public, including a free emotional fitness program based on ISTDP principles (EmotionFit.us/program).