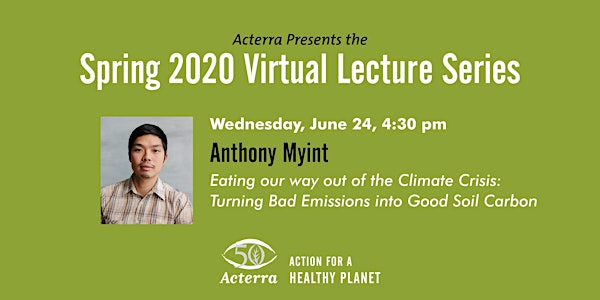 Acterra Virtual Lecture Series: Eating Our Way out of the Climate Crisis: Turning Bad Emissions into Good Soil Carbon
Description
Acterra Virtual Lecture Series: Eating Our Way out of the Climate Crisis: Turning Bad Emissions into Good Soil Carbon
About the Speaker:
Anthony Myint is a chef and food activist who co-founded Mission Chinese Food (SF, NYC, Brooklyn), and is mobilizing the restaurant industry toward climate solutions through his non-profit Zero Foodprint. Anthony was recently awarded the Basque Culinary World Prize for his work beyond the kitchen. Zero Foodprint is collaborating with the CA Dept. of Food and Agriculture, CA Air Resources Board, CalEPA and CA Resource Conservation Districts on a new program called Restore California. Restore California applies the model of Community Choice Aggregation to the food system by directing a few cents per meal to provide grants to help farmers implement more renewable practices such as compost application, planting cover crops, and other regenerative practices. Scientists have discovered that, at scale, carbon farming is so climate beneficial that it can lower global temperatures by removing excess carbon from the atmosphere and turning it into good soil carbon.
A webinar link will be emailed to registrants.
About the Public Lectures:
Acterra is a 501(c)(3) environmental non-profit focused on combating climate change, the salient issue of our time. Acterra's public lectures feature prominent voices including academics, entrepreneurs, and social impact leaders, and support our mission of bringing people together to create local solutions for a healthy planet. Our lectures connect the community to the climate change conversation in a setting that promotes dialogue and learning. Learn more at www.acterra.org/lectures.