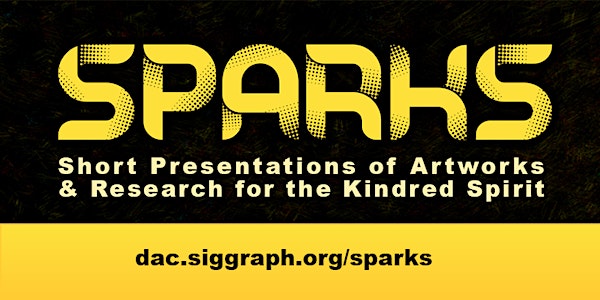 ACM SIGGRAPH SPARKS
Screenworlds: NetArt and Online Communities
About this event
Overview
Net Art has been with us since the early days of the Internet, certainly in a more structured way since the mid-nineties. Set in a time of a global socio-cultural advent of Internet Technologies, this artform's use of the Internet medium sets it apart from other contemporary art movements delivering specific aesthetic, cultural and social experiences, seemingly outside of the rationale of the major artworld. Net Art can certainly be viewed as a phenomenological platform revealing how society and technology co-constitute each other. Two decades after the pioneering work in Net Art gives us perhaps enough of a distance to revisit it, and analyze it through various prisms, including McLuhan's Four Laws of Media (The Tetrad) as a means of focusing awareness on very hidden or unobserved qualities in our culture and technology through Retrieval, Reversal, Obsolescence, and Amplification. After all, the nature of media determines the nature of society, and once new technology comes into the social milieu it cannot cease to permeate it until every institution is saturated.
Participants of Screenworlds: Net Art and Online Communities are asked to contribute to the discussion about the beginnings of Net Art, as well as its influence on art and culture, and how it has evolved in the past two decades, via the perceptual, the historical, and the analogic prisms.
Have Net Artists been able to create a unique and adequate art experience of the Net? Is there an antagonism between Net Art and Art Institutions? How have the developments in digital technology affected YOUR use of the Internet for artmaking? Was the White Box ever a good place for the presentation of Net Art? How did communities around Net Art grow, beyond the set parameters of the artworks? What will the future of Net Art bring?
Moderators:
Kathy Rae Huffman is an American curator, networker, and writer. Since the early 1980s, she has curated media exhibitions, juried competitions, lectured and coordinated events for international media art festivals and arts initiatives, including AFI, CAA, ISEA, D.E.A.F., V2, SCCA, Ars Electronica, and EMAF. Her early interest in artists' television and video art, and her ongoing passion for feminist strategies in online environments promote activist positions. Huffman co-founded FACES: Gender/Technology/Art, an online community for women (1997); VRML Art (later Web3D Art) with Van Gogh TV (1998-2003); and she co-authored Pop~Tarts, the multi-media column for the Telepolis Journal (1996-2000). She curated Digital Power: Activism, Advocacy and the Influence of Women Online for ACM SIGGRAPH (2020). Huffman currently resides in Southern California.
https://en.wikipedia.org/wiki/Kathy_Rae_Huffman
Dr Melentie Pandilovski is a Phenomenologist, Art Theorist/Historian, Curator. His research deals with examining the links between art, culture, science/technology. He is Director of Riddoch Arts and Cultural Centre in Mount Gambier, South Australia. He has curated more than 200 projects including SEAFair (Skopje Electronic Art Fair 1997 – 2011), Laika the True Story, Within the Frame of Refresh, Web Page Design Project, VRML/Web3D Art, etc. He is author of Arts & Science – the Intersection (re)engineered in: "A Companion to Curation, Wiley Blackwell (2019); The Phenomenology of (Non) Habitual Spaces for the Bioarts in: "Naturally Postnatural", Catalyst Series (2017), "How biotechnology and society co-constitute each other", Technoetic Arts Journal, Intellect Ltd. (2012); "On Modes of Consciousness(es) and Electronic Culture", In Glimpse, San Diego, 2000. He has edited Marshall McLuhan & Vilém Flusser Communication & Aesthetics Theories Revisited" (2015); Energy, Biopolitics, Resistance Strategies and Cultural Subversion (2012), The Apparatus of Life and Death (2011), Art in the Biotech Era (2008). Consultant editor of Artlink's "Bio Art: Life in the Anthropocene" (2014). He took part in numerous Net-Time, Syndicate, Spectre initiatives.
https://www.linkedin.com/in/dr-melentie-pandilovski-59961745/
Discussion Questions and Speakers
The first SPARKS online zoom discussion, Screenworlds: Net Art and Online Communities, features ten presenters who have responded to the topic, the beginnings of Net Art, as well as its influence on art and culture, and how it has evolved in the past two decades via the perceptual, the historical, and the analogic prisms. Following the presentations of the three-minute lightning talks, the zoom audience is encouraged to engage in moderated discussion.
Have net artists been able to create a unique and adequate art experience of the net?
Is there an antagonism between net.art and Art Institutions?
How have the developments in digital technology affected the artistic use of the Internet for artmaking?
Was the White Box ever a good place for the presentation of net.art?
How did communities around net.art grow, beyond the set parameters of the artworks?
What will the future of Net Art bring?
The discussion following the presentations will reflect on these questions and the presentations. Melentie Pandilovski and Kathy Rae Huffman, are the Digital Arts Community co-moderators.
Presenters:
Jonah Brucker-Cohen, "To Protect and Server"
https://mhr1235.github.io/to_protect_and_server/ ;
An open source net.art project that subverts and challenges Google's ReCaptcha software by having the public choose images of "police brutality" in order to advance to an online police training simulator game.
Joelle Dietrick, "Tally Saves the Internet"
https://tallysavestheinternet.com/
A browser extension that transforms data advertisers collect into a multiplayer game. Its core goal is to make us more aware of our screen worlds.
Vuk Ćosić, "Net.art, a chapter in the groundhog-day saga of historic avant-guards"
Our duty as net.artists was to help propagate the virus of freedom and our refusal of the art world and of social context was translated into serious propositions of better communications, interfaces, ways of creating and collaborating. Our job was NOT to fulfil the promises of interactivity, multimediality, beauty, sublimeness, realism, or anything like that — those were given by the makers and vendors of hardware, software, infrastructures, and protocols.
Walter van der Cruijsen, "A brief history of early net.art initiatives and encounters hosted by Desk.nl in Amsterdam in the mid-90s"
Between 1994 and 1996, desk.nl served as a host but also as a meeting place for artists, activists, curators, critics, engineers, hackers and others to help them to explore possibilities of 'new media' and to support them in realizing online art works and online communities for discussion and dissemination.
Erik Hoff Zepka, "XOXLABS.COM"
The engagement with new media and net.art over the last decade, especially as the social and phenomenal core of technoscientific society, is central to Zepka's practice.
Amay Kataria. "Momimsafe"
Since its inception in 2020, Momisafe asks "how have our interpersonal relationships with friends, family, and loved ones been affected?" The tactility of intimacy has been tattered and strength of the internet has been put to a test…the pandemic has inspired artists and creative practitioners to innovate alternate forms to achieve intimacy, connection, and togetherness.
Tania Regina Fraga da Silva, "Rainforest Awakens, interactive telematic performances"
https://vimeo.com/471183584#at=2
A revisiting of her 2001 VRML work in a ZOOM performance. "Today, as the medium becomes more widely available as cultural and entertainment tools/experiences, I believe it is more critical than ever to contextualize the technologies and rethink the cultural production process"
Valie Djordjevic, "History of the Berlin net.art scene in the 1990s"
In the 1990s Berlin was one of the hubs of the European net.art scene with a strong presence of online communities. I was part of the Internationale Stadt Berlin which was an artist's and cultural community project dealing with representing community and arts projects in the early internet.
Diana McCarty, "90's mailing list culture – nettime, faces, syndicate and spectre"
How these lists were formed, how they operated and how they became important in developing critical net culture and a context for net.art to emerge.
Hans Bernhard, "How I met the internet (Web, Telnet, Gopher)"
As part of the early net.art avant garde with etoy (1994-1998), i understood that the internet was a new organism, and that this is where i would spend the rest of my life doing art, living and communicating. I realized that within a few seconds and my head imploded.
This is the first event in the ACM SIGGRAPH Digital Arts Community SPARKS series. The event will be recorded for later sharing. Joining the event discussion indicates agreement to being recorded.
For more information, please refer to the Digital Arts Community Facebook page and group, and updates at the Ning network website: https://siggrapharts.ning.com/