Achieving Continuous Data Quality in Financial Institutions. Executing an Effective Data Quality Strategy.
About this Event
Date: Wednesday, January 27th 2021
Time: 11am EST
Data quality has become a critical priority for financial institutions. Their operational efficiency, regulatory compliance, and business decision-making relies on having accurate, trustworthy, and fit-for-purpose data. Low-quality data can quickly cascade throughout the organization, affecting the front, middle, and back offices within a financial institution.
The potential consequences of poor-quality data are too monumental to ignore. Lack of data quality continues to adversely impact operations, regulatory compliance, and business decision-making.
Here's What You Can Expect to Learn:
Why is a data quality strategy important for a financial services firm?
What are the key ingredients for a data quality model that will increase operational efficiency, meet regulatory compliance, and enable better business decisions?
How does a financial firm implement an effective data quality tool that continuously addresses low-quality data across workflows?
How does a financial firm reinforce and measure quality to drive the change that is needed?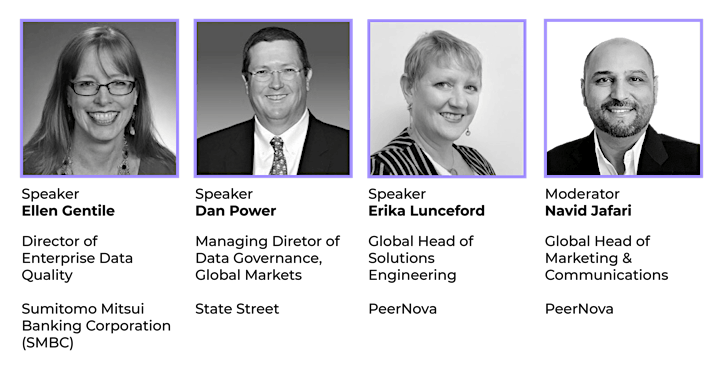 Meet the Panelists:
Ellen Gentile, Director of Enterprise Data Quality, Sumitomo Mitsui Banking Corporation (SMBC)
Ellen Gentile is the Director of Enterprise Data Quality for the SMBC Americas Division of Sumitomo Mitsui Banking Corporation. Ellen has over 20 years of experience in the financial services sector and has worked in various capacities for companies such as Cowan & Company, Morgan Stanley, Bank of America, Bank of America Securities and Pershing, LLC. As SMBC's data quality manager, Ellen works to establish and implement a comprehensive data quality program at the SMBC Americas division.
Dan Power, Managing Director of Data Governance, Global Markets, State Street
Dan Power is the Managing Director of Data Governance for State Street. Prior to joining State Street, he was the principal consultant for Hub Designs, where he focused on strategy development, solution delivery and thought leadership for data governance, data quality and master data management (MDM).
Erika Lunceford, Global Head of Solutions Engineering, PeerNova
Erika brings over 25 years of financial services and technology experience to PeerNova, ranging from small start-ups to large financial enterprises such as BNY Mellon. Erika's most recent role was as BNY Mellon's Head of the Silicon Valley Innovation Center, connecting business problems, people, clients, and solutions globally. These solutions included legacy integrations with APIs, Scaled Data Solutions, and Machine Learning and Data Science.
During her time at BNY Mellon, she advocated for ways of working differently by connecting and curating teams earlier in the process and using tools like a well-defined Business Architecture. Her marquee project was contributing to the Tri-Party Repo Infrastructure Reform as the Technology Program Manager, working across the organization and participating in the Operating Committee with the regulator, clients, investors, and consultants to create a new settlement model.
Moderator: Navid Jafari, Global Head of Marketing & Communications, PeerNova
Questions?
You will receive the link to join the webinar and all other details by email. Have any questions? We are happy to help - contact us at marketing@peernova.com.