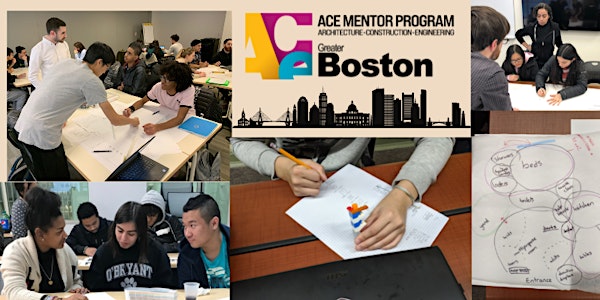 ACE Mentor Program Info Session 3 - Greater Boston
Join us for a 45-minute online information session for students or parents about our free after school program for high school students.
About this event
High school students, their parents and guardians, and their teachers/educators are invited to join a 45-minute information session online about the ACE Mentor Program of Greater Boston. Returning ACE students may wish to join to hear what's new. RSVP to get the zoom link sent to you.
Frequently Asked Questions about ACE Mentor Program
ACE Mentor Program of Greater Boston, an affiliate of ACE Mentor Program of America, introduces high school students to careers in architecture, engineering, and construction management. We accept students who attend high school in the Greater Boston area.
Frequently Asked Questions about ACE Mentor Program
Who? High school students from the Greater Boston area who might be interested in architecture, construction, or engineering. Any student grades 9-12 is welcome. Many students come for several years.
What? A free after-school program to introduce you to architecture, construction, or engineering through a hands-on design project.
When? One day per week, October 24- March 9, after school. You will be asked to choose an afternoon/evening that works for you to meet with your mentors.
Where?
The program will offer in-person or online options in the fall of 2022. Pick one to attend regularly, based on your schedule. The program is the same at each location. The program will meet approx. 3:30-5:30 PM, October through March, Monday, Tuesday, or Wednesday at these locations:
Monday – Northeastern University 3:30-5:30
Mon – PCA Design in Cambridge 4:30-6:30
Tues – Wentworth Institute of Technology 3:30-5:30
Tues – Boston Society for Architects 3:30-5:30
Tues – Virtual (Zoom) 4:30-6 PM
Wed – Roxbury Community College 3:30-5:30 - to be confirmed
Wed – SMMA Cambridge – 3:45-5:15
Why? To learn about design and construction, to get inspired, and to get opportunities such as internships, scholarships, and professional industry contacts.
How? For in-person, you will meet with your mentors at a university or an industry firm, and you will design together. The online program will require that you have access to a phone or laptop that allows them to use Zoom. If you do not have such a device, we will work to get you access to one. Students will receive a supply kit.
What is the cost? The program is free of charge.
Who are the mentors? The ACE Mentors work in the fields of architecture, construction, and engineering, and they have worked on many exciting area projects. They volunteer because they want to help you learn about their work. All mentors undergo a background screening through ACE Mentor national.
What is the project? With the support of their mentors, ACE students will design and create a construction plan for an emergency shelter pod project, working within certain budget, environmental, and site specifications.
How do I sign up? The first step is to attend an information session. Then you will be asked to complete the online enrollment forms. Your parent or guardian must sign permission forms. Then you will be invited to the kickoff on October 13th, at Wentworth. The weekly meetings will start the week of October 24.
What about if I can't make it to this session? Don't worry. There will be several other session dates to attend an information session. Email jfries@acegreaterboston.org to get more info.