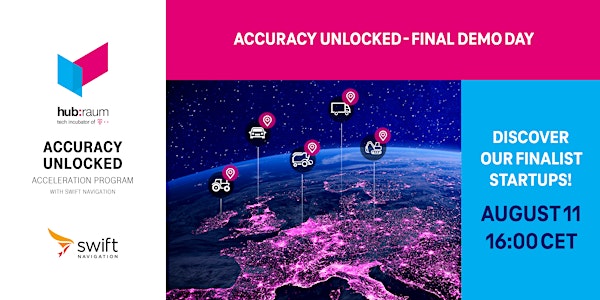 Accuracy Unlocked - Final Demo Day
Accuracy Unlocked - Final Demo Day
About this event
Accuracy Unlocked Acceleration Program - organized by Deutsche Telekom's tech incubator, hubraum, and Swift Navigation, invites you for the Final Demo Day.
Join us live on August 11th at 16:00 CET to hear the 12 selected startups showcase their ideas and pitch in front of the expert jury!
What's the Accuracy Unlocked Program?
This program focused on transforming the future of GNSS technology. Startups and small businesses working in the field of Global Navigation Satellite Systems were invited to participate, develop and innovate use cases with tech stack from Deutsche Telekom and Swift Navigation.
12 startups from various industries as #Automotive, #Agriculture, #Devices, #Rail, #SharedMobility and #Robotics were given the Precise Positioning technology and they created innovative usecases in their areas of expertise.
After 2.5 months in the program, lets see what they've been working on!
Watch the livesteam here: https://www.youtube.com/watch?v=Z_zHuVg5goA