Accessibility Bridge Corporation's Evening of Disability Acceptance
Sales Have Ended
Ticket sales have ended
Sales for the Evening of Disability Acceptance has ended. Email us at events@accessibilitybridge.com with additional questions.
Sales Have Ended
Ticket sales have ended
Sales for the Evening of Disability Acceptance has ended. Email us at events@accessibilitybridge.com with additional questions.
An engaging virtual event which includes an online silent auction, happy hour, dinner cooking session, program and award presentation.
About this event
Join us for an interactive event via Zoom filled with fun, food, drinks!
We've got an exciting line-up of chefs, speakers and guests that will sure to wow and impress you!
Accessibility Bridge believes that every person with a disability deserves to live a life filled with hope and a plethora of opportunities. Our virtual evening of acceptance will highlight the value of inclusion as it relates to the success of people with disabilities across the United States. Guests will enjoy an online silent auction, happy hour, dinner/cooking session, program, award ceremony and a swag box!
The mission of Accessibility Bridge Corporation, a 501 (c) 3 organization, is to promote inclusion and create access for children and adults with disabilities in all areas of their communities. We provide wraparound supports to people with disabilities who are seeking higher levels of independence and inclusion in the areas of education, housing, employment, athletics, and social skills. 
The proceeds from our Evening of Disability Acceptance and Online Auction will support people with intellectual disabilities in their pursuits of post-secondary education as well as other activities and services that we provide. We appreciate all of the support that our donors and volunteers have provided to us and look forward to another year of successful partnerships.
The silent auction will go live at midnight on 10/16/23 and will close at 6 pm on 10/23/21. The event will begin on 10/23/21 at 6:00 PM EST.
For every ticket purchased, a gala box (with goodies, instructions and supplies) will be mailed to the registered address.
***An ingredient and utensil list will be shipped to each registrant at least one week prior to the event. An electric griddle will be needed to participate in the cooking portion of our event. At checkout, you will have the option to purchase a griddle and have one shipped to you.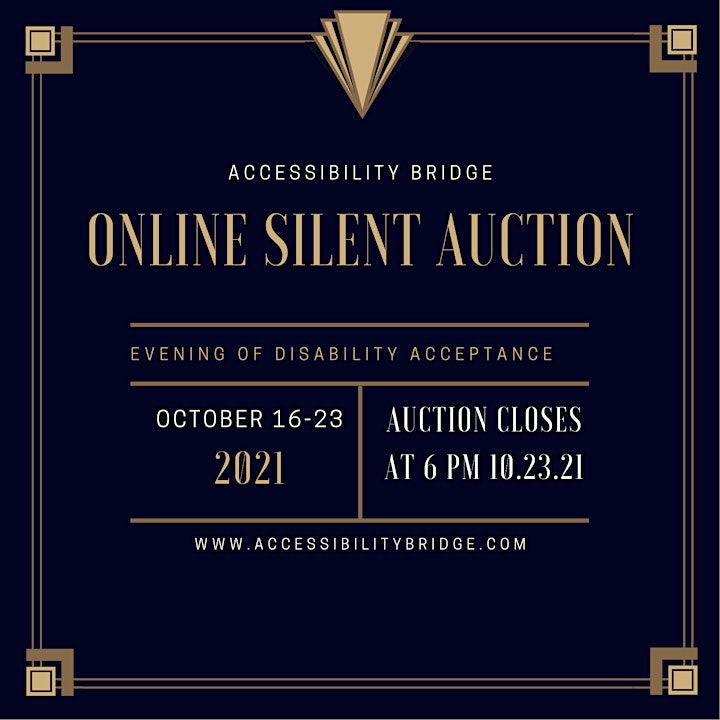 Our auction is now live and we have lots of amazing items that will continue to be added daily.
The Accessibility Bridge Corporation is a qualified nonprofit public charity with tax-exempt status under section 501(c)(3) of the Internal Revenue Code. Donations to the Corporation are fully deductible for income tax purposes.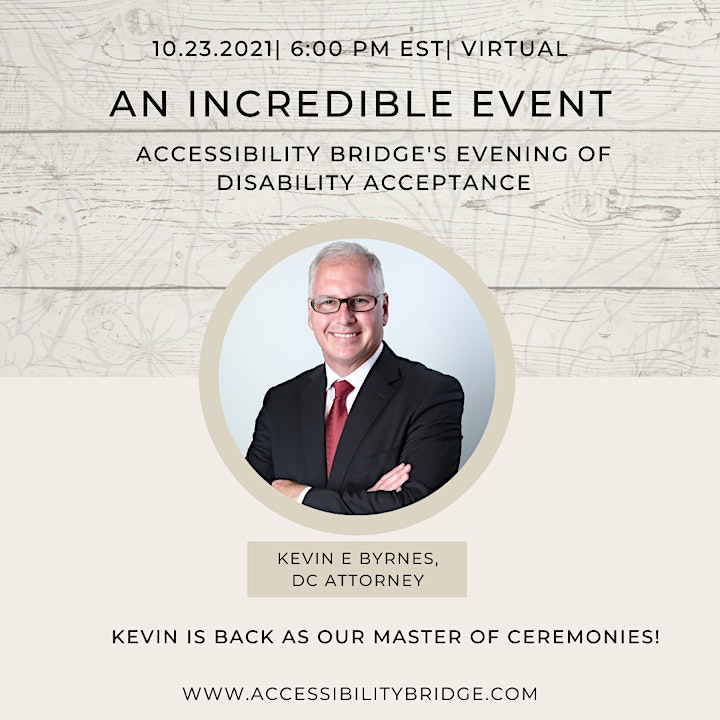 Kevin Byrnes is an experienced civil and criminal trial attorney and current member of the Virginia and District of Columbia Bar. He's a graduate of the Catholic University of America, Columbus School of Law and was first licensed to practice law in 1985. Kevin worked as a Judge Advocate in the U.S. Navy, an Assistant U.S. Attorney in the District of Columbia, a line attorney with the Department of Justice, and he has been in private practice since 2001 in both small and large firm settings.
Kevin is also the proud parent of son with a disability and is a huge advocate for people with disabilities both personally and professionally.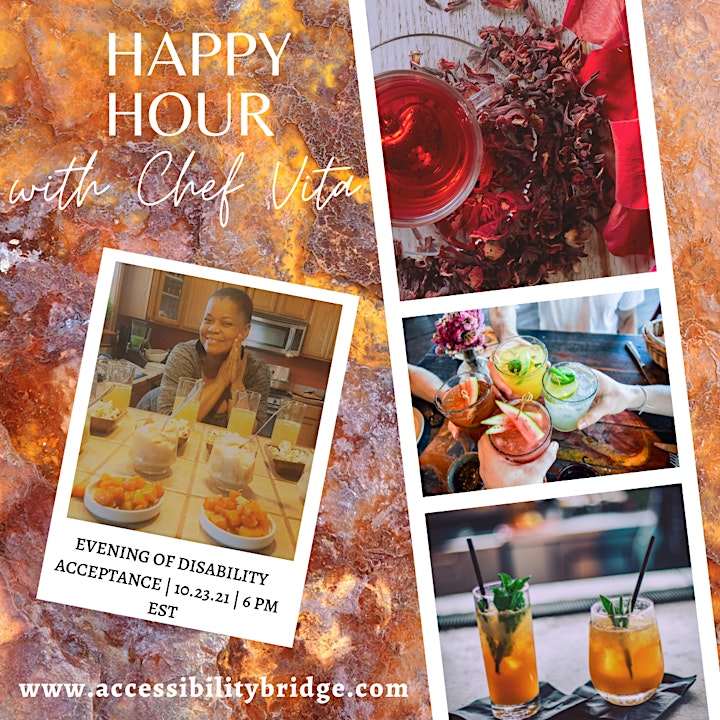 Levita Diane Mondie started the blog Vita's Vegan Ventures to share the joys, benefits, and how-to's of ethnic vegan cuisine, including Soul Food, Mexican, Italian, Indian, Ghanaian and even more. She shares recipes, tips, reflections, and other resources that will help make incorporating life-affirming foods into your everyday lifestyle simple, fun, and delicious.Vita's Vegan Ventures is a combination of vegan cooking services, including hands-on cooking lessons, cooking demonstrations, lectures, and catering for small groups. Through Vita's Vegan Ventures, she gets to share over 15 years of experience veganizing traditional recipes, i.e. preparing dishes with alternatives to meat, cow's milk, and eggs.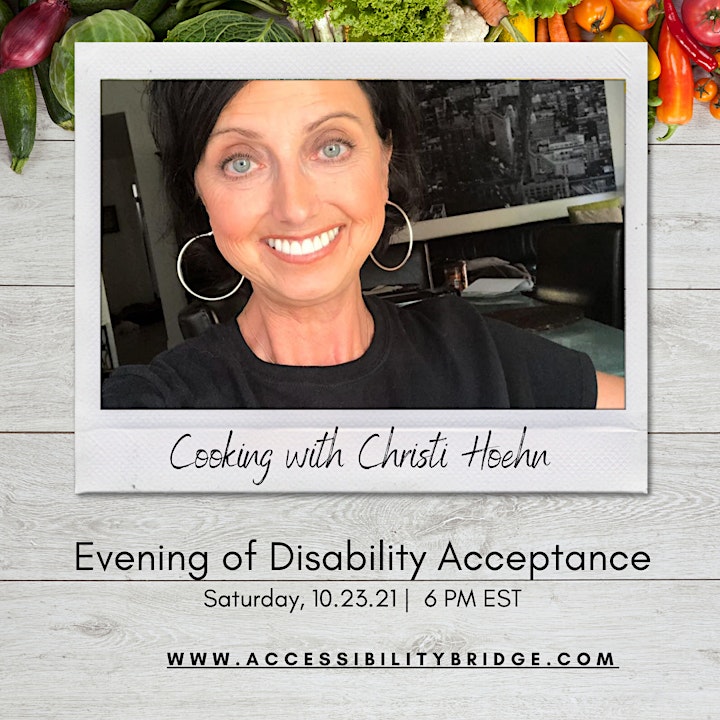 Christi Hoehn is a below knee amputee and 10-year lung cancer survivor! She strives to be an inspiration by being her authentic self. She's known as "The Table Grilling Lady", having developed a new way to cook and entertain that turns dinner time into fun for family and friends.
She's building her brand "Talk of the Table Company" and teaching people how to make meals more meaningful by cooking together at the table. Industry insiders are saying table grilling will become more popular than fondue! Food & Beverage Magazine featured her in their March 2021 issue and again in April with a 2 page feature!
She's also spoken on The Moth LA stage and is a Toastmaster. An artist, mom, and grandma, the only limitations that we have are between our ears. She's getting back into prosthetics and will be walking soon after 15 years! You can follow her journey as she gets back to walking and has just completed her second 5k wheelchair race by following the hashtag #TeamChristi on Facebook and Instagram.
Teresa Coan has been married for 31 years to Dr. Marc Coan, , Mom of three children; Dr. Grant Coan, USA Paralympian/Law School Student- McKenzie Coan and UNC Graduate/APT Flight Student-Eli Coan, Respiratory Therapist, and the Owner/Head Coach CWGA Waves Swim Team.
Coach Teresa, USA Swimming Certified Coach, focuses on stroke technique, endurance training and teaching the importance of individual goal setting to motivate CW-GA swimmers.
MOTTO: Never allow anyone to write your story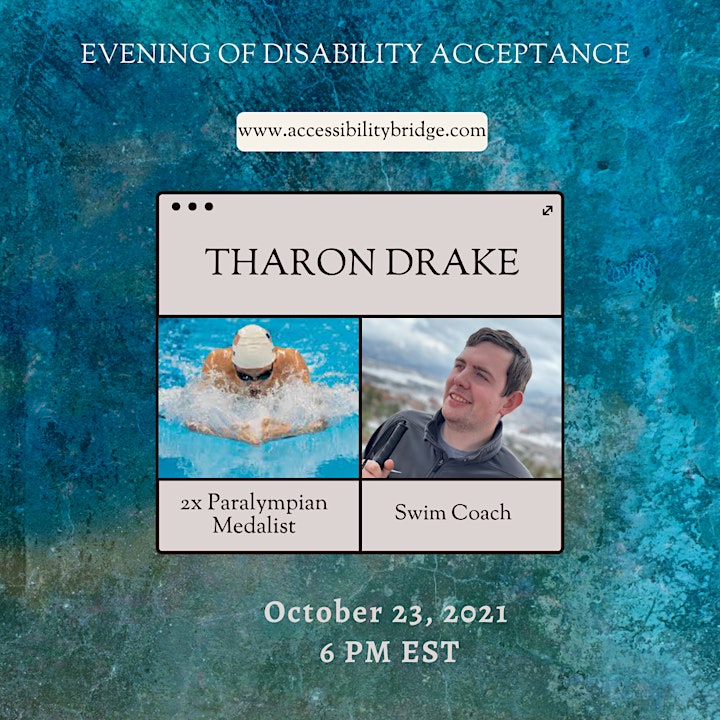 Tharon is a 2x silver medalist in the 2016 Paralympic Games and 2017 World Champion. In 2008 his eyesight began to deteriorate due to methylation disorder. The condition means his body does not absorb vitamins properly, and he was declared completely blind soon after. He refused to give up on his dreams and was the first blind coach in the NCAA and USA Swimming. He's currently a swimming coach with Tsunami Aquatics in Hobbs, NM.
Organizer of Accessibility Bridge Corporation's Evening of Disability Acceptance