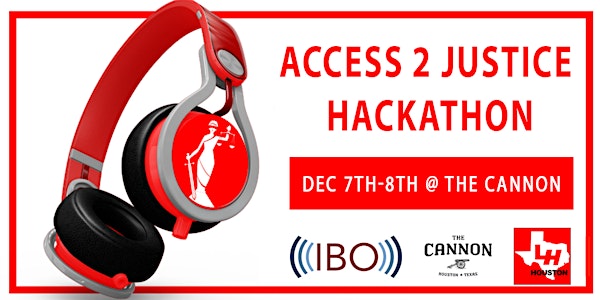 Access 2 Justice Hackathon
Access 2 Justice Hackathon is a global event with Legal Hackers chapters coming together to create solutions to improve access to justice.
By InternetBar.org Institute
When and where
Date and time
December 7, 2019 · 9am - December 8, 2019 · 4pm CST
Location
The Cannon 1334 Brittmoore Rd. Houston, TX 77043
About this event
ABOUT EVENT
The main objective of A2J Hackathon is to promote a deeper understanding of legal technology by people who work ( or planning to work)in the legal industry, in order to simplify and expand access to justice. The spirit of A2J Hackathon is communication, collaboration, and training. We encourage all participants to come with the intention of creating, changing and improving access to justice with their ideas, expertise, and hard work throughout the Hackathon. Goals:Training, Solving specific problems, Collaboration -all of the above or one of the above. Each participant will determine for himself independently!
Hackathon is an intense brain storming course where people with different skills get together, exchange ideas, form teams around the best ideas and develop working prototypes over 48 hours. The largest "Access 2 Justice Hackathon " (A2J Hackathon) will be held around the world, where local chapters of the largest global community of innovative lawyers - Legal Hackers -are opened and operate. Legal Hackers are more than10,000 lawyers from150chapters in different countries and cities.
RULES
The A2J Hackathon Organizing Committee encourages maximum collaboration, but there are several important things to consider for a successful outcome:
● Mandatory minimum number of participants in a team: 3
● Permissible maximum participants in a team: 6
● No pre-designed working prototype that needs to be further developed Hackathon
● Teams can be organized in advance but must be ready to accept new participants immediately after the ideathon pitching (December 7th, morning)
● Teams must arrive at the event not starting development, although they may have a pre-agreed or agreed upon idea
CATEGORIES:
This year, Legal Hackers chapters from all around are focusing on the following categories
Family Justice
Cybersecurity and personal data protection
Innovation in Legal education
Improving the interaction between legal aid providers
Digitalization of litigations and procedures
And more
SCHEDULE: From December 7th at 9am through December 8th at 4pm @ The Cannon, Houston, Tx.
For more info or questions please contact: Sandra@Internetbar.org
About the organizer
At Internet Bar Organization our mission is to build the Justice Layer of the Internet as a community of equals.