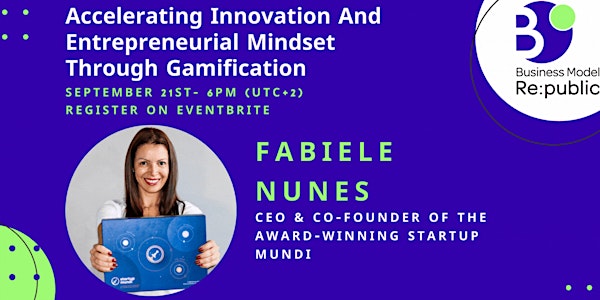 Accelerating Innovation And Entrepreneurial Mindset Through Gamification
Learn how to accelerate the learning of entrepreneurship and innovation skills in your organization by playing!
About this event
Large organizations cannot innovate with the agility of startups and have the challenge to co-create and anchor competencies of entrepreneurship and innovation in their culture. Fabiele with her team has created experiences that accelerate the learning of entrepreneurship and innovation skills. Played by companies like JP Morgan Chase, Mercedes-Benz, AstraZeneca and many others, their game develops players on how to bring a new idea from conception to scalability and shakes their certainties.
AGENDA (Time is CEST – Berlin)
- 6 pm – Welcoming and Intro
- 6.05 – 6.30 – Inspiring talk from Fabiele
- 6.30 – 7.00 –  Discussion
If you want to follow up the Q&A after the event, you can use our Telegram group
About our speaker:
Fabiele Nunes is the CEO and Co-founder of the award-winning Startup Mundi, an innovative methodology for entrepreneurship and corporate innovation programs. She has been appointed Top 10 Women Entrepreneur for 2 years in a row and invited as startup mentor at Facebook and Google. She holds a strong background as an executive in Human Resources and Business Transformation, having worked for large organisations all over the world across the Americas, Europe, Middle East, India and Africa.